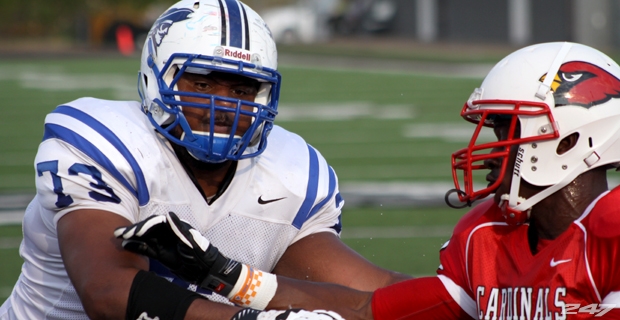 Sebastian Tretola Update (UPDATED 9:05 pm)
Posted on: December 18, 2013
Image from 247sports.com
I know everyone is waiting to see where JUCO OL Sebastian Tretola ends up. We just got word from someone very close to Sebastian about the situation and this is exactly what we we're told. Take it however you want:
Paraphrased: Sebastian's qualification situation isn't great. The issue goes back to the Nevada days and he and the coaching staff have been working to get it rectified. It appears that was the reason that Florida pulled out. I don't know where Sebastian is going and I don't think Sebastian even knows where he is going.
That's what we we're told. SEC is harder to qualify in than the Big 12 so if what we we're told is true then it would seem Arkansas would have a tough time getting him in. And we don't know what it means for OU.
Again, this what we we're told by someone close to Sebastian.
UPDATE: Sebastian has signed with Arkansas. We'll have to wait and see if can indeed qualify but the information we got about his qualification issues came straight from a coach at the school.