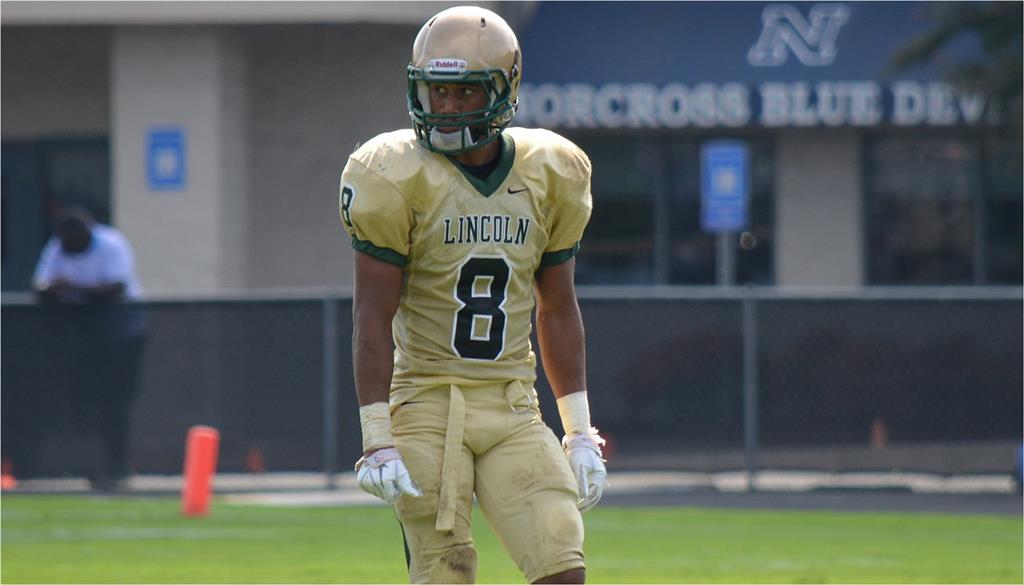 Safety Situation Speculation
Posted on: January 14, 2014
Image from 247sports.com
Two nights ago I came across a tweet from Kendall Randolph, a recent OU DB recruit out of Florida, that really intrigued me.
I'm trynna be the next @tonyjefferson1 what y'all think? #OU #BoomerSooner #Only1

— Slash ⚡ (@xKenJ) January 13, 2014
The reason this tweet was so interesting to me is when I first saw Randolph's film the word that kept coming to mind when thinking of him as a cornerback was "quality" or "good". I saw an overall sound cornerback. When I saw him do things like plant and break, I wasn't thinking "wow". Instead I was thinking "this kid always gets the job done". But when I see a true cover corner, I want to be thinking "wow". Up until now I haven't talked about Randolph much because I just couldn't see that "wow" factor as a corner.  In fact I actually asked a top WR out of Florida who I know about Randolph and the way he described him reflected my exact sentiments…"he's straight" the WR said. That same WR knows both Kendall and Juwan and when I asked him who was better he said "JUWAN" emphatically. That's just one person's opinion but it's an interesting opinion given that it's coming from an elite peer that knows both of them. But the point of this post wasn't to compare Kendall and Juwan. Instead it was to layout the reason that tweet above gave me that "wow" when it came to Kendall.
Kendall has some size to go along with his skills. Now maybe I'm just reading into the tweet too much but I've got to wonder if perhaps Kendall could be used as a cover safety instead of a corner. And perhaps that's why Oklahoma is making room for him but not cutting their ties with guys like Juwan Dowels (the coaches have told Juwan that they are going to recruit him till the end). I'm not saying Randolph is a huge kid but he's got decent size and he's built fairly thick. He's probably taller than Tony Jefferson was but there are things he can do that a safety in our scheme has to be able to do.
You can see coach Mike tinkering with each position group…trying to find the right blend of qualities to give him the most flexibility. As I explained in a post last week, our SS and FS really are interchangeable. There is no such thing as an "in-the-box" safety in our scheme. You have to play deep middle, you have to play the run, you have to play robber and you have to play man coverage. Randolph looks like a kid that might be able to do all those things and that is very exciting.
And when you start to look at the safety depth it makes the idea, to me at least, more intriguing. Gabe Lynn leaves. Quentin Hayes will still be around. We've only got Hatari Byrd and Ahmad Thomas left. Now let me take a minute and make a note about Thomas. Thomas, in my opinion, might be an in-the-box safety. I'll have to wait and see more of him in the spring but if he's indeed too stiff to play safety and ends up getting spun down (again that's just me speculating right now) then you'd only be left with Hatari Byrd. Assuming we get Parker (and we feel confident OU will) then you're only bringing in one safety. Marcus Green may end up being a safety but I'm going to speak to Marcus' trainer later this week so I'll get a full update on how his cover ability has developed. Vontre McQuinnie is a LB to me all day. I've thought that from the first time I saw his film. Now keep in mind that Oklahoma's nickel position continues to evolve so you need a hybrid corner/safety there as well. In other words you could make an argument that there are three spots on the field where you need elite hybrid players (something we are definitely lacking in our current backfield). My point is it wouldn't be crazy for Oklahoma to bring in a kid like Randolph with the idea that he could play safety or nickel.
Randolp might be a quality corner. But as a safety/nickel prospect he's more intriguing in my opinion. In fact I think he could add just the right blend of intelligence, coverage, speed and physicality to our safety position to really bolster that position group. If you add Steven Parker to that mix then you suddenly have two bigger guys (Steven is very big) that literally play corner and safety; two guys that can cover and strike in the open field.
That gives me the "wow" I was hoping for.