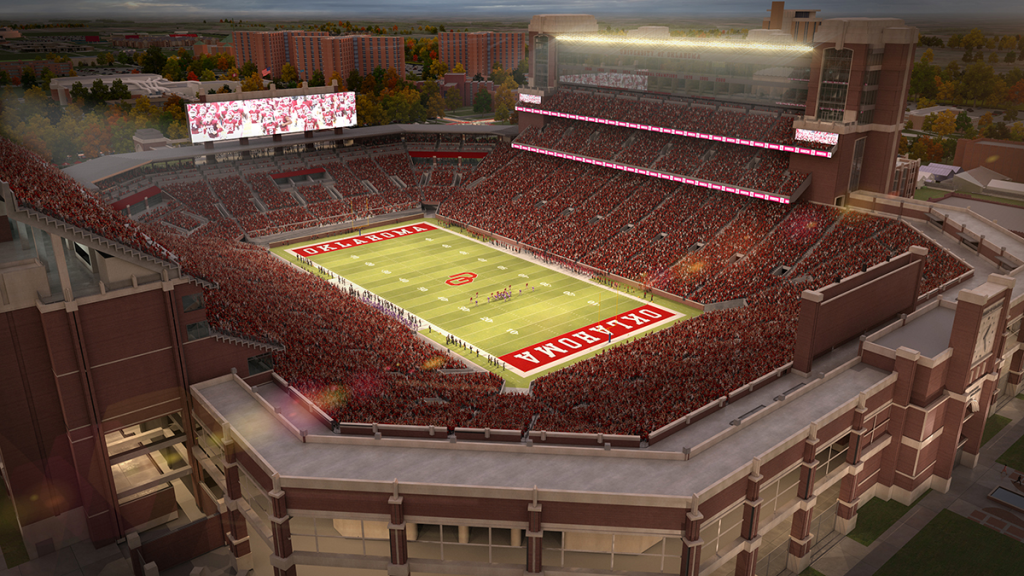 "Pursue Greatness" | OU Facilities Upgrade (Recruit Quotes Added 9:13 pm)
Posted on: June 25, 2014
Image via http://gfoms.com/
Sorry we're so late with this. Esco is usually all over this stuff for us but he's on vacation. His last text to me was "I'm actually chilling in the back of a limo right now…" 🙂
I've been out of the loop most of the day but hopped on to Soonersports.com and saw this video that most of y'all have probably seen by now:
Don't know how much commentary is required and to be honest most of y'all have probably been following this more closely than myself. But it is awesome and not surprising to see the tremendous commitment that OU admin, president, etc. have towards our sports programs. As Oklahoma fans we are used to being the "gold standard" and this is one more step in the right direction. But in a way this isn't just a step forward for Oklahoma. It is a step back into the golden age of OU football.
For other schools their cosmetic enhancements define their program as they seek heights they've never reached. The beauty of being an OU fan is that these enhancements only advance the substance of what we know to be the OU football tradition…a tradition of winning at the highest level.
For a full review of the conceptual master plan please check out: http://gfoms.com/
UPDATE (9:13 pm): Starting to get some feedback from recruits on what they think of the video showing the coming facility upgrades. We'll post more as we get them. Here is what we've got:
PJ Mbanasor (OU CB commit) – "It's beautiful man, it's crazy what's in store. Thing can only continue to go up from here!"
John Humphrey (OU WR target) – "Wow! Just Amazing!" Then asked if that would have an effect on his desire to play at OU and he said, "Excuse me but, Hell yeah!"
Tyrell Jacobs (OU DE target) – "It's cold! The atmosphere and stadium is magnificent. Looks like a great place to be on Saturdays!"
Kahlil Haughton (OU Safety target) – "Wow! I can't even imagine what it's going to be like to play in that stadium! The facility designs look sick too!"
Anthony Wheeler (OU LB target) – "I think it was an awesome video! With a great team comes a greater stadium."
Cody Ford (OU OT target) – "It's gonna be such a special and unique place to play!"
Andre James (OU OT target) – "That's amazing! I would love to play in a stadium like that!"