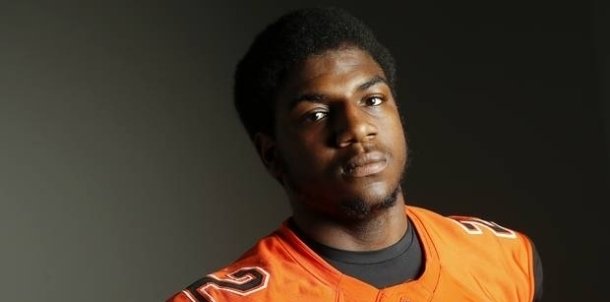 Predict the 2014 Class Finale (UPDATE 5:23 pm)
Posted on: February 3, 2014
Image from www.douglasshstrojans.com
We're a couple days away from knowing how Oklahoma's 2014 class is going to end up so I figured it'd be fun to give y'all my final predictions and also get your final predictions.
Oklahoma's final targets are Steven Parker, Miciah Quick, Kenyon Frison and Deondre Clark. Lukayus McNeil recommitted to Louisville over the weekend so he's out.
Steven Parker – We've been calling this one to OU for a while. The Auburn trip didn't change anything. Because of my friendship with Steven's father, there hasn't been much I can say other than "Sooner fans have reason to be optimistic." But this one has been Oklahoma for a few weeks now. Final Prediction: Oklahoma
Miciah Quick – This is another one we've been calling for Oklahoma. I got the info on Quick a while back from the same source that gave us the good news on Devante Bond a week before he committed, so we've always felt pretty good about Quick to OU. Final Prediction: Oklahoma
Kenyon Frison – This is probably the most important recruit left on the board. Not taking a HS true left tackle in this class seems very problematic and we still don't know if Christian Daimler — from the 2013 class — is a LT either. A couple weeks ago the reports I got out of OU was the coaches weren't feeling very good about Frison. Then the reports started to go more 50/50. The latest thing I got was a message from an Arizona State commit who said he believed Kenyon would end up at OU. And of course we had the final visit this past weekend by the coaches that would indicate they at least have enough confidence to feel like a final visit is worthwhile.
Not much to go on to be honest, so I'm sort of taking a shot in the dark here. But the Sooner Magic train has been chugging along lately, so I'm going to call this one for the good guys even if I'm not super confident one way or another. Perhaps more than anything I'm just hoping I am right on this one because Kenyon would really tie a nice bow on this class. Final Prediction: Oklahoma
Deondre Clark – I think most of you know by now that this is a bit of a struggle between what Deondre's mother wants and what Deondre wants. If this was a case where Deondre hated Oklahoma and his mother really wanted him to stay home then I'd call this one for LSU. But that really isn't the case.
As Deondre's mother has told us, Dre does like Oklahoma and he has a good relationship with the coaches and some of the players. So it isn't as if Dre would be devastated ending up at Oklahoma. However there are a couple DEs that I know LSU started looking at once the Dre Clark to Oklahoma stuff started heating up. Because I've got friends who coach them and LSU hasn't really pursued them aggressively lately, so that could mean LSU is feeling more confident that they hold on to Dre.
Although truth be told my suspicion is that no one, including Dre, are really certain where he is going to end up. But I'll stick with the Sooner Magic train again here. Final Prediction: Oklahoma
I hate to come across as homer but I'll go ahead and predict OU closes strong with a 4 for 4. Leave us your predictions in the comments section below.
– (UPDATE 9:27 AM, via Jordan Esco): Okay, just wanted to quickly address something bmrsnr mentioned in the comments below. And that's this report coming from a Notre Dame Scout.com site about the possibility of Sooners 2014 DT/DE commit Courtney Garnett reconsidering his decision and/or commitment.
DT Courtney Garnett thinking of delaying NSD decision after Irish OV & "intense conversation" w/ Brian VanGorder ($): http://t.co/AA45jqf6nw

— Anna Hickey (@AnnaHScout) February 3, 2014
As I addressed in the comments below, one has to keep in mind where/who this is coming from. When you see that ($) included prior to the link, that means the information they're "teasing" you with in that tweet is behind a paywall. Which simply means you'd have to be a paying customer to click on that link and be able to see what they're reporting. And this certainly wouldn't be the first pay site that was catering to their paying customer base with a story that sounds all well and good, but actually has very little chance of ever happening.
To be perfectly clear, I'm not saying that is what's happening here. I don't know this website and I don't know this reporter.
However, here's what we do know. Notre Dame just offered Garnett shortly before he visited South Bend this weekend. Prior to that, they had been recruiting him somewhat but certainly not to the level that Oklahoma had been for some time. I spoke with K about this report and during that conversation he said Garnett's mom "RUNS stuff." She did not make the trip with him to Notre Dame. She did make the trip with him to Oklahoma.
So in the course of basically a week, we're to believe that in one weekend Brian Kelly and his staff have overcome the job Bob Stoops & co. put in with Garnett thus securing his commitment just days before he made said Notre Dame trip?
Sorry, but I'm not buying it.
Look, nothing is impossible (especially when it comes to recruiting). Obviously Garnett could change his mind and this report could ultimately prove to be correct. But at this point, I (and I know several others agree) think there is very little to this.
Of course if something changes on that front, be it good or bad for OU, we'll be sure to bring it to you.
– (UPDATE 11:54 am): After another off-the-court incident this past weekend, Stevie Clark has reportedly been dismissed from the Oklahoma State basketball team. Obviously this isn't OU related per se, but as many of you know Deondre Clark is Stevie's younger brother and a major 2014 recruiting target for the Sooners.
No clue how, if at all, this would impact Deondre's recruitment and/or OU's chances but with the news just now breaking we figured you'd want to at least be made aware.
– (UPDATE 2:24 pm): It has been reported by multiple outlets that Steven Parker is expected to announce his decision tomorrow (Tuesday), not on National Signing Day (Wednesday). Wasn't sure everyone here was aware of that, so wanted to get this out there just in case. With respect to his pending decision, nothing has changed from the opinion above.
– (UPDATE 3:17 pm): I talked to Courtney Garnett and he did say that Notre Dame is a great school and he said, "I'm weighing my options." So there is some news on that front. However, this was the first time Courtney has ever been on a plane. It was the first long distance trip he took to a school. He took the trip without his mother. So my guess is there is some excitement that is really about the 'new-ness of it all.' But I'll be flat out shocked if he flips. His mother is all OU and he has a great relationship with Coach Montgomery.
– (UPDATE 5:23 pm): Samuel McKewon reports that Kenyon Frison will decide between Oklahoma, Nebraska, Utah and Arizona State. He will announce at 8:30 CST AM on Wednesday.