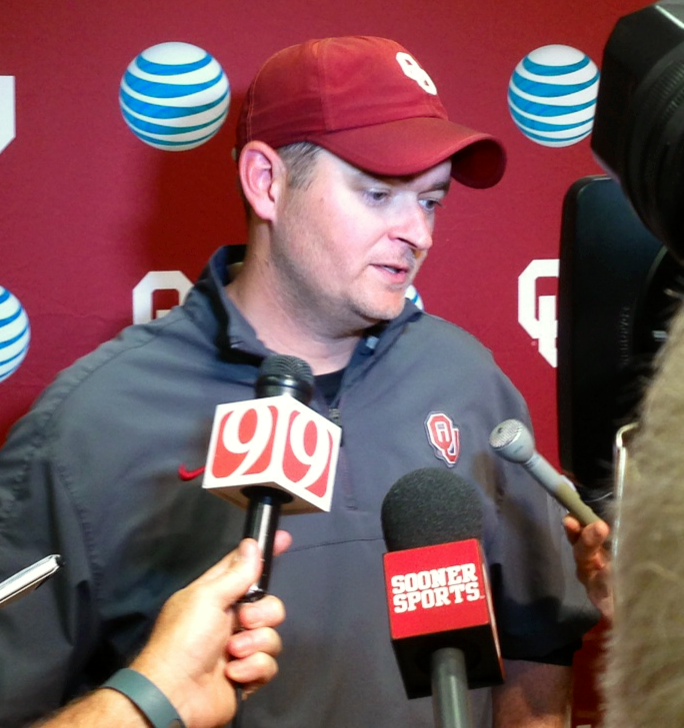 Post Practice Notes and Quotes (Offense)
Posted on: August 25, 2014
Coach Josh Heupel
– "Need to play in order to find out where they are". Said that there are a lot of young guys and they're going to have to play in order to really see what they can do.
– Cody Thomas is back on the practice field and taking reps.
– Said that as of late Baker Mayfield hasnt been taking a ton of reps. Said they've been focusing on the young guys at the position that are eligible to play and making sure that they get enough snaps.
– In talking about the OL said, "They're big, strong, physical…they've played a lot of football…they've played at a high level…for us to be successful they're going to take us where we want to go"
– On Blake Bell at TE, "We expect him to play at a high level. He's been really good in the pass game like you would expect having played quarterback, understanding space. He catches the ball extremely well with his hands. He plays as big as he is at that position but he's done really good job in the run game as well"
– Said that Bell is one of those guys that's tough and he's willing to put his nose in there and block a 275 lb DE. Said he plays with great technique and mentioned that his technical ability was a bit of a surprise.
– Josh said that the OLine is bigger and stronger and that they're playing with better technique than they were a year ago. Seems to expect them to be even better than they were last year. Said that they played "really well last year…at times exceptional" but said they have a chance to be better.
– Said that they spend some time on the Belldozer.
Keith Ford
– Said that he and Alex make each other better because they're both big physical guys that know they have to compete against each other.
– Mentioned that ball security was really emphasized in the off-season. But said that his issues with ball security last year were a result of being young and not paying attention to the details regarding ball security. In high school he never had to worry about that because he was so much better than his competition. But said he's really worked on his ball security in the offseason
– Keith said that the coaches have told them that the way they can separate themselves is in pass protection.
– Said that he was "very surprised" that he got playing time last year with all the senior RBs that were there. In fact he said he was doubting himself last year. Thought he would redshirt. But he said he kept working hard and it worked out.
– Said that the reps he got last year really help as he goes into this year…helped him adjust to the speed and physicality of the game at this level.
– Mentioned that growing up Billy Sims was one of his favorite players and it's a big deal for him that he gets to be part of the OU running backs legacy.
Coach Norvell
– Said that KJ Young and Miciah Quick are performing really well in the slot.
– Said that while they do have a lot of inexperience at certain positions, it's nothing new to them. They're used to dealing with the transitions that happen in college football but they still expect their players to play well.
– Wouldn't comment on the DGB situation. Jay is a chill guy but seemed a little put off by the question in general. Suspect he was really hoping DGB would be eligible and probably felt he should be.
– Said that they've been working "very hard" on being able to connect on the deep ball.
– On Durron Neal, "Durron is just playing with a lot of confidence. He's always shown great ability to run…run after the catch…go deep…all those things. But he's just kinda tying all those loose ends of his game together and playing with a lot of confidence." Also said that "he's pushed himself very hard in this training camp…now he's ready to cash in"
– Norvell talked about preparing for Louisiana Tech and said that the experience they have with OU's defense really helps prepare them, "We've seen a lot from our defense. That's the great thing that we have going in our training camp is that our defense gives us every blitz we can possibly imagine. And every front we can imagine. That's prepared us well for an opening game."
– Said that Blake doing the unselfish thing and moving to tight end has "endeared himself even more to his teammates…I think he's made a great transition. He's a key to what we want to do this year…he's learning what it's like to play in the trenches"