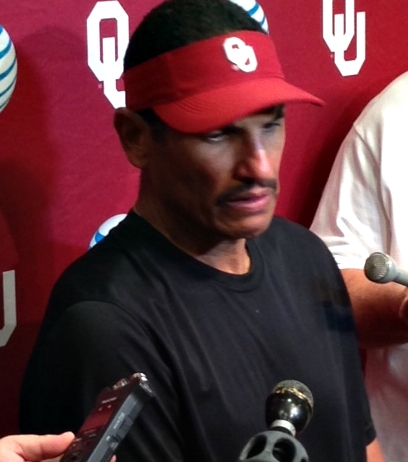 Post Practice Notes and Quotes (Offense)
Posted on: August 18, 2014
– Heupel: Cody Thomas will be the back-up QB. Heupel said that he's developed in every way possible…physically, mentally, etc. Said that he has enough athleticism to make plays with his feet on non-design run plays where the play breaks down and he's got to pick up yards.
– Heupel: Talked about the OL…said that they are strong and cohesive. They function well as a unit. Overall sounded very excited about the OL.
– Knight: Specifically mentioned a couple young WRs that are coming on…specifically mentioned KJ Young and Jordan Smallwood.
– Knight: Praised Samaje Perine. When asked about the RBs Knight mentioned Samaje first. He talked about the other guys but clearly Perine is someone that he really likes. Knight said that he's done a great job with pass blocking.
– Stoops: Said Cody will be Trevor's back-up. This matches what we've been hearing all summer, specifically that Hansen still has a ways to go.
– Norvell: Was asked if he's starting to find who is beginning to separate themselves at WR. He said that Shepard and Durron are offering them stability on the perimeter. He said that KJ Young and Quick are standing out in the slot. He said that Jordan Smallwood is doing a nice job. But he said that it's starting to solidify with that first group of Durron, Shep and Young/Quick.
– Norvell: Said that the WRs really have a good rhythm with Trevor.
– Norvell: On KJ Young, "KJ is just playing a lot faster. He really has an understanding of what we want him to do inside. He's playing really fast…rolling off the football. That's a big thing here at Oklahoma. We really stress coming off the ball and playing with speed. When you watch guys like Kenny Stills and Jaylon Saunders…those guys roared off the football…KJ is starting to get that."
– Norvell: Related to the point above Norvell said that, Dorial is having to learn how to get down in his stance and really explode off the line. Said that Dorial is picking that up.
– Norvell: Said that KJ and Quick are getting most of the reps in the slot.
– Norvell: Said that the deep play actions (go's, posts, etc.) have been a big point of emphasis this offseason. Really stressed that they don't want to allow defenses to pinch down on their underneath routes and said that they're going to have to be able to make plays down the field.
– Norvell: When asked whether any of the other freshman WRs (other than Quick) could see the field Norvell didn't specifically say yes. But he did make a point to mention Jeffery Mead. Said that Mead "gets better every single day". Said he's a very intelligent kid that is able to take the teaching and apply it right away. Also said that he's shown the ability to make plays in traffic. Said that Dallis Todd is starting to come on. Also praised Mark Andrews. But it was clear that Mead was the one that he emphasized the most. He also said that they are all capable of playing but said it might not be worth playing them this year because of all the guys ahead of them.
– Norvell: Said that they will probably have 4-6 kids that get the majority of the WR reps and said that Derrick Woods will be one of those kids. Said "as a staff we feel really confident with him." Said that he's primarily an outside guy but can play both.
– Norvell: Said that the TE gives the QB a bigger target and it allows a QB to take more chances throwing the ball to someone that big because they are "open even when they're covered". Said that they want to utilize the big guys this year.
– Norvell: On DGB…"we push the dog out of him". Said he's gotten a taste of what Oklahoma football is and said that he's spending extra time after practice. "A great kid…working hard." Reading between the lines Norvell seemed to be confirming that the OU regimen is just tougher than what he was used to at Missouri.
– Norvell: Said that Oklahoma's offense historically has always been best when the offensive weapons are flexible (can split out, be blockers, etc.). Said that they are building this offense to be that way…very versatile…to have guys that can do a lot of different things on the field so that they can take advantage of mismatches.
– Norvell: Said that the OL is "big and experienced…we can pour a lot of beef at people…" Said that they've also got a number of downhill runners and feels like the run game can be really good this season.
– Norvell: When asked if Samaje would play this year, "I think definitely he's definitely one of the freshman that has an opportunity to contribute…no question. He's a big physical kid…he's taken care of the football…we're gaining more confidence in him everyday."
– Norvell: Said that Samaje runs with his pads really well…protects the ball…and learns quickly. Lots of praise for Samaje.