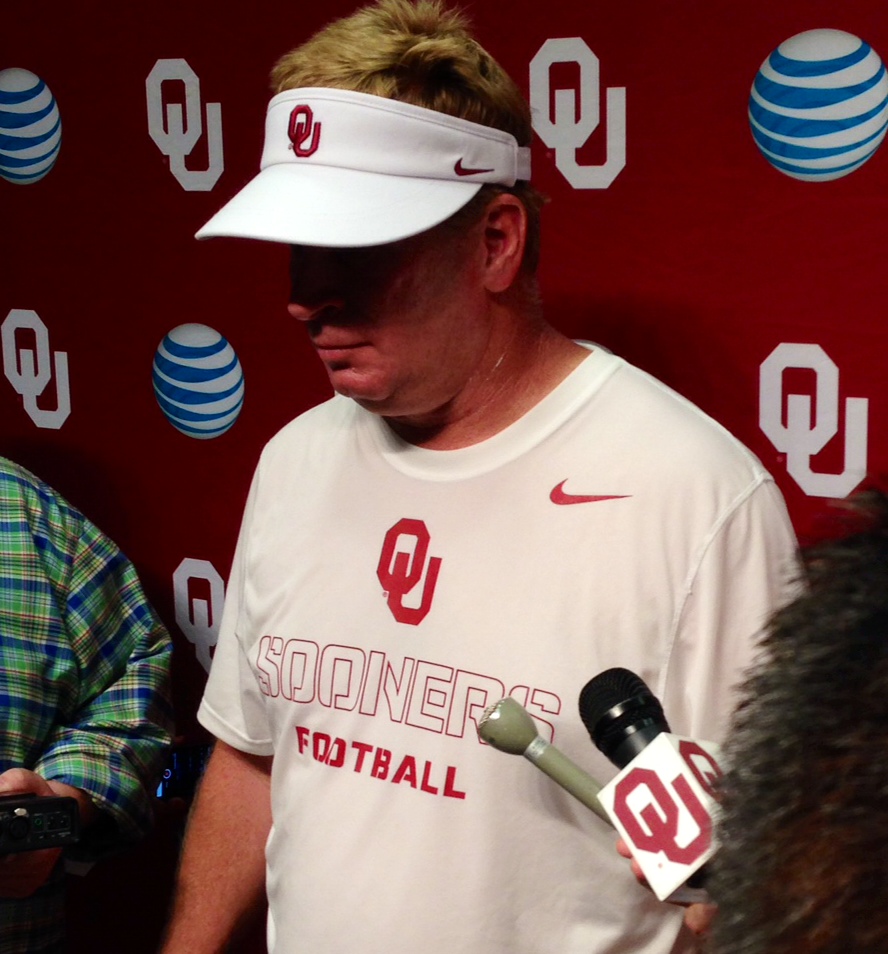 Post Practice Notes and Quotes (Defense)
Posted on: September 2, 2014
Coach Mike Stoops
– Started out by talking about how he was able to get a little ahead of the curve defending the spread because the spread has been prevalent in the Big 12 and is now spreading (no pun intended) across the country. He also said that the spread is more difficult to defend for younger players because of all the shifts, motions, etc. that they have to adjust to on the fly. But once you've seen it for a while…you start getting used to it.
– Said the defense is pretty balanced. Said that having two edge players allows them to bring multiple blitzes from different directions.
– He said that part of the ability to adjust to the spread is the ability to simplify the calls and players have to know what those "one word calls" means to them.
– In talked about Caleb Gastelum he said he played well. Said that he may have missed one or two fits but for the most he "played well".
– Also talked about the young LBs, Tay Evans and Curtis Bolton…said, "we feel like they both have a chance to be excellent players…linebacker is a very difficult position to play…there's a lot of learning for young linebackers"
– Said, "Zack (Sanchez) is a playmaker for us…when he's playing well we're usually playing well. He's a guy that helps our defense play with some swagger and some attitude. When he's playing well, he's a really effective player"
– Said that Cortez Johnson is practicing.
– Comparing this defense to last years he said, "I think we're better than we a year ago schematically and understanding our position on the football. That's just assignment-wise…but no one is getting carried away here…we've got a long way to go…they did what we expected them to do…we'll see…"
– Said that Geneo played one of his best games. Said that he will continue to get better and better at what he's doing.
– Said that Steven Parker played "really well…for a high school kid he showed signs of being a very complete safety…cover, run, hit, tackle…there's nothing he can't do…sees the field very well…overall really pleased with his performance"
– In talking about Charles Walker, "he showed signs of coming on…"
– In general talked about how the some of the second team guys are really young and just need a little more time on the field so that they can consistently play at their highest level
Jordan Phillips
– Said that he's added a little weight (about 5 lbs) and it helps him "anchor down a little bit more.
– Said he has no pain in his back.
– Said that his goal is to "dominate the person in front of me"
– Said that the defensive unit has extremely expectations for themselves. He said they want to go "to the top"
– In talking about young Mathew Romar he said, "looks good…he's real explosive…he has real good hands, maybe the best hands on the d line"
– Said that he felt "normal" out on the field. He said he didn't feel tentative at all. He said it's been too long since he's been on the field and he was ready to "cut loose"
– He said that he likes that the defensive line has the ability to rotate multiple guys in.
Steven Parker
– Talked about how after the game he had really process the fact that he's "actually in a Sooner uniform". Said he grew up watching the Sooners and it was an amazing feeling to realize that now he's one of the guys in those uniforms.
– When asked to rate himself, Parker said "I can't really rate myself…I'm here for the team…the team comes first"
– In general he said that there are things, like the speed of the game, that you can't learn in practice. You have to just get out there and play so that you can see everything well.
– Talked about playing with Carson Meier and Jeffrey Mead and how he's glad that he now has them on his team.
– Said that he knew they "shouldn't have given up that touchdown…we're just going to learn from it"
– Said that he's not surprised at all that Mead had been able to get on the field so early. Said, "he's a fantastic player…he's definitely long…his hands are…great…no surprises at all"
– Said that has been working really hard to get himself physically and mentally ready at such a young age to play now.
Jordan Thomas
– Talking about some of his reasoning behind flipping late from Northwestern to Oklahoma and said that Oklahoma offered the major he wanted which was Petroleum Engineering. Also said that there are "three of the top oil and gas companies here in Oklahoma…it's just a great place to be"
– Said that in order to balance his football duties while taking some of the more difficult classes he has to really focus on "time management". Said that they have all the resources they need to succeed.
– Said that he wants to major in engineering because his father works for Chevron and while he'd like to go to the NFL it's a "great contingency plan…it's just a great fall back"
– Talked about his ability to win the third corner spot, "I came in here as a sponge…I'm soaking in all the teaching, all the coaching, everything I learn from all the older guys…if you know the game you play a lot faster than you really are"
– When asked how he's preparing for Tulsa he said he is "studying film". Said, "a lot of it is film study…you have to understand their frequencies of routes"
– Said that the best piece of advice he got for the opener was "be loose and have fun". Said the actual game speed and the game environment was the biggest adjustment.
Julian Wilson
– Said that going up against DGB a lot in camp prepared him really well for what he's going to face this season. "Going against him in camp made me become a better corner this year"
– Said that the Tulsa receivers are big guys and that's something he's used to because he's had to compete with such a big and complete WR in practice going up against DGB
– Said, "I feel comfortable at corner…I stepped out there with full confidence in my ability to play"
– Said that Tulsa can throw the ball and around and the coaches have made it clear to them that they are going to have to be ready for that…"we're going to have to come ready to play"
– "Every game we want to go out there and pitch a shutout…if we don't shut the team down and hold them under 200 yards then we don't feel like we met our goals…we weren't satisfied with that win (against LA Tech) so that's why this week we're coming in and working harder than we did last week"
Final Notes
Jordan Thomas really summarized a key element this team has an exudes when he said that, knowing and understanding the game allows you to play faster than you are. That isn't to say that this defense isn't athletic but in listening to guys like Phillips, Parker, Wilson, Thomas, etc. talk that sounds like young men who are very self aware…wise and intelligent beyond their years and understand the importance of understanding the game in order to play the game at a high level. This defense is full of athletes but it's also full of very cerebral, intelligent, young men. The future looks extremely bright.