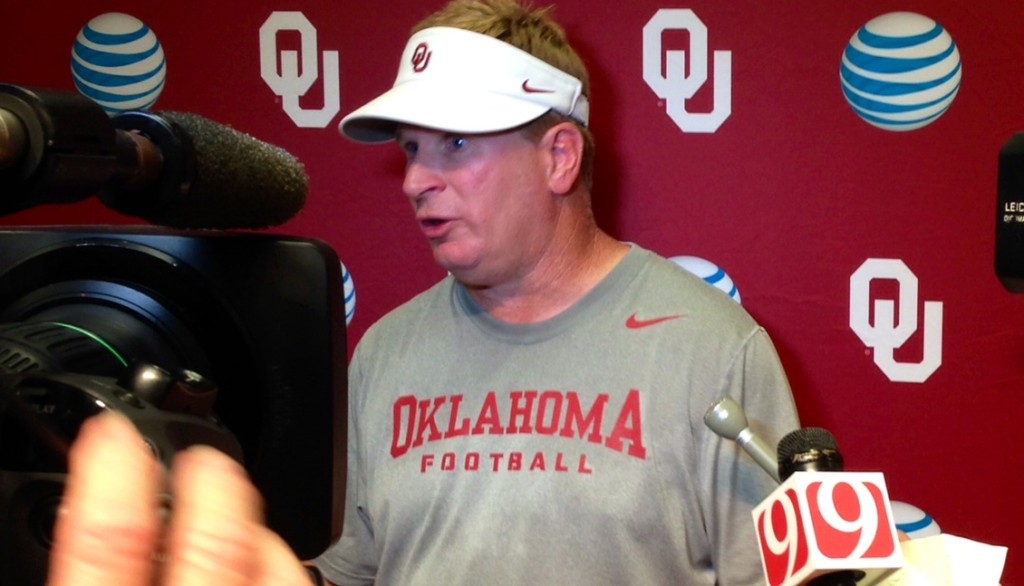 Post Practice Notes and Quotes (Defense)
Posted on: August 19, 2014
Coach Mike Stoops
– In talking about the safety position Mike said "I'm pleased with all four of those guys". Said they havent really set a final rotation. Said that they are all playing different spots so that the safety positions are interchangeable. Also said that "all four will play". Mike said that all of them will have an opportunity to show what they can do in a game.
– On which freshman will play this year, "Jordan Thomas and Steven Parker…they're right there with our starters…pushing our starters." Mike said for both of them he foresees considerable playing time.
– Said that they will use Eric Striker as a pass rusher but he said that Striker can do a lot of things…"he has a great feel for the game". "You can see his instincts truly as an outside linebacker"
– On the development of the 3-4 defense…said that they've "tweaked things" but the foundation is the same. The personnel will change depending on what they emphasize. In general said that the defense gives them a lot of "versatility".
– Said that the players feel more comfortable in the defense.
– Said that the 3-4 gives them the ability to come at different angles and better utilize their zone pressures. "It gives us a lot of different looks and a lot of different angles to come at the quarterbacks"
– On Jordan Evans, "he has grown…he's a guy that has a very high ceiling…he can be an outstanding football player."
– "I think it's (this is) our most complete defense". Talked about how there is a lot less indecision now and he said he feels like they've made adjustments that will allow them to play the run better. Pointed to two things specifically to help against the run, the fact that they are playing faster and can't react to the run better and by adding size to the edges.
– On whether he felt better as a DC in his second year in the 3-4, "I think we're more confident in it…the players understand what we're doing better…I understand what we're doing better (laughs)…it was controlled chaos a lot of times last year." Also said, "the way we were trying to play things didn't fit certain situations that we saw as the season went on…there's a lot of moving parts that didn't actually fit the right way…we feel like everything fits a lot better than it did a year ago."
– Said that the defense has developed to a point that "it's a lot simpler for our players to understand…to react to all the things we see…the crazy offenses…we feel like it will adapt even better than it did a year ago"
– Said that the development of the defense of line is always going to be what dictates the ability of a defense to be successful and he said that the defensive linemen have all gotten "bigger and stronger and faster…we feel like we're a much more physical team than we were a year ago"
– Said that Jordan Phillips "gives us a different guy that can make plays as a nose guard…he can take up a lot of space over the center…that's a critical position in this defense"
– When asked who he feels has really made a big jump from last year to this year Mike said, "I think Dominique Alexander stands out…he's gotten better…his position on the football seems to be better." Also mentioned Tapper and Chuka. "I've been pleased overall with our overall scheme, attitude and our athletic ability…I don't think we became complacent in any way. I think we want to be better and these guys want to have a dominating defense…we're very confident in this group of players"
– On Julian Wilson, "Julian's played well. We love him out there at corner. He's got great speed and length. He's just gotta go out and play and get a lot of reps out there. I think he feels very comfortable and he's very confident…he feels as confident there as he did playing nickel"
– On Charles Walker, "Charles has got a lot of potential and that's the key word. Again, he has to continue to work…He has a chance to be an outstanding player if he continues…he has the right attitude and effort on the football field. He has all the tools that you need to be a dominating defensive lineman but you've still gotta go out there and do it…he's gonna have an opportunity here in another week like the rest of our players…we'll see what he can do"
– On DJ Ward, "DJ has shown improvement too. He's another guy who is on the fringe trying to crack into that two-deep. He's probably behind Matt Dimon, Charles Walker then him…behind…Chuka and Tap. He's probably the fifth guy in line." Also said that he now weighs about 255 or 260. Said that DJ needs to continue to develop his size and strength.
– On having to deal with the new bigger running backs that OU has in practice (Ross, Perine, Ford), "A lot of times you butt up and they run into you and knock your ass over…you don't want to go low…you want to butt them up and our guys are getting knocked back five yards…they're all very big and very physical coming through the hole"
– On some of the things that stand out about Samaje Perine, "maturity and strength".
– Talked about the conscious effort to get longer athletes on the defense and said "I think size matters. Size takes up space on the field and that's what you realize…it takes up inches here and there…length covers the field…longer people make the ball go higher…those inches matter"
– On Obo, "He's probably the one I'm pleased with the most as an outside linebacker. His ability to show some maturity and development and be consistent…I've been really impressed. He'll be a guy who will have an opportunity to play for us next week hopefully…we feel like he gives us another guy that's electric off the edge. He compliments Striker very well. He's got great speed and quickness and strength."
– Mike said that Jordan Thomas would be the third corner and Stanvon would probably be the fourth (need to update our depth chart). But said that they are all still fighting for the position.
Charles Tapper
– Said that Jerry Montgomery "knows we are the best defensive line in the country…it's just bringing it out in the rest of the guys…it doesn't take just us three…it takes the Charles Walkers, the Matt Dimons, the DJ Wards, the Mathew Romars so we can all be great…it starts up front"
– Said that Jerry is like a father figure. Said that he'll discipline you when you mess up but he'll be the first to pat you on the back and brag about you when you do well.
– Tapper with an interesting note on young Courtney Garnett and Dwayne Orso saying, "Courtney Garnett is a guy that today…he showed some monster…he can play the 4 technique and the nose but he's a lit bit more quicker than Chuka…Chuka doesnt like that (laughs)…Big Dwayne Orso is a massive 6'6 300 lb guy that is just like me, came in here raw…hasn't lifted a weight"
– Talked about going against Alex, Keith and Samaje, "those are massive running backs…when we have live scrimmages it feels like they're hitting you instead of you putting the hit on them."
– On Samaje, "he's like a grown man…Samaje is a massive human being…it's a scary sight seeing him coming at you full speed"
– Talking about a collision he had with Samaje, "I had a little long stick (stunt two gaps) and he has an inside zone and we met and I felt all of that…between him and Keith it's two nightmares running at you"
– "I can't wait to see Samaje's turn…actually get to go full speed and just run through somebody. It might be ESPN top ten plays"
Geneo Grissom
– Said that he feels great that people are starting to talk about Oklahoma's defense more and more but said that they have to actually go out there and show everyone.
– Said that Obo is very difficult to block. Also said that Bond has great hips and excellent speed off the edge. "If I go down there won't be much of a drop off"
– Said that he loves the transition to LB. Said he feels like he can make plays there. He did admit that it's been difficult moving further away from the ball and having to read coverage but said that it's getting easier and he'll be ready come game time.
– Said there are so many pass rushers that he felt the coaches could create a package for just to back ups.
– Said that he weighs about 260 lbs right now.
– Also said that he sees that Dom Alexander has made a big jump…"seems like a completely different guy"
Eric Striker
– Said that he feels like he has a knack for making the big play. Said that his attitude for every game is to be a game changer on the field and make critical plays.
– On how he handles the preseason hype, "I pay it no mind…all that stuff is just writing…I'm hungry. I'm out there to prove myself again this year"
– Said that he's taken on a leadership role and feels that now that Corey Nelson is gone it's on him to really show the young guys what to do and how to act. But said the his leadership style is more "lead by example". Said that he's not the type that will "belittle" someone if they make a mistake.
– Said that he doesn't feel like the players are living on the glory of last year.
Zack Sanchez
– Praised Jordan Thomas and Steven Parker saying that they are really smart and felt that they were guys who have really stood out. NOTE: This is an important point that doesn't get enough emphasis in evaluation…intelligence on the football field is huge.
– Said that the addition of the bigger receivers to the team has helped him advance his own physicality. He said that it's also helped Julian because people forget that he's used to going against smaller slot receivers. Said that the process of covering the bigger guys is the same but because they can get into you, you've got to be more physical with them and use your strength.
– Talking about the safeties said that "Q (Quentin) is a vet…Q is always making plays and Ahmad has coming on really strong this past week…you can tell he's a lot more comfortable now than he was going into camp"
– Said that he feels like Julian has picked up the outside CB position really well.