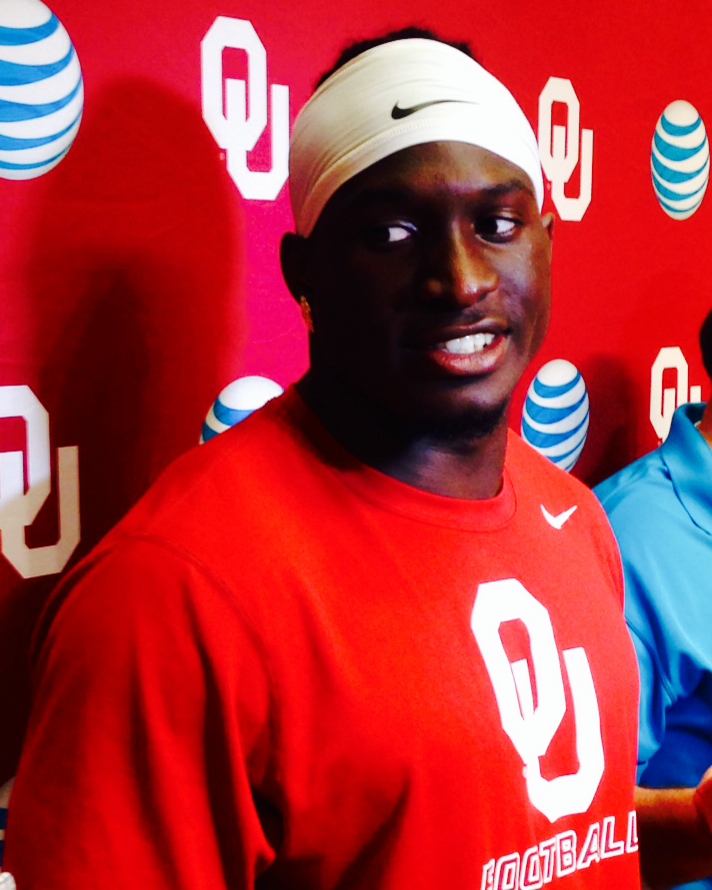 Post Practice Notes and Quotes
Posted on: August 26, 2014
Sorry, not much today in the way of defensive guys. Coach Mike Stoops was not available.
Hatari Byrd
– In commenting on all the new guys in the secondary, Hatari said that he feels like they feel comfortable within the scheme and in understanding their assignments.
– Said that the atmosphere continues to get more and more intense as the game approaches.
– Said that physicality has always been a strong point for him. Said he's so physical that at times he even gets in trouble in practice on occasion. But also remarked saying that he's tired of hitting his own teammates and is ready to hit some other guys.
– Said that Julian Wilson looks "pretty good" at corner and continues to look more and more comfortable.
– When asked about LA Tech's big RB he said, "size doesn't really matter to me."
Coach Jay Boulware
– Said that Alex Ross will get the nod as the first kick returner. Said that coach Gundy works with the kick returners as well and he feels like Alex is the right guy to take the first kick off return and coach Boulware says he trusts Gundy's experience and judgement.
– Said that Michael Honeycutt is, "phenomenal" and gives him peace of mind.
– He feels good about a number of his special teams guys going into the game. Feels good about the kick off and punt return options available. But also said that, until they play a game you never know where you're truly at.
– Talked about some of the young guys who are impressing on special teams. He mentioned Jordan Thomas, Samaje Perine, and Dimitri Flowers. Also mentioned some older guys that haven't played much like Austin Bennett and Daniel Brooks.
– Said that he expects big things out of Keith Ford on special teams and wants to continue to use him on special teams.
– Talked about his room of TEs and said, "I love my room. I really do. It's the best room I've ever had…we're led by Blake…got guys like Ripkowski…Dimitri Flowers…Taylor McNamara…you've got a whole host of guys doing a good job. Those are our four main guys. The other guys are our next tier guys…I love that group of guys."
– Said that they will probably redshirt a couple of players…didn't say who specifically.
– In talking about Blake Bell he said, "Blake is a selfless guy. He gave the ultimate sacrifice for the good of the team. Blake probably could have been one of those guys that you read about now who transfers somewhere…he's talented enough to do that. But Blake said I'm a Sooner. I'm gonna be a Sooner the rest of my life…I'm gonna do what's best for the football team and what's best for the football team is for me to play TE."
– Said that Blake's experience at QB helps him be on the same page as the quarterback. Said that Blake walked in everyday in the spring with a notebook and a pencil and really absorbed the offense and demonstrated to other guys how to be meticulous in their study of the game.
– Said that Blake has rubbed off on Taylor and the entire room. He's picked things up quickly and it inspires other guys to do the same.
– "Wesley Horkey gives us a better athlete at the snapper position. He gives us a guy that can wing it back there."
Caleb Gastelum
– Said that his priority right now is to do exactly what he's asked to do and said that the little bit of PT he got at OSU last year helps settle him.
– Said that Jordan Evans is very smart and he's picked up the system very well. Said that he and Jordan help each other.
– Talked about his will to play wherever the coaches put him. Note: Just really exudes a selfless attitude in general…sounds like a very level headed young man that isn't afraid of the field or the spotlight but also doesn't seek it…he's a team guy.
– Said that his family's message to him has been "keep your head down and work hard".
– Talked about how he ended up as a walk-on at OU. Said that when he was in high school he really didn't know much about the recruiting process and didn't get involved in it much at all. He sent his film in to Oklahoma and they liked it.
– "Every game week is the biggest game you play. Whether it's LA Tech or Texas…you've got to be ready".