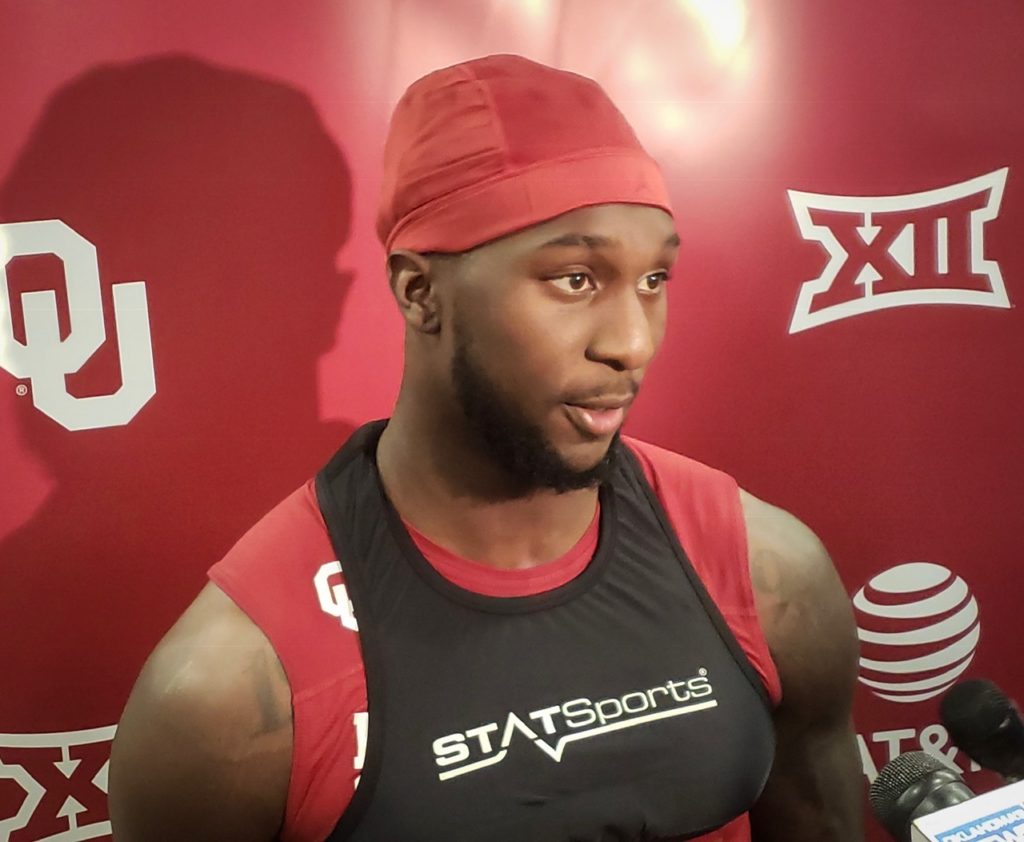 Post Practice Notebook | Tuesday, October 9th
Posted on: October 9, 2018
Just days after being named the new defensive coordinator at Oklahoma, Ruffin McNeil met with the media for the first time Tuesday.
It didn't take long before the 59-year old veteran coach was asked how he plans to fix the Sooner's issues with tackling.
"I'm very simple," McNeill said after practice. "I will be the simplest man any of y'all will ever meet. We have to work on it and be rigorous about it. Be firm about it. Lincoln gave us just a little bit more time this week and even perhaps during game week until we fix that. Not just the tackling, but other parts of the game. We've been able to do that these last two days and emphasizing it with them. I'm looking forward to seeing the improvement tomorrow. We have a long way before 11 o'clock next Saturday."
A player's coach
Everywhere McNeill has been, he has been considered a coach who gets along great with his players. He explained why that is.
"I love the kids. Offensively, defensively, special teams, that's always been my deal," McNeill said. "It's tough love. I've always had this, not just here, but I believe in working them as hard as I possibly can, then love them even harder. I am always going to be myself. Guys know I have a very, very tough side, but at the same time they know I love them. We have that understanding among the whole team."
Keeping focused
"I work on controllable and not uncontrollables. The uncontrollable thing is that we do have an opportunity as a group, as a team," McNeill said. "The controllable thing we can work on is how hard we work each day as a staff and as a group. So I am really going to focus on that. The fact that we do have games left to be as good as we want to be, I look forward to that challenge too. We've got great competition down the way that I look forward to as a team."
McNeill explains his practice style
"We have expectations. Here are the positives that will happen if meet those expectations every day in practice," McNeill said. "If they're not met, then we will do them until they are met. I love to work on schemes, but if the effort is not right, I really don't care about anything else until that's right. Once that's right, we move on to the next one, which is fundamentals. When effort and fundamentals are fixed, we move on to the next one."
Been through it before
McNeill said he knows the difficulties OU head coach Lincoln Riley had to go through in firing Mike Stoops because it's something he has had to endure during his coaching career.
"It's a tough move. I've been there. I've been on both ends of that," McNeill said. "I understand it was tough. Everybody knows Mike's a great person. The whole Stoop's family. Bob, Mark and Mike. I know all three. I know it was tough on Lincoln. Been there in that situation and I know it was tough for him to do that. Not only that, but you have to do it with a friend."
Other coaching changes
With McNeill now the defensive coordinator, Calvin Thibodeaux will move from just the defensive ends to handling the entire defensive line.
"Thibs and I've been together so Lincoln just wanted to let Thibs have that," McNeill said. "I get a chance to roam a little bit more and be a part of everyone's drills. I've been in that position before. With a great coach like Calvin, you know he can handle it."
Bob Diaco, who was a defensive analyst, has taken over outside linebackers.
"Bob and I coached together when he was at UConn," McNeill said. "He is a really good ball coach, really enthusiastic. Smart as a whip. Taking the leashes off of him was like letting a wild tiger loose. My wife absolutely loves him and would divorce for him. But we've known each for a long time. He is very excited and will do a great job."
McNeill will stay upstairs
Part of McNeill's duties will be to call the defensive plays. He said it's a task he knows well.
"I've called defenses. I've been up and I've been on the ground," McNeill said. "I'll stay up and still call from up. Want the least transition as possible on the field. We're still going through that and we'll have a run through tomorrow. I'll see if I want Bob up there with me, that will be the next move. I like Bob on the field with his enthusiasm. I can handle upstairs. I have two really good young coaches."
Mood of the team
"It's obviously been a little crazy with the stuff going down," linebacker Kenneth Murray said. "But we're fine. Happy with the direction we're heading in now. Just staying together, going to work, Get better every day."
"Right now the focus is pretty much getting better each week," defensive lineman Armani Bledsoe said. "Take the bye to focus on TCU as well. It's defiantly a switch up, but the biggest thing is just staying together as a team. And focusing on focusing the little things. It's defiantly a big shock. We all love coach mike. But at the end of the day, we trust coach Riley's decision and try to stay close together as a group."
Take away from Texas game
"I'd say the energy," Bledsoe said. "I think we kind of came out flat in the first half. The energy was there I the second half. If we would have played like that in the first half, it would be a totally different ball game. That's just of the things."
Physical practices
McNeill said that the practices Monday and Tuesday may have been the most physical of the season. Tailback Trey Sermon agreed.
"The intensity has been really high," Sermon said. "Everybody has just been really focused it. It's been pretty aggressive. It's been really good."
Is the offense feeling the pressure to carry the team?
"I feel like we started off playing good complimentary football," Sermon said. "We haven't really been too consistent at it, which is kind of different than what we've done in the past years. But everybody has been working hard and trying to improve in that area. We know in order to be a great football team, you have to be good in all three phases."
Building a relationship
As the middle linebacker, Murray and McNeill have to have a relationship that is similar to a head coach and quarterback. Murray said that is something they began to work on immediately.
"That's something that me and him talked about, just building that relationship," Murray said. "That's something that me and him are on the same page on. Me and him sat down and talked about it. I'm balls to the wall for the guy. I love him and I'm glad to have him as my DC."
Hearing the news about Stoops
"Obviously it was real emotional given that your defensive coordinator was fired," Murray said. "It was emotional just trying to get the news and hear what the coaches had to say. But once we got the direction from the coaches, everything kind of mellowed out and we were able to move on. We understand that coach Riley made a decision and we understand that we trust his decision and we know that he knows what is best for us. That's what we're trusting in right now.
Saying goodbye
Murray said he spoke with Stoops Sunday after getting the news he was fired. The sophomore explained what his former defensive coordinator meant to him.
'He means a lot to me," Murray said. "He gave me a shot when nobody else gave me a shot. A lot of people try to say you had a ton of offers. Yes, I had a ton of offers, but you don't start as a true freshman. Every freshman in the country doesn't just come in and start. He believed in me a lot from the jump. So, for that, I'm forever grateful."