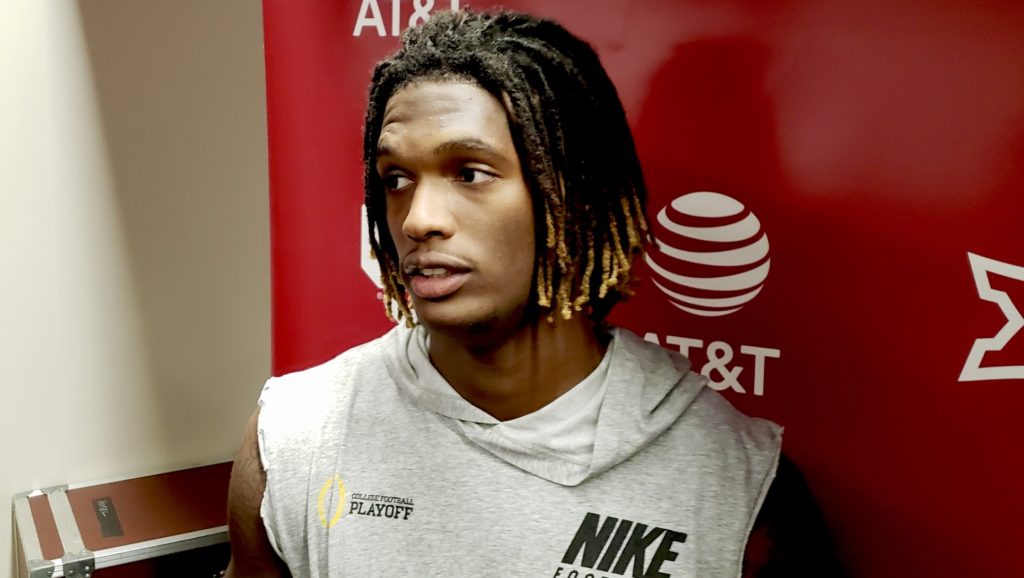 Post Game Media Wrap-Up | Oklahoma vs. Kansas State
Posted on: October 27, 2018
Physicality Was the Name of the Game
Coming out of Oklahoma's 51-14 win over Kansas State, every coach and player at some point referred to being physical. Whether it was on offense or defense, the Sooners came out with the mentality they were going to beat up the Wildcats.
"That's something that has been preached to us all week," linebacker Kenneth Murray said. "Obviously, we as players, we heard the chirping. We heard what was put out there. How they wanted to come in and control the ball. And try and play physical and stuff like that. For me and the rest of the guys, especially the guys up front, as soon as we heard that, we were extremely happy and excited on the inside. That's the type of ball we love to play."
Oklahoma Obliterated Kansas State's Run Game
The Wildcats Alex Barnes came into the game with 788 yards on the ground. He totaled only 30 yards on 13 carries against the Sooners. OU held them to a total of 156 rushing yards with quarterback Skyler Thompson as the leading rusher with 58 yards.
Coach Bill Snyder was dejected after seeing his Wildcats get overwhelmed by Sooners.
"I'll have to reinvest some time and try and find out if the ship has ever been in this condition before," Snyder said. "I'm not sure that it has.
Sooners' Run Game was Rolling
On offense, that physicality played itself out in the run game. Despite quarterback Kyler Murray throwing for 352 yards and three touchdowns, coach Lincoln Riley said it was all built off what they were able to do on the ground as they churned out 332 rushing yards.
"We did hit some big ones. We just had a few at the right time," Riley said. "Guys made some great plays. I think it started with our physicality. With us being able to run the ball, I thought our backs ran really hard. We played another very strong game up front. Once you can do that, you put teams in tough positions."
It was Personal for the Offensive Line
The Sooners scored on their first nine possessions of the game. That included six touchdowns.
"I think it showed that this O-line meant business from quarter one and that we weren't playing around," tackle Cody Ford said. "We're not going to let anybody come in our house and attempt to be more physical than us."
Brooks Keeps on Producing
For almost the third time in four games, redshirt freshman Kennedy Brooks came close topping the 100-yard mark. Against the Wildcats, he only carried the ball five times but rushed for 95 yards and two scores.
"There are some things, especially in space with him, that he does and understands, and feels, you can't always teach guys that," Riley said of Brooks. "You never know exactly how things are going to happen. Especially once you get past that first level. Our O-line is doing a good job of getting him some good clean runs. He understands how blocks are being leveraged, he understands space and he's got the ability to make a guy miss in the open field. That's all the guy did for three or four years in high school. He ran for about 250, 300 yards a game."
And, He's Averaging More Than 10 Yards per Carry
Despite playing sparingly during the first half of the season, Brooks has rushed 38 times for 454 yards. That is an 11.9 yards per rush average.
"I'm aware of it, but I don't go out there and try to do it," Brooks said. "I just go out there and try to help my team win any way I can. No matter if it's like two-yards per carry or 10. I'm just happy to be out here and do everything for my team."
Improv
Riley Mentioned that of the things that have impressed him the most about Kyler Murray this season is his ability to improvise. Against the Wildcats he showed that ability a few times when he scrambled around looking to make plays downfield.
"I think that is something I've always done," Murray said. "Growing up, ever since I started playing football, I've just tried to make a play. That's what it comes down to. Some of those have been third downs and I don't like punting the ball. When we punt the ball it's really frustrating to me. So, I'm just trying to extend the play and do what I can."
Spreading the Wealth
Of the 19 passes Murray completed, they went to 12 different receivers.
"I say most of the time, we have a great receiving room," Murray said. "A lot of people like to talk about (Marquise Brown) and (CeeDee Lamb), but we have a lot of guys that are ready to go. We have great depth. Twelve guys, I didn't even know I did that. I think that's a good deal."
Snyder was Also Impressed With Murray
On the season Murray has accounted for 34 total touchdowns this season (28 passing, six rushing) against just four turnovers.
"He can throw the ball quite well. He's got that great quickness. Change of direction," Snyder said. "Manages his team quite well. I think he's an excellent quarterback. But anybody in this league that can throw the ball around at a 70 percent clip has got to be a pretty proficient player. Especially at his size. To be 5-10 and be able to see out and make all those throws, he's a pretty special youngster."
Defensive Improvements
Riley was asked in several different ways to try and explain if the defense is playing better since former defensive coordinator Mike Stoops was fired. While Riley wouldn't fall into the trap of answering the questions directly, he did say he has seen improvements in areas under Ruffin McNeill.
"We're playing a little more consistent now. I think that's the biggest thing," Riley said. "I think getting some of these young guys back healthy has created competition, it's got more ability on the field. Some of those young guys are certainly playing better. They just have a good domineer and mentality about them right now. We just have to keep growing. From the bye week to TCU, and from TCU to here, we're taking positive steps."
Young Pups Stepping up
Two of the young defensive players Riley was alluding to were freshman defensive linemen Ronnie Perkins and Jalen Redmond. In only his second game this season Redmond was third on the team in tackles with five and tied for second in tackles for loss.
"Jalen does some really impressive things physically," Riley said. "He played a couple of snaps last week, but he to play this week. He did some really good things. He will learn from it, there will be some mistakes. But you can tell this wasn't his first one. He started to settle in. Ronnie is playing a big role for us. It looks like he did a pretty good job."
Team First
Lamb finished the day with four receptions for a career-high 160 yards and two touchdowns.
But those numbers are not what impressed the sophomore receiver the most.
"That we played together and we stayed together as a whole," Lamb said. "If any individual feels like they are too comfortable or too good for the team, I don't really want to be a part of that team. But for us it's different. We are always together, we play as one."
Quick Hitters
This was Oklahoma's fourth game this season with at least 50 points. OU leads the nation since 2015 with 19 games in which it has
scored 50 or more points.
***OU's defense has surrendered points on just two of its opponents' last 16 possessions (two TDs on 11 possessions today).
***The OU defense held Kansas State to 13 first downs, one week after allowing just 12 first downs at TCU.
***Oklahoma outgained Kansas State 702 yards to 245 and held a 10.3 yards-per-play advantage to 4.6.
***Twenty-two of OU's 68 offensive plays (32 percent) went for at least 10 yards.
***Oklahoma scored at least 20 points in the first half for the 19th time in the last 22 games. OU has scored at least 28 first-half
points in 12 of those contests.
***The Sooners have scored at least 30 points in 30 of their last 32 games and have won 29 of those 32 contests.