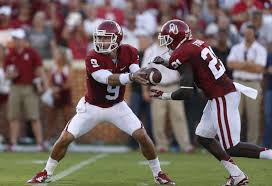 OU vs. Tulsa – What I'll Be Watching
Posted on: September 4, 2014
Image via Tulsa World
* OU's rushing attack – We got our first look last week at the three-headed monster that is Keith Ford/Alex Ross/Samaje Perine and I assume I'm not alone in coming away pretty impressed. That said, OU still ran for less than 200 yards on 40 carries, amounting to a somewhat paltry 4.6 yard per carry average against a pretty pedestrian La Tech defense. Tulsa, on other hand, allowed 250+ yards on just 30 carries (a 8.5 per avg) to a Tulane team we can all agree is nowhere near comparable to what OU will be putting on the field early Saturday afternoon.
So while it was admittedly just one game for Tulsa's defense, I'll be pretty disappointed come around 2:30 pm Saturday if OU hasn't at least eclipsed the 200 yard mark on the ground.
* The secondary – La Tech didn't provide much of a test for OU's somewhat inexperienced secondary and that was due in part, as it likely will be most of this season, to the pressure created by the front seven. The expectation has always been those guys up front, being as good as many of us believe they can be, would help significantly to cover up most of the potential issues in the back end. And that could very well be the case once again on Saturday, but there is very little doubt Tulsa will provide more of a test through the air. If for no other reason than sheer volume.
Tulsa is going to pass…A LOT. They appear to have a talented quarterback in Dane Evans, who threw the ball 53 times in TU's season opener. They also have a number of quality receivers, most notably Keevan Lucas. And if we're operating under the premise that the Golden Hurricanes will be playing from behind — which I don't think is unfair based on OU being a 20+ point favorite — then they'll likely be forced to throw the ball even more, therefore providing much more of a test for guys like Julian Wilson, Ahmad Thomas, and Hatari Byrd (to name a few).
* TEs to be more involved – We heard all spring/summer about how the tight ends would be a much more prominent part of this OU offense again like in years past. Then La Tech came & went and it seemed as though very little had actually  changed. Outside of that one close but unsuccessful play to Blake Bell in the back corner of the end zone and/or if you're considering Dimitri Flowers to be somewhat of a defacto TE, it felt like the TEs were just as minimal a part of the offense as they were in 2013. Maybe you remember them being targeted more than I do, in which case I'd welcome being proved wrong.
Regardless, nobody listed on OU's roster as a tight end recorded a catch against La Tech. So the hope would be that is not the case for a second consecutive game, and that Josh Heupel/Trevor Knight can get those guys involved a little (or a lot, I'm cool with either) more on Saturday. I'm obviously thinking more long-term here and what the threat of a TE could mean for the offense more so than them needing to play a significant role in order to beat Tulsa.
* Knight's composure – I'm certainly not breaking any news in stating Knight looked much, much more composed last week than he did in last year's season opener. However, he did still show that tendency to be inaccurate with some of his throws. Maybe, that's simply the give-and-take we're going to get with him as QB1. I suppose only time will tell. But Saturday will only be the third ever road start in his young career. And, yes, I know a trip down I-44 will likely be, as it has been in the past, something of a home game for OU. So it's not expected to be the most difficult of road atmospheres, but it's still not the friendly confines of Memorial Stadium.
Maybe Tulsa hits a big play early. Heck, maybe they even jump out to an early lead. I'd expect with a year (of sorts, he did miss about half the season last year) now under his belt, Knight is better prepared to respond than he may have been at this same time last year. Admittedly, I'm probably reaching a bit here for a game @ Tulsa but it could be something to keep an eye on if things don't go OU's way early.
* Jordan Evans – Nothing specific necessarily, I'm just anxious to see him actually play after his erroneous (per Stoops via Walt Anderson) ejection last week.
—-
What will you be watching for Saturday morning afternoon?