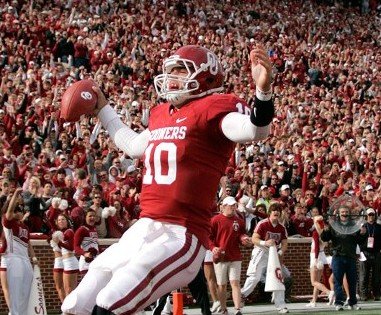 OU vs. La Tech – What I'll Be Watching
Posted on: August 28, 2014
Image via ESPN
I'm not going to insult your intelligence and waste your time with much of an intro. I think the title makes it pretty self-explanatory.
*Trevor Knight's deep ball – With an experienced o-line averaging around 6'4″ 320 lbs and a stable of backs behind them, I'm not expecting the ground game to be an issue either Saturday night or for the 2014 season in general. However, that is somewhat contingent on Knight and his ability to stretch opposing defenses not allowing them to have that extra defender (or two) up in the box.
His ability to hit the deep pass, and do so consistently, was clearly on display in the Sugar Bowl and was one of the most important factors in OU winning that game. Outside of that night in January however, Knight was either inconsistent in his ability to connect on the deep ball and/or Josh Heupel did not dial it up for whatever reason.
It's not rocket science to expect teams will still be skeptical of Knight beating them with his arm, so OU can expect opposing defenses — at least early in the season — to load up against the run and make TK9 prove he can consistently move the ball through the air. Obviously with Dorial Green-Beckham this would have been, in theory, much easier to do. And now that No. 11 is no longer an option, who will emerge as Knight and OU's primary downfield threat?
Mind you, he doesn't have to hit on ten of these every game, but in the three or four (or however many Heupel calls) chances he does get, he needs to connect. If he's able to do that, there's no telling what this offense could be capable of in 2014.
*Defending the run – We're all aware of OU's struggles defending the run last season. And while it was at least partially a result of (1) the first year in a brand new scheme and (2) undersized personnel for said new scheme, this is another area in which opposing offenses will look to test the Sooners.
La Tech is bringing in a talented running back in Kenneth Dixon, but he'll be running behind a suspect offensive line. So if you see Dixon carving up this OU defense Saturday night, then it could be a pretty telling sign things still haven't been sorted out in that front seven.
Now, do I expect that to happen? No, I do not. I'm just saying if it does, there could be reason to worry.
*Julian Wilson – This will obviously be our first time to see the fifth year senior following his position switch to corner, and I'd be surprised if La Tech didn't try to test him early. As most of you who read the site know, we've heard many a positive report on Wilson and his progress at the new position. And I'm not necessarily here to doubt any of those people. But until you see a guy under the lights, out there on that island, in my opinion there has to be at least a little bit of trepidation.
If there is anyone on this planet whose opinion I'd trust when fielding a defensive secondary it's Mike Stoops. And with the work Wilson put in this spring/summer with Coach Viney, I'm fully expecting him to succeed at corner. But, at the same time, I want to see it with my eyes first.
*Safety play – To me, this is the biggest question mark facing a potentially elite defense. Yeah, there's the depth issue at ILB. But that's something that is really beyond your control. The play of OU's safeties will be critical, as they would in any defense, and I'd be lying if I said the inexperience here didn't worry me.
We've seen guys in the past — with much more on-field experience than Ahmad Thomas, Hatari Byrd, and Steven Parker will bring into the season — get confused, or miss an assignment, and give up a huge play. How will bigger guys like Thomas & Byrd hold up in coverage? Has Q.Hayes improved upon some of the issues in his game we saw at times last year and can he be the leader this group needs?
*Jed Barnett – If you can't stop laughing for a second, hear me out. Barnett was a guy I thought really struggled at times last year, especially at home where those Oklahoma winds seemed to give him fits. We all remember what a weapon Tress Way could be at times when he'd rip off one of those 60-yard punts and flip the field on an opponent. Saturday night I'd like to see a guy in Barnett we know can pull one of those out if needed, or drop one inside the ten yard line and let the defense go to work.
Obviously you want your punter on the field as little as possible, but when they are out there you want to know what you can expect. I didn't think that was the case last year, so hopefully that has changed.
*Blake Bell at TE – I mean, seriously, how could you not be fascinated by this come Saturday night?
Since he sat out the spring game, none of us have been given a chance to see how he's taken to the new position. Sure, we've heard rumors — and if even half of them are true then look out — but there just that….rumors. Putting aside how weird it will be to see him actually line up at TE, if he's half as good as everyone thinks he's going to be then it could be a true game-changer for this OU offense.
The threat he would present over the middle of the field and the immediate mismatch he creates with his size would cause havoc for opposing Big 12 defenses. Whatever he may do, it will still have come against La Tech. So I'd caution you to temper any excitement for at least another week or two, but this thing has to start somewhere. And if it's with Bell showing out Saturday night, then I'd be okay with that.
—-
What will you be watching for Saturday night?