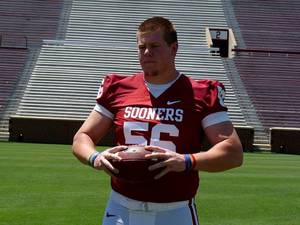 Report: Oklahoma Center, Ty Darlington, Will Not Receive Redshirt For 2013 Season
Posted on: January 26, 2014
Image via NewsOK
If you haven't already seen, Jason Kersey of The Oklahoman is reporting that Oklahoma center Ty Darlington will not receive a redshirt for this past season despite being active for a total of just nine plays.
Many believed the plan coming into the season, with a senior (Gabe Ikard, obviously) All-American candidate in front of him, for Darlington to redshirt, be the starter coming into 2014, and then have three more years of eligibility remaining. Had Ikard gone down with an injury, it would have likely forced the OU coaches' hand and Darlington would have had to play. That did not happen, Darlington never even played during garbage time, so the assumption that the plan was to redshirt all along looks to be a fair one. However, it appears as though a mistake on the coaches part was made and unfortunately 2013 now looks to have been a completely wasted year for Darlington.
The NCAA's redshirt rule is one that often leads to a great deal of confusion. In my experience, many fans have been under the mistaken impression that if a player sees the field for even a single snap their redshirt is immediately burned. That is not actually the case.
If you look at NCAA's bylaw 14.2.4 on Hardship Waivers, the rule applicable here is, um, somewhat clearly stated:
In team sports, the injury or illness occurs when the student-athlete has not participated in more than three contests or dates of competition (whichever is applicable to that sport) or 30 percent (whichever number is greater) of the institution's scheduled or completed contests or dates of competition in his or her sport.
Couple things here before we get into the crux of the rule itself. You may be wondering "Was Darlington even injured this year?" And the answer, as far as anyone outside of the Switzer Center knows, would be no. There have been no reports of an injury and/or illness, but this part of the rule is something programs work around all the time. 'Phantom' injuries are routinely used and the rule/NCAA have proved to be fairly easy to manipulate with respect to hardship waivers. It's a grey enough area of the rule that the perception seems to be so long as you don't abuse it, the NCAA will typically work with you.
But back to the matter at hand and the reasoning as to why Darlington will reportedly not be allowed a redshirt. The 30% stipulation of the rule above is the issue.
According to OU's official site, Darlington saw the field in just three games this year; Louisiana-Monroe, Notre Dame, and Texas Tech. If you look at Oklahoma's schedule, there were twelve games scheduled and simple math will tell you that: 3 / 12 = 25%. Which means that any snaps Darlington received in Oklahoma's first three games would have fallen within the rule and would not have disqualified Darlington for a redshirt year.
However, once he saw the field at Notre Dame (OU's fourth game: 4 / 12 = 33.3%), according to the letter or the rule, he lost the chance for a redshirt. And of course seeing the field even later in the season against Texas Tech only further eliminated his chances.
So, on its surface, it would appear as if the Oklahoma coaches have made a fairly significant mistake and have cost Darlington a year of eligibility both they and he would have benefitted from.
It bares mentioning that if this report proves to be true, Darlington would still have a redshirt year available to him. However that would require him to sit for another year — following the letter of the rule this time — but with Ikard now gone (as well as Austin Woods) and no other obvious candidate currently on the roster to play a year at center, Darlington sitting again, say for the 2014 season, does not appear to be a viable option.
Kersey's report made no mention of whether or not this reported ruling has been appealed on Darlington's part, so this may not be the end of the story quite yet. But as it stands today, according to Kersey's source Darlington will be classified for a junior heading into next season.