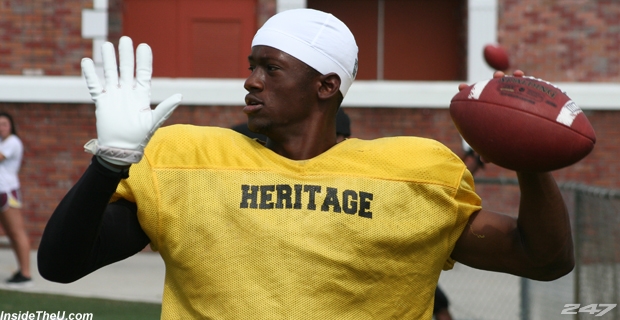 Former NFL Scout Talks About Torrance Gibson
Posted on: March 21, 2014
Image from 247sports.com
As everyone knows by now, American Heritage QB Torrance Gibson will make his first out-of-state unofficial visit to Oklahoma this weekend. That visit will be followed by visits to other schools like LSU, Auburn, Alabama, Clemson, South Carolina, Tennessee, and Florida.
There is a lot of debate about what kind of quarterback, and even player, Torrance Gibson can be. Some think he is strictly a running QB. Some think he can be a throwing QB. And some even think he might have more upside as a defensive player,  or as a wide receiver. In my personal opinion, Torrance can play any position he wants. But his ability to have success as a QB, specifically, depends on what he wants and whether he is willing to make the hard, but prudent decisions to achieve what he wants.
Our friend Chris Trulove, as our regular readers already know, is the former director of pro scouting for the Denver Broncos. He spent about ten years with the Broncos organization. We wanted to get Chris' take on Gibson because it's my belief that Torrance, like many great athletes, wants to be a high draft pick. So who better to take a look at Gibson's film than a former NFL scout? It's also my belief, based on conversations with Torrance and people around him, that he also wants to be a great throwing quarterback.
First, we asked Chris to just watch Torrance's film and give us his take. Keep in mind, Chris doesn't follow HS recruiting. He doesn't care if you're a "5 star" or a "2 star." He's not swayed by hype, because he doesn't know whether or not it exists. He just calls it like he sees it, and he is a tough critic at times. But in our experience, if he says you can play…you can play! This is what he had to say:
"Freakish speed for a quarterback. Excellent scrambler and play-maker outside the pocket."
Already, you can see that Chris is immediately drawn to what everyone sees with Gibson. Which is his all-world speed in the open field. Chris goes on:
"Good arm in the pocket, but he will need to continue to develop his patience and stay in the pocket at the next level."
Then Chris commented on Gibson's current ability as a passer vs. his upside.
"He's certainly a dual-threat guy, but at his current stage of development, when compared to other throwing QBs, he is an average passer. However, he has the talent to become a very good passing QB. With continued development as an in-the-pocket passer he is a power conference level quarterback and again, possesses rare running ability."
The above notes from Chris might sound like a criticism of Gibson, but really it is very high praise. There are people out there that simply don't believe Gibson is a next level QB. But what Chris is saying is that the tools are there. This coincides with what other people we trust believe about Torrance.
The reality is that Torrance's running ability is so far beyond any QB you'll come across that he hasn't been forced to develop his passing game the way a non-running QB would have. However, that is why the scheme and the coaches Torrance chooses could play a significant role in how his story plays out.
I wanted to confirm what Chris believed about Gibson's raw ability as a passer so I asked him; if Gibson couldn't run, could he become a legitimate pocket passer? Chris responded by saying:
"Yes, the raw tools are there."
Then I asked how high his ceiling is strictly as a pocket passer. Chris responded with:
"It is difficult to say whether he can be elite or not yet. The current film doesn't reveal elite.  And elite depends on focus and accuracy. However the potential to be very good is there. You can see that level of potential on film. It's too early to discount his ability to be elite, but with the information available to me currently, I cannot say that."
Basically what I got from Chris in our conversation was that based strictly on the film available to him, he's not ready to say that Gibson's potential as a pocket passer is elite. However, keep in mind that these questions were based on a hypothetical scenario where Gibson was simply an average runner. So for Chris to say that the film shows the potential for Gibson to be at least a good pocket passer at the next level is significant in my opinion. Because the reality is the college football world hasn't really seen many "good" pocket passers with Gibson's speed. It would be quite a stretch, in my estimation, to say, for example, that Vince Young was a "good" pocket passer.
The next question I asked was very speculative and probably a really difficult question for even a former NFL scout to answer. I asked if Torrance appeared to have the tools to become a 1st round QB.
"It is possible. Like most he will need physical development in terms of bulk, as well as passing development. He does not have to read defenses much in his current offense, so only time will tell whether he has the capacity and the work ethic to do so. In my experience not many players develop the mental savvy to be 1st rounders, so in that sense it's very hard predict."
Lastly, I wanted to know what scheme Chris felt would be best for Torrance in order to improve his chances of being a high draft pick as a QB.
"If we are talking strictly about down-the-road NFL goals, then he needs time in a pass first, spread offense. But one in which the coaches give him the green light to run. If he is in a run first, spread scheme he will win a lot of college games, but will still need more work to reach those lofty NFL goals."
What Chris said is similar to how I've felt and it seems straight forward enough. You're already an elite runner, but you want to become a good, if not elite passer. The only way to do that is to be trained and play in a passing offense. Chris does point out that within that spread scheme, Gibson should have the freedom to tuck it and run. Even in the NFL, the threat of his legs would be vital and is a tremendous selling point to teams. But if a team is a run first spread, it means they practice the run first.
Recruiting and Scheme
Here is a list of the schools Torrance plans on visiting: Oklahoma, LSU, Alabama, Auburn, Clemson and Florida.
Oklahoma – We've already pointed out at that it's hard to deny what Oklahoma could do with Gibson. And not just from a schematic standpoint, but also based on the tradition of what OU and Josh Heupel have developed quarterbacks. Bob Stoops and Heupel (I believe Heup was a GA when White won his Heisman) have produced two Heisman Trophy winning QBs — who could not run — and a No. 1 overall NFL draft pick. That doesn't even include the yards Landry Jones racked up as a passer.
Additionally, Oklahoma shows a nice balance of allowing their QBs to take off (see Trevor Knight), but they always insist on protecting their QBs by not running them an excessive amount. And the simple reality, even in this new offensive scheme, is their highest priority is still to develop a passing QB. Obviously this is an Oklahoma website, but homer or not it's hard to deny the record and consistency OU brings to the table here.
I'm certainly not as well versed on the background of the other schools, but I'll make some brief comments.
LSU – Cam Cameron hasn't been at LSU long, and before he got there Les Miles' history of developing top-notch passers wasn't exactly the best. But Cameron did a stellar job with Zach Mettenberger. He always seemed to have a strong arm, but his ability to move around in the pocket to buy time, read coverages, and throw accurately really took a step forward under Cameron's tutelage. Additionally, while LSU always seemed to be more a ground-and-pound offense, in the games I watched they appeared to be much more willing to throw the ball around the field. In fact they had two 1000-yard receivers this past season.
Alabama – Alabama is a pro-style offense that limits their time in 10 personnel. I think they did a fantastic job of developing AJ McCarron, however what a lot of people don't realize is McCarron was a pretty good runner as well. He's no Torrance Gibson mind you, but he can still move. And I think what stood out to me in the Sugar Bowl was how unwilling he was to pick up yards with his feet when Oklahoma pinned their ears back. It almost feels like the reigns might be a little too tight at Alabama and, as such, all the QBs coming from there get labeled "game manager." However, no one can deny the power of appeal Nick Saban and Bama can offer right now. So simply on prestige and/or reputation alone the Crimson Tide have to be considered a threat.
Auburn – This one is tough because on the one hand Auburn is more of a run first spread offense. And that is exactly the kind of offense that Chris Trulove seemed to be saying that Gibson needs to avoid. In fact, Auburn only attempted 285 passes.  However, Malzahn is an offensive genius and a darn good coach. The job he did last year with Auburn was nothing short of miraculous. Additionally, from all accounts we've heard he's a great coach to play for as well. And like Stoops, Malzahn has some evidence to back his claims because he's also got a No. 1 overall QB pick in Cam Newton with some similar traits as Torrance. However, Newton was a bigger bodied player than Gibson and you have to wonder what kind of toll that amount of running would take on Gibson's frame over the long haul.
Clemson – I think the scheme and the freedom that Clemson gave Tajh Boyd was exactly what Gibson needs. Plenty of receivers out there to throw to, but they also gave him the freedom to tuck it and run. Still though you could see Tajh's development as a pocket passer throughout his years there. Coach Swinney doesn't have that 1st round QB or Heisman Trophy winner to hang his hat on, but he's definitely done some good things in the time he's been at Clemson.
Florida – Unfortunately, with all the injuries Florida sustained this year it was difficult to really assess what kind of development Jeff Driskel had. Schematically, Florida was a power running team two years ago. Which was in part due to their offensive coordinator's pedigree/tendencies and in part due to the lack of a real throwing QB. However, with a new offensive coordinator in Gainesville the Gators are apparently going to more of a spread offense. So both that and proximity could eventually prove to be positives in Gibson's recruitment.
ADDITION: This morning Torrance posted on Twitter that he will also be visiting Tennessee. Just a few quick comments on their head coach, Butch Jones. Obviously, Jones is new to Tennessee and there are always risks playing for a new coach – you never know how it's going to play out. That said, Jones had some running QBs in his last couple years at Cincinnati in Munchie Legaux and Zach Collaros. And despite being good runners, Jones wasn't timid about letting them throw the ball. Granted, he didn't the ball around the yard like a Clemson or an Oklahoma, but they threw it a decent amount.
FINAL NOTES:
– O-line development. If you don't have guys that can protect you, it's hard to develop into a pocket passer.
– Running game. While Gibson might want to avoid playing in a run first offense, having a good running game is still necessary to help a quarterback's performance and development.
– If it weren't for the fact that Texas A&M will likely end up with Kyler Murray, they would be a school that I'd take a serious look at if I were in Gibson's position. Another school I'd be considering is Baylor. Baylor runs a lot of zone-read principles, but they will throw off play-action more often than not and do a darn good job of it. Additionally, Briles has his own dual-threat Heisman winning QB and high NFL draft pick to back up his claims.