Open Post | Wednesday, August 13th (UPDATE 4:24 pm)
Posted on: August 13, 2014
Image of Ahmad Thomas via USA Today
– Stanley Norman: We caught up with 2015 WR/DB Stanley Norman yesterday. Norman has long been interested in the Sooners, and back in early July told us that he would be taking an official visit to Oklahoma. His tentative plans were to take his visit for Tennessee game. He has, however, now confirmed that he will instead be taking his official visit for the Baylor game. Stanley is currently at Serra HS and is teammates with a number of talented players, like LB John Houston and DT Rasheem Green (both 2015 prospects as well). We asked him if any parents or teammates were coming with him, and he said there were no plans for that he knew of at this time.
Stanley has family in this part of the country and has expressed to us he has no problem going to school far from California.
– Hunter Herndon: Earlier this week Oklahoma made a new offer to 2015 jumbo athlete, Hunter Herndon (Forney, TX). In high school Herndon plays a QB, but told us he is being recruiting by OU as a tight end. He said he has yet to visit Oklahoma, but when we asked him if he has plans to he said, "I for sure will."
We hope to catch up with Herndon more later this week, but in our initial exchange with Herndon it definitely sounds like the OU offer has made him reevaluate things. However, at the time he said he still needed to speak to his parents about it in order to figure out where things stand.
After watching some film, JY offered up a few thoughts on Herndon:
Big athlete at 6'4″ 236 lbs. Reminds me a lot of Blake Bell in stature and running style. Plays QB for his h.s. team, and they run a version of what we saw out of the 'Belldozer' the last couple years. Projects to be a jumbo TE/H-Back at the next level with a frame that would allow him to go 260 to 270 with ease. I say H-Back as he's very comfortable blocking in space, understands angles well, and how to cut-block in the open field. Without seeing a ton of film on him, I'd say the coaches are hoping that he could possibly turn into a Brody Eldridge type player, though he's an inch shorter than Brody.
Very athletic for his size and a thick kid. Strikes me as the kind of player for his h.s. team that Collin Klein was for K-State. Not necessarily the best thrower on the team, but a solid leader and someone you can trust to find ways to get it done with the ball in his hands. Doesn't project as a QB to me due to arm strength needed to make outside throws. Very intelligent kid as he has committed to Rice. Heupel and Boulware are his primary recruiters, so it makes sense that he would be a TE/H-Back for Oklahoma (Ed. note – we've since confirmed with Hunter that he is indeed a TE recruit). Smart kid who is a team guy and solid leader. Would be a nice addition to the class.
– The Boz on the Bulletin Board: Last night a coach from Armood HS in Seffner, Florida emailed us a picture of their bulletin board. Armwood, as most of you know, is the HS school Eric Striker attended. It's been the home of a number of talented teams and athletes, and is of course where current stars Jordan Griffin (visited by OU coach's last spring) and Byron Cowart play.
The picture the coach sent us was of the inspirational comment that Brian Bosworth posted on our site (in this post) that is now on their bulletin board for all the Armwood players to read!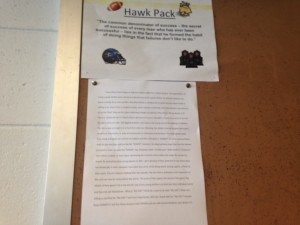 – Post Practice Presser Notes: Yesterday's presser was rather interesting. We heard some new names that haven't really come up much in conversations we've had with sources in and around the program. Freshman CB Jordan Thomas was a name mentioned a couple times. In fact, Mike Stoops went as far as to say that Thomas may very well end up being the back up CB to Julian Wilson.
Also, as we've been indicating for a while, Mike and Bob both indicated that Julian Wilson will indeed be the starting CB. Bob Stoops spoke glowingly of Julian saying he looks, "fabulous…I'm elated about it. He's got natural great speed, he's long, he's tall, he's got range…perfect…and again, he was recruited to play corner so it's really working out great for him. And he's so intelligent in the fact that's played now for two years. He anticipates, he knows what's coming, he gets the game. He's physical to tackle…so he's been great."
A name that came up perhaps more than anyone else though was safety, Steven Parker. In fact, even when Stoops was asked about Jordan Thomas, he brought Parker back into the conversation. Parker had been working out at SS the past couple weeks, but was moved over the FS this week. The FS spot is open as Quentin Hayes will be back at SS despite some work earlier in camp at FS. We've heard that both Steven Parker and Ahmad Thomas have been impressive at the safety position in general, with Ahmad being one of the bigger surprises out of fall camp.
OU will hold their final scrimmage tomorrow (Thursday), and then we expect they'll probably have a couple more practices this weekend with a depth chart being released sometime soon after that. While Parker has received a lot of public praise, one of the more experienced safeties may eventually end up getting the nod. Starting or not, Parker will see the field in 2014. And while it seemed clear early in camp that Hatari Byrd was a guy OU thought could come in and take the starting FS spot, we've been told that Thomas has really been the pleasant surprise. We should know more about where things stand after Thursday's scrimmage.
The inside LB position seems to be a bit of concern. Mike Stoops indicated that the freshman, particularly Curtis Bolton, weren't quite ready. Which doesn't come as a total surprise since Bolton didn't play ILB in high school. And it's certainly not a coincidence that we've been hearing Caleb Gastelum's name lately. He's getting a lot of reps in case he is needed.
Our guy who was at the presser yesterday said that Jordan Evans looks physically great. Obviously still has some room to add weight, but looks much more physically impressive than he did last year. And with his long frame,. Evans can still easily hold plenty of weight. OU is going to need that group to stay healthy, and Frank Shannon being able to play throughout the season is important for both leadership and depth.
– UPDATE (4:24 pm): OU has confirmed to the Tulsa World that Vontre McQuinnie is "no longer on our roster." Thus is would appear, despite some reports to the contrary, the lone remaining holdout from OU's 2014 class will not be making to campus.