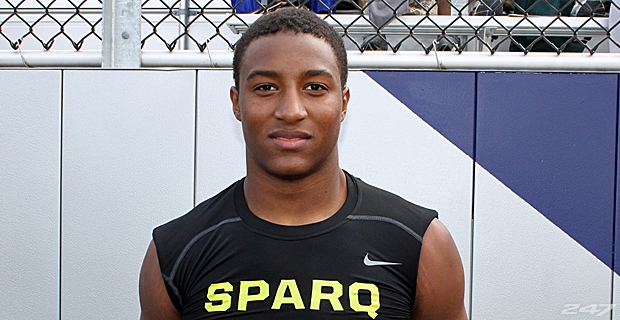 Open Post | Weekend, July 11th – 13th (UPDATED Sat., 1:43 pm)
Posted on: July 11, 2014
Image of Justin Reid via 247sports.com
Happy Friday y'all!
– Andre James: As we predicted earlier this week, Andre James committed to UCLA yesterday at The Opening. Proximity prevented James from ever making a trip to Norman. He was however able to make take an unofficial visit to UCLA, which clearly played a role in his decision. His plan was to take an official visit to OU this fall, we'll have to check with him and see if that's still the plan.
– David Long: Yesterday we mentioned that 2015 Ohio LB David Long will be taking an unofficial visit to Oklahoma on the 21st of this month. We caught up with him yesterday and talked about where the OU coaches see him on the field. He said that Tim Kish has told him he'd likely fit in as an outside LB. We also asked him where other schools see him, and he mentioned West Virginia has talked to him about playing an in-the-box safety role. So taking that into account, perhaps he's being considered by OU as a NB/OLB as opposed to the every down Jack LB.
David doesn't currently have an OU offer, but he said Kish came by to see him in the spring and has been in touch ever since. He said Kish told him if he was able to make it down to Norman at some point, then there was a good chance he'd pick up an offer. Some of the schools he does have offers from right now that are standing out include Missouri, Louisville and West Virginia. But he said if an Oklahoma offer came it would be a big one and would put them near the top of his list. We asked him about his commitment timeline, and he said as of now he'd like to take his officials so he doesn't expect a decision to come anytime this summer.
– Kahlil Haughton: Caught up with Kahlil a bit last night, and he let us know that he is nearing a decision. He said he feels like he's getting to close to choosing that final school, but there are still some things he's considering. As to his timeline for a commitment, it sounds like it could come before the summer ends. But that's something he's still thinking about. It sounds like it will depend on whether he decides he'd like to take some official visits.
– Steven Parker: Have heard this young man is working very hard in the summer and is proving to have excellent cover skills. It's been well known in the state of Oklahoma for a while — he did play corner somewhat regularly at Jenks — but it sounds like early on his showing of those skills are standing out even at the next level. Granted it's only summer workouts right now, but a lot of positive buzz out there about how this young man is working and performing.
– Samaje Perine: We have mentioned his name a couple of times since he arrived in Norman earlier this summer. And we're probably going to mention him even more in the next few weeks. But man oh man…we have heard this fella's name mentioned from a lot of sources. The word we've gotten is that he is flat out impressing everyone in pretty much every way possible. It doesn't matter what is put in front of him, he does it and does it well. Have heard he has a mature way about him, both in terms of his approach to the game and his approach to life.
Again, cannot stress enough how many people we've talked to that have praised this young man. It will be very interesting to see how he transitions to full speed once they put the pads on, but one thing is for certain. He's doing things the right way and whether he sees the field this year or in the future, it sounds like he's going to be an asset to the program as a player and as a representative.
– Joe Mixon: Have heard this young man has incredible quickness in open space, which really shouldn't come as much of a surprise. That's something he was known for coming out of h.s. but again, you like to hear it confirmed once an kid gets on campus and folks can see him next to other great athletes.
– Justin Reid: Mentioned Reid yesterday, but had to bring him up again today after getting to watch him on the televised part of The Opening yesterday in the 7-on-7 competition. What a fantastic athlete and cerebral player. First, he's got a great sense of where to be. He puts himself either at a point where has leverage on the receiver, or where he can make a play on the ball. He identifies the relevant routes quickly and then doesn't bother trying to play the man. He goes right where he needs to be. Also, he's got a great drive on the ball, and he triggers not just quickly but timely as well. He's not triggering early and letting the QB set him up or go elsewhere. But he's right there…right on time.
On a related note, like Mbanasor, he (Reid) had one of the best vertical jumps in the competition. He jumped 40 inches! As the brother of Eric Reid, it's clear he has been around the game a lot and has the pedigree, but he's also a great student in the classroom. Reid also has great size. He's SPARQ verified at 6'2″ 188 lbs and he'll use it! Take a look at his film.
Like, McKinley Whitfield, Reid is a throw back safety in that he loves to come down hill and lay the wood. And I'm not talking about someone who sees a player being wrapped up by a teammate and then comes in to clean up. I'm talking about identifying a play quickly, triggering and closing the distance, staying square to the LOS, and violently striking a receiver cleanly in space. Lastly, Reid's athleticism shows up in testing and on film.
Would love to see OU extend and offer to this young man.
– PJ Mbanasor: Last night ESPNU televised the semifinal and championship 7-on-7 games from The Opening. OU commit PJ Mbansor, and his team the Landsharks, made it to the finals. PJ had to defend some excellent WRs, most notably Clemson commit Deon Cain and Alabama commit Calvin Ridley. Understandably, PJ had some great moments and then some moments where he struggled.
However, PJ continues to show that he has great short area explosion. He can flip his hips better than most any CB his size. Here are a couple of clips from yesterday. Please excuse the camera phone recording the TV maneuver:
What I want to point out in the second clip on the video is something we talked about yesterday, and something PJ actually did and later corrected in the two games last night. Multiple times he's given an outside release and then the receiver comes back in. In the second clip you see PJ trusting his technique and ability to change direction. He opens up to the LOS as the receiver goes outside and when the receiver comes back inside, he has the ability to flip his hips, drive, and make a play on the ball. For those of you who don't get a chance to really focus in on CBs, this is an amazing play. It shows a number of things that big CBs like PJ generally can't do. One of the most obvious difficulties that big CBs have is changing direction. And the most common reason is obvious….CB is all about balance. When weight is shifted as the WRs release, a bigger receiver has more weight and length to shift back the other direction. PJ is able to do this abnormally well for a corner his size.
What hurt PJ in one of the 1-on-1 reps Wednesday, and in a couple plays last night, was that instead of trusting his ability/technique and flipping his hips with his eyes on the receiver, he would turn the opposite direction and lose sight of his man. But as you can see in the rep above, he rectified that and it's great to see a young guy learn from his mistakes and correct it.
PJ also had to defend a number of go routes on the sideline. He defended most of them well, but he did get beat a couple times. I went back to really look at them. First, PJ's team had to fight their way back to get where they were. So he had taken a ton of reps by the time to semifinal and final games came around. It's clear physical exhaustion took a toll. Early on you see Deon Cain try to take PJ deep, and PJ turns and runs with him in-phase perfectly. A second time he's actually on top of the route. So it's clear the speed wasn't the issue.
One of the plays a receiver (don't recall if it was Cain or Calvin Ridley) caught on him was a deep ball in the end zone. PJ was there to make the play, put his hand up and got it on the ball, but the receiver was strong enough to haul it in. It was actually a fantastic catch. What he's going to want to work on is getting his head turned around quicker and playing the ball. But believe me when I tell you that's something most DBs have trouble with and need time to develop.
Another thing I wanted to note is that the second play on that clip above comes right after PJ had a pass caught on him. He shook it off and comes back the very next down and makes a play. He's got great mental toughness. Additionally, something you see in big CBs often is that they rely on their hands a lot. That works fine against lesser talent, but once you get to college you've got to be able to move your feet. PJ continues to get better at moving his feet and not relying on just his hands to redirect. In fact there are times where you'd actually like to see him use his hands a little more. But it's more important at this stage that he stay in front of the receiver primarily using his feet.
PJ has another year before he arrives at OU. There's always room for improvement and we'd like to see him continue to work on his speed and technique. But as I've said before, PJ really may be the most complete CB prospect (at this stage of his development) OU's had in recent years.
– UPDATE (Fri., 9:05 am): A quick update from 2015 JUCO OT & OU offer, Jamal Danley.
I will not be visiting #OU on July 14th. I would miss too much school work. Grades come first . I will visit before the summer is over !

— Jamal Danley™ (@JDanley54) July 11, 2014
– UPDATE (Fri., 9:25 am): I (Jordan) saw someone asking about the OL vs. DL 1-on-1 tape from The Opening and just came across it, so I just wanted to throw it up real quick in case anyone else was interested.
Also, here is some RB vs. LB 1-on-1 action.
– UPDATE (Fri., 10:28 am): Some good news Sooner fans. Stud 2016 OT Clark Yarbrough (already has a ton of offers from schools like Mich., Tennessee, etc.) will be taking an unofficial visit to Norman on August 3rd with his dad and brother.
– UPDATE (Fri., 12:50 pm): An absolute sick 1 on 1 with Spiro, OK's McKinley Whitfield against slot receiver Brushawn Hunter. Just so you understand how explosive Hunter is – he ran a 4.38 40 at the Ark. State camp with an 11 ft broad jump. If you're Okie please share this link. I'm telling y'all this kid is an Okie gem that is being under recruited and even if you disagree…the kid is a gem anyway because he's a kind young man that does well in school and helps the young kids in his community.
– UPDATE (Sat., 9:45 am): Trevor Knight continues to impress at the Manning Passing Academy. Here is an interview with Mike Detillier, a Louisiana-based sports journalist and football analyst, on ESPN radio in which he compliments Knight on how good he has looked (Knight comments start around the 6:00 mark). If for no other reason, listen for his Louisiana accent. It's fantastic. 
– UPDATE (Sat., 9:50 am): 2015 LB & OU offer Arthur McGinnis (New Orleans, LA) says during this interview that the Sooners will get one of his official visits.
– UPDATE (Sat., 1:43 pm): Encouraging news from 2015 JUCO OT Jamal Danley, who just yesterday announced he would not be in Norman this coming Monday as previously planned (but plans to visit at some other point in the future), who calls OU his 'clear leader' right now.