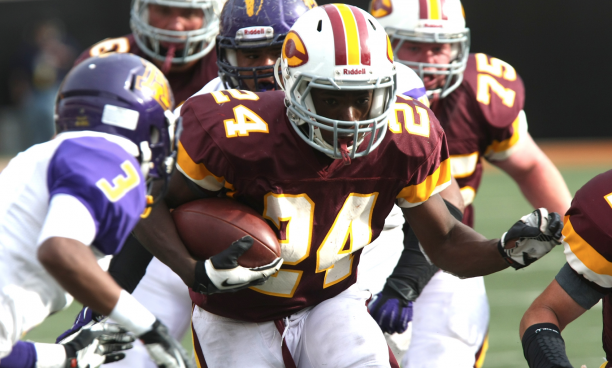 Open Post | Holiday Weekend, Aug. 29th – Sept. 1st (UPDATE Fri., 12:40 pm)
Posted on: August 29, 2014
Image of Marquiz Simpkins via vype.com
First of all happy Friday y'all! Also happy game week! Hope it's a great and safe Labor Day weekend for everyone!
– Torrance Gibson: Earlier this week we reported that Gibson let us know he will be taking an official to Oklahoma for the Tennessee game in a couple weeks. We want to give y'all a run down on where things currently stand with Torrance based on what we've heard. First, Bleacher Report recently reported that Torrance Gibson's Top 3 are Ohio State, Oklahoma and Arizona. For months now we've been saying that Gibson would run out of options simply because quarterbacks are not generally afforded the same length of time to make a commitment. Gibson's original favorites including LSU, Tennessee, Auburn, etc. have all taken quarterbacks. OU obviously hasn't taken a quarterback and from what we can tell, neither has Arizona. Ohio State has taken a quarterback, but are still heavily recruiting Gibson.
We'll be very candid here. We checked with someone very close to Gibson earlier this week and despite Gibson taking a visit to OU, we were told "he is all but done to Ohio State." That certainly sounds bleak and it should come as no surprise. Ohio State has very strong ties in Florida and in particular with people close to Torrance. However, it'll be interesting to see how big of an impression OU can make in a couple weeks. After all, Torrance never got a chance to see OU in all it's glory and splendor. When he visited OU previously, it was the final days of spring break and there was no one on campus.
Meanwhile with all the rest of the schools he visited, he got a chance to meet the players, interact with all the coaches, etc. If Gibson does indeed make it to OU, it's going to be very interesting to see how Bob Stoops, the environment, etc. can make an impact. Remember, even though Torrance didn't get the full OU experience, he actually really liked his first visit. Also, one has to keep in mind that OU is poised to make a lot of noise this season. Ohio State, meanwhile, just lost their number one QB.
– Khaylan Thomas: Earlier this week Oklahoma offered linebacker, Khaylan Thomas out of Etiwanda, California. Chatted with Khaylan earlier this week and while we first suspected he was being recruiting as an inside linebacker, he said he was told that he was offered as an outside linebacker. He certainly has the bend and edge explosion of an OLB in OU's scheme, but he doesn't have the length of guys like Ricky Deberry, Cassius Peat, Bo Wallace, etc. Watching him, he looks like a guy OU saw and was wowed by and said…"let's take him and figure out exactly where to play him later."
After receiving his OU offer, Thomas immediately put the Sooners in his Top 5 and when we asked him if he'll be visiting OU he said emphatically, "Oh yes I will." We asked Thomas which game he'd like to visit for and he said he still needs to look at the schedule, but he's looking towards either the Baylor game or the Oklahoma State game. As far as a decision timeline he said, "I'm probably going to commit in January."
– Anthony McKee: Ohio LB, Anthony McKee, also told us earlier this week that he'd like to visit for the Tennessee game. However, with all the recruits coming in, we won't be surprised if OU asks him to push his visit back a bit.
– Amonte Caban: Chatted briefly with Caban and, as mentioned above with McKee, OU has asked Caban to push back his visit to OU. He had originally hoped to make it in to the Tennessee game, but he said Coach Kish told him, "there will probably be a lot of recruits there…he (coach Kish) wants me to get the attention that I should."
– Weekend Visitors (Jalin Barnett): The Drake posted a list of weekend visitors over on The Original Posters. We have been able to confirm everything he reported. Obviously, this isn't a big game so there aren't a ton of people coming in. But an important offensive line recruit, Jalin Barnett, did say that he will try to make it.
Last week, former OU target, Tyler Moore released his Top 5 which obviously didn't include OU, because OU didn't end up extending an offer. However, what was interesting is around the same time Texas offered Moore, OU was still recruiting him very hard. And according to Moore, OU told him they are still very interested in him. But since they'd already extended an offer to Jalin Barnett, they couldn't extend an offer that they couldn't stand by. OU is one of those schools that doesn't just throw out non-committable offers (which is a good thing). But Moore also said he was told that Jalin isn't going to have to make a decision soon because they (OU) don't want to miss out on Moore waiting on another player.
Fast forward to now, we checked with Moore and asked if he was still hearing from OU and he said he has not. That is very interesting because, according to Moore, he was in regular communication with Coach Bedenbaugh for more than a year. It sounds like Barnett to OU is all but a done deal and OU knows it.
– Marquiz Simpkins: Another visitor coming to Norman this weekend is Clinton, OK RB Marquiz Simpkins. We've assumed all along that Oklahoma was only taking one RB and that may very well still be the case. But Simpkins is an interesting prospect. OU has been recruiting bigger backs, and Simpkins could bring a smaller change of pace type back to the offense. Just because Simpkins is smaller in terms of height, he still has great strength and speed. At 5'9″ he already wears nearly 190 lbs and is one of the quick physical backs that can hide behind offensive linemen and make life miserable for defenses. You want to talk strength and speed? Simpkins bench presses 315 lbs and ran a 4.35 40 at an OSU camp this past summer!
– Patrick Hudson: Many of you probably aren't familiar with 2016 OT, Patrick Hudson out of Silsbee, TX. We had a chance to speak to Hudson's mother for quite a while yesterday, and she told us that OU has offered Hudson. Patrick is currently a Baylor commit. He was actually an early TAMU commit, and once he received the Baylor offer he flipped. His head coach has strong ties to Art Briles. However in talking to Hudson's mother it seems clear the decision was made based on what they were told by people around them. And not necessarily based on having all the information about which schools will give Patrick the best chance to succeed on the field and play at the highest level. Hudson's mother told us that they'd very much like to visit OU.
– TAMU Beats South Carolina: And the recruits go crazy! Right? Well, anyone who watched that game and knows the littlest bit about football (and has the tiniest amount of objectivity, very rare in SEC country) could see that South Carolina's defense did not play well. Not trying to take anything away from TAMU, but it's the simple reality. Just wanted to share a text we received from one of the top CB recruits in Texas (not named PJ Mbanasor) after the TAMU game, "I was thinking about direct messaging the defensive coordinator from South Carolina and say I could help out at cornerback."
– OK Preps Scrimmage Notes: Last week Ace was at some OK HS scrimmages and saw a few of the top recruits in the state including 2016 QB Keaton Torre, 2015 WR and Louisville commit Dahu Green, 2016 RB Z'Quan Hogan, and 2015 QB and OSU commit John Kolar. Here are a few of his notes:
Keaton Torre – Overall looked more impressive than OSU commit, John Kolar. Torre shows a shiftiness that is similar to what we saw from Trevor Knight at Reagan. It doesn't matter when the play has broken down, Torre seems to make a play last for what feels like days. His mechanics as a HS QB are superior to what Justice Hansen possessed. He allows his arm motion to be completely over the top generating more zip. Torre has to work on his intermediate accuracy. His timing seemed off with some receivers. He threw quite a few balls low and inside the WR, but this should get ironed out by week one. His offense is set up through play action, which causes the linebackers to overextend on the zone read, so once Torre gets the timing down with his receivers his stats should blow up. Overall, you see a competitor. He has strong mechanics and good athleticism. Not surprised he's got an early offer from Bobby Petrino at Louisville.
Dahu Green – Killed the Cover-2 coverage. No one played up on the 6'4″ receiver. At first he was a cause for concern, but as the scrimmage wore on he became a flat out menace. Dahu is a slick athlete. He already seems to know how to use his body and create separation. Petrino will certainly be pleased with his new red zone target. I need to see his press release, but he's such a big strong kid that it would seem difficult to press him. His route tree looks like a Georgia Tech receiver right now, but he's got plenty of time to develop that and there's no question Lousiville will get him right. Dahu was averaging something like 20+ yards per reception. He should have tons of yards this season. Westmoore will utilize Dahu in a trips open set with him as the open receiver, trying to get him on the island.
John Kolar – Kolar has the tools than an OC salivates over. He's calm and knows the offense's checks. He's got nice touch on the ball. Doesn't have the zip that Keaton Torre has though. North is going to utilize Kolar as a rollout passer, and he is elite at throwing on the run. He can even throw well across his body on a rollout (a big no-no).
Z'Quan Hogan – Hogan has the tools to be a three-down back. With his athleticism and size he should easily be able to run between the tackles but he's got the elusiveness to to be effective on screens and flood routes. Hogan currently seems to gravitate to the sideline. He doesn't want to stick to the hole so he bounces the ball outside. He isn't DeAnthony Thomas or Dexter McCluster, but could potentially make some OC very happy if he learns to stay true to the hole. As of right now Hogan is a guy with a great ceiling, but again he's a little hampered by his desire to bounce everything outside.
– (UPDATE Fri., 12:40 pm): According to multiple reports, Frank Shannon's attorney is holding a press conference at 4 p.m. today. No word yet on whether this is good or bad news with respect to Shannon's standing with the program.