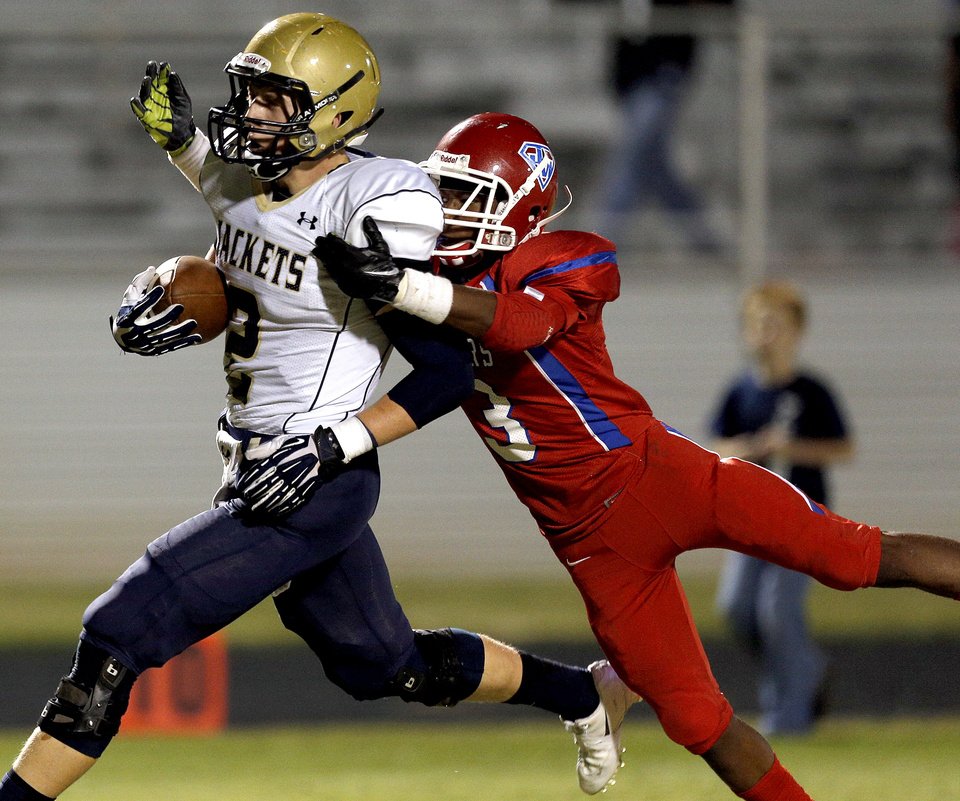 Open Post | Thursday, June 12th (Updated 4:50 pm)
Posted on: June 12, 2014
Image of Jace Sternberger via NewsOK
– Lately we've had quite a few people ask us whether Kenyon Frison was in jeopardy of not making it to OU. I don't know where the rumors came from, and honestly we'd never heard anything about Frison being an academic concern. But with all the questions, it started to make us curious as well. So we asked around and were told definitively that everything is fine with his academics, and he's just finishing some things up.
– As most of you have probably noted by now, every school listed in Torrance Gibson's Top 7, other than Oklahoma, now has at least one QB committed. This was something last month we mentioned could very well happen, but I would have expected at least Tennessee to hold off. They have not and while that certainly does not eliminate them from the chase, it will be something Gibson has to consider as things continue to progress.
Also, Torrance has been in Knoxville hanging out for a few days now. Obviously, that only helps support the idea that he's going to end up at Tennessee, but again the Vols already took a 2015 QB. This is a long process and schools aren't going to sit around waiting for Gibson, no matter how talented a player they consider him to be. So Gibson's perception of things may also be drastically different as the process goes on. I do know he's been talking to people that he trusts about whether he should or shouldn't advance his commitment date. If he doesn't, then I suspect Oklahoma is all but guaranteed an official visit. And then who knows what could happen.
We've received questions about Torrance's suspension from school, his attitude, recruitment, etc., so I wanted to take a moment and address the most recent issue as carefully as I can. His suspension from school was not related to a confrontation with a teacher. It was actually related to a bit of verbal tiff with another student.
– Had a chance to talk with Anthony Wheeler last night. We talked mostly about his visit to Oklahoma and his commitment timeline. It comes as no surprise that he's high on the Sooners. He said he has a great relationship with Coach Kish, and he feels very comfortable around him. But he also added that being close to Frank Shannon is important, because it gives him some additional insight into how Kish coaches. He said that Frank sings Kish's praises and that means a lot to him. But it's also clear in talking with Wheeler that Kish has put in plenty of work himself building a great relationship with Anthony.
In talking with him a little bit about his commitment timeline, it's clear he is pretty torn. A part of him would clearly like to make the decision this summer before the season starts or shortly thereafter. And another part of him feels like he'd still like to see some of the many schools he has offers from but hasn't had a chance to visit yet. Schools like Alabama, Ohio State, etc. If he decides he really wants to see some other schools from outside this area, then he'll wait to take his official which will extend his commitment timeline. If not, then perhaps we can expect a decision to come sometime this summer. Either way it's clear OU has done a great job recruiting Wheeler, and he'd be a huge pickup giving Oklahoma a true ILB that fits their scheme perfectly.
– I (Super K) continue to be intrigued by Kingfisher TE Jace Sternberger. Last week we talked about his athleticism, which I've heard he continues to demonstrate at camps this summer. Jace said at the OU camp much of what they did was blocking work, but right now he is really more of a flex TE whose strengths are his soft hands, great speed, length, and agility. The other day however, Sternberger measured in at 6'4″ 220 lbs at the Missouri camp and clocked a 4.7 40 which was the fastest TE time. He also ran a 4.3 shuttle and had a 30 inch vertical.
For a kid that long with a frame that can comfortably hold 240+ lbs, his numbers are fantastic. And let me tell you, those are not artificial numbers. You'll find a lot of kids with great camp numbers because they are trained in how to run a 40 or a shuttle or whatever. Jace isn't doing that kind of specialized training. If he's running a 4.7 raw right now, there are trainers down here in Texas that could shave .1 or .2 secs off that just on technique alterations alone. I don't know how interested OU may be, but I suspect some BCS level school is going to take a chance on him and it's going to pay dividends. Jace is just now coming into his own. Last year was his first at TE ( he played QB and safety before that) and with his athleticism it won't surprise me if he plays in a spread based offense that uses a big flex TE, really flourishes, and then finds himself in front of NFL scouts one day. Again, very intrigued by his potential upside. It's hard to not be enamored by that size and athleticism.
– We got some great news yesterday. I got a text message from Jake Pickard's father telling me that the Oregon Ducks have extended an offer to Jake. Those of you who have read our site for a while know that we've been fans of Jake's for some time, and we were very excited to hear the news of the offer. Oregon does a great job finding and developing long rangy athletes like Jake. Pickard has been working hard and he's now measuring in at 6'5″ 233 lbs.
– UPDATE (4:50 pm): Jace Sternberger just clocked a 4.6 40 at the Arkansas camp today. At 6'4 220 lbs that is some serious speed. And running that kind time without any 40 training is especially impressive. He may very well be a legitimate 4.5 guy.