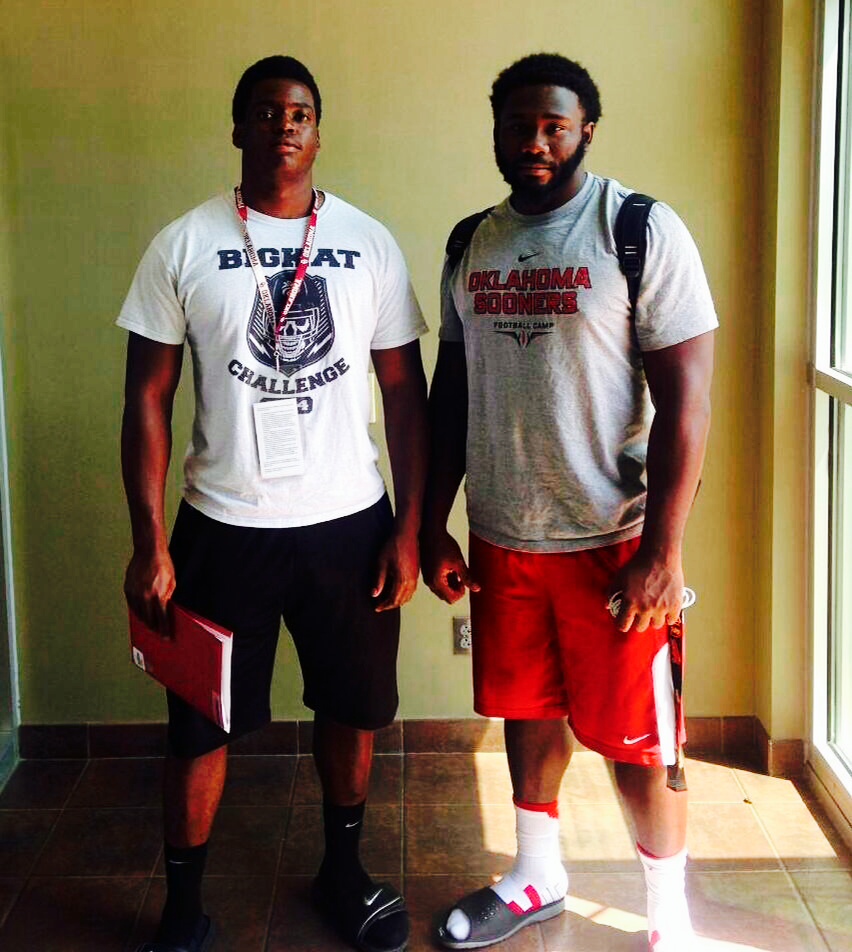 Kenneth Mann Visiting For Louisiana Tech Game | Film Thoughts
Posted on: August 27, 2014
Image via Kenneth Mann Twitter account (@kennx11)
Mann Visiting
OU picked up a couple of 4i tech defensive ends in back July. Our newest contributor out of The Boot, Dashone, wrote about one of those commits and fellow Louisiana native, Tyrell Jacobs. I wanted to look at a few plays and offer some broad thoughts on OU commit, Kenneth Mann out of Texas.
Kenneth will be taking his official visit to Oklahoma this coming weekend for the Louisiana Tech game.
Film Notes
0:04
Excellent leverage with even more incredible explosiveness from the hips. Just based off this, I imagine he could hang clean the house. He is extremely explosive in the hips, which makes him such a power tackler. Jack Del Rio once told me that, hands down, the most important lift is hang clean. It's a good indicator towards the explosiveness in the hips, which is one of the most essential traits for any of the front seven players. Mann has it.
0:42 and 1:52
The first step for any defensive linemen is usually the most critical. Mann shows off a great initial step. Hips and a good first step create the tools to have, at least, an above average pass rusher. His first step will give OU the flexibility to use him in a variety of stunts. Mann, at this point in time, seems to rely more on raw ability, but you can tell he has tools to be a three down player. Mann really excels at making plays from the backside as well, which again demonstrates his athletic ability as he covers ground with ease while his immense lower body strength allows him to plow back tackles.
2:46
The bull rush is one of my favorites to watch and when Mann does it here, he's being an absolute man (no pun intended). Pause at 2:50… excellent leverage right here by Mann with his anchor leg not out too far and also excellent knee bend to allow him to explode with his hips. I love his hands right at this point as well. He uses a double swipe move not allowing the tackle to get into him. I went to a Bengals practice once, and the d-line coach would make his guys stab with the inside arm for about 10 minutes just so they could finish. His philosophy is you can't reach with two hands when a guy plays with good leverage with one arm.
Overall
Mann has a lot of potential as a 4i defensive end. He also has the potential to be a possible situational inside pass rusher. He is extremely strong against the run, so look for him to lineup on a TE side because of how well he can anchor. His lateral quickness will limit zone blocking schemes because of how hard it is to reach him and when you do, you're not moving this guy. OU fans should be excited to watch a guy that plays with this type of moxie. He wants to punish you and plays with absolute reckless abandon.