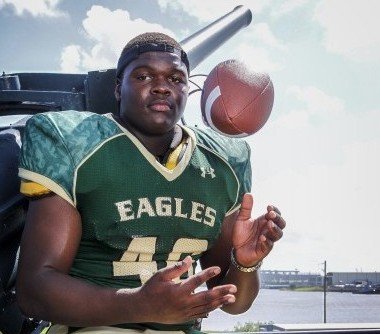 Open Post | Weekend, May 29th – 31st (UPDATE Sun., 11:27 am)
Posted on: May 29, 2015
Image of Du'Vonta Lampkin via Vype.com
– Du'Vonta Lampkin: Most of all you will probably recall the name Du'Vonta Lampkin, the 2015 DT prospect that was a one-time OU commit who flipped to Texas and ultimately signed with the Horns. Well, I have spoken with a few sources and have been told it now appears as though Lampkin will not be attending the University of Texas.
Apparently, UT has a foreign language requirement that most schools, including OU, do not. I was told by a source that while there was an attempt by Lampkin to try and meet said requirement, it looks unlikely what needed to happen in order for him to qualify academically for Texas (important distinction) isn't going to happen. The best case scenario for UT was that Lampkin would work towards completing that language requirement over the summer and then eventually enroll at Texas in August. I have been told, however, that is no longer the plan.
For OU fans this is relevant because I have been told OU is Lampkin's most likely landing spot. Although LSU has also been putting out some feelers as well to gauge his interest.
However since Lampkin did wind up singing his letter of intent with Texas, I've been given the impression there will be some sort of NCAA process he will have to go through in order to be released from said agreement and ultimately sign with another school (be it OU or someone else). That said, at this time I am unfamiliar with what exactly that process would entail.
Again, I am told that as of right now, assuming all things are manageable with regards to this NCAA process, Lampkin is not likely to end up at Texas and appears to be intent on attending Oklahoma. – (Super K)
– Mark Jackson: Just a quick note on 2016 OLB/DE Mark Jackson out of Cibolo, TX. Pretty sure most are aware as it has been out there for some time, but Jackson will be visiting Texas A&M this weekend. As we've noted before, he plans on committing early this summer and has told TFB that he will take a trip to Oklahoma after his commitment. He took a recent trip to Texas which, he tells me, put the Longhorns back in the mix but right now it really feels like more of a true TAMU & OU battle.
Jackson let me know that he has not yet set an actual commitment date, but based on past conversations it won't surprise us at all if an announcement is made in the next week or so. – (Super K)
– UPDATE (Fri., 6:22 pm): 2016 RB & OU offer Trayveon Williams has committed to TCU.
– UPDATE (Sat., 12:22 pm): Just wanted to pass along that Brandon was able to confirm 2016 DT & OU offer, Chris Daniels (6'3″ 301 – Euless, TX), will be on campus with his family this weekend.
– UPDATE (Sat., 1:52 pm): Welp.
Per source: Nick Harvey is no longer looking to transfer and has decided to stay at #TAMU.

— Alex King (@AKing_TFB) May 30, 2015
– UPDATE (Sat., 4:06 pm): The latest from Du'Vonta Lampkin.
Thank you Longhorn nation pic.twitter.com/QcGEPjye85

— BamBam Forever❤️ (@DeeChilllin) May 30, 2015
– UPDATE (Sat., 4:16 pm): And, unfortunately, with good news comes some bad. Apparently 2016 DE/OLB & OU offer Mark Jackson has committed to Texas A&M. As we told you above, Jackson is in College Station this weekend on an unofficial visit. It will certainly be interesting to see if our reported OU visit still happens and/or whether or not the Sooners' staff can potentially flip him even after today.
– UPDATE (Sat., 4:51 pm):
Just spoke with Lampkin. Confirmed #BoomerSooner is likely the landing spot as @TheFbBrainiacs reported. Hoping to know for sure next week.

— Adam Coleman (@CyFairSports) May 30, 2015
– UPDATE (Sun., 11:27 am): As mentioned in the comments below, OU's freshman class is starting to arrive on campus.
https://twitter.com/BiG_OvErToN_97/status/605018241992237057
https://twitter.com/kp_projectt/status/605004523682209793
Well today is move in day! #boomer

— BigSeib43 (@austinseibert1) May 31, 2015