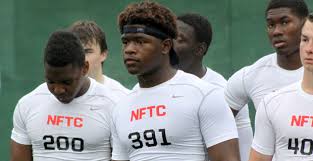 Open Post | Wednesday, May 28th (UPDATE 3:18 pm)
Posted on: May 28, 2014
Image of Dontavious Jackson via 247 Sports
– Recently Oklahoma made a couple DL JUCO offers including one to Deonte Reynolds. He is a huge human being. I initially thought he might be recruited as a DL to be converted to the OL — due to our depth on DL and lack thereof on the OL — but Reynolds told me that Coach Montgomery is indeed recruiting him for the DL. And Montgomery was the person who made the offer. Reynolds says he doesn't have a leader yet, but is definitely interested in Oklahoma. It sounds like he and his teammate Takkarist McKinley will both be visiting Norman some time in the future and seem interested in playing together.
– Another JUCO offer who is indeed an OL is Jamal Danley. Danley is a big time OT out of East Mississippi C.C. and has named two leaders, OU and Mississippi State. To be honest with you, I've heard enough first hand accounts about what goes on in the Mississippi JUCOs that my initial reaction was definitely that we were going to lose this battle. But I've chatted with Danley and there is definitely some real interest in Oklahoma on his part. He has said that he'll take official visits which certainly helps. He also said Coach Bedenbaugh came by to see him yesterday, but unfortunately the two were not able to speak. Bedenbaugh was just able to watch Danley workout.
This is a major position of need and I've got to believe that if all things are equal in recruiting, OU's prestige and immediate need wins Danley's commitment nine times out of ten. But, again, Mississippi JUCOs are a tough read.
– A 2016 player you're going to want to keep your eyes on is MLB Dontavious Jackson (Houston, TX). A coaching friend of mine recently told me about Jackson, he said he's the best MLB in Houston. I checked in with Jackson and it looks like OU is already recruiting him. In fact, Jerry Montgomery recently came by and visited him. No offer was extended, but that may very well have been because Coach Kish wants to make the LB offers. Jackson and Erick Fowler are two Texas LBs that Oklahoma needs to have already offered in my opinion. Both are studs. Fowler is the best 2016 OLB I've seen in Texas, and Jackson is a true MLB at 6'3″ and nearly 240 lbs, but the kid can move.
– Recently some rumors surfaced about Torrance Gibson and a possible suspension from his American Heritage football team. I checked with someone very close to Torrance, and he told me that Gibson would absolutely be rejoining the team. He also said that Torrance will be cutting his list and to expect Oklahoma to make the cut. I know most OU fans aren't optimistic anyway with regards to their chances,  but I figured I'd pass the info along regardless.
I still believe that while things don't look promising with Gibson, because he's chosen to draw his recruitment out it may give OU a chance in the end. Consider the fact that Auburn and Clemson already have QBs committed. Chances don't look great now, but who knows how things will look 6-7 months from now.
– Got word that Mike Stoops is headed down to Spiro today to visit with McKinley Whitfield tomorrow or Thursday. We will definitely be watching closely to see whether Stoops offers McKinley.
– UPDATE (9:20 am): K can add more to this if he'd like, but it's pretty well known at this point that PJ Mbanasor will be putting out a list of his top schools some time tomorrow. So if you weren't already aware, you might want to keep an eye out for that. No reason whatsoever to expect OU to be left out, by the way.
– UPDATE (9:23 am): Continuing a recent trend, OU has reportedly extended another JUCO offer, this time to Martinas Rankin. Here is his film and we'll get JY on a breakdown for you to post soon.
– UPDATE (3:18 pm): 2015 Allen (TX) QB Kyler Murray committed to Texas A&M this afternoon. It's not much of a surprise to anyone who follow recruiting as Murray is an Aggie legacy and long believed to be a TAMU lean (though Oregon was also a legit contender). It's only notable (I suppose) in the sense that he is one of just three 2015 QBs who hold an OU offer, two of whom have now committed elsewhere. The third, of course, being Torrance Gibson who we touched on above.
If Heupel intends on taking a QB in this 2015 class and things don't drastically change with Gibson, one would have to believe another QB offer or two will have to be made relatively soon.