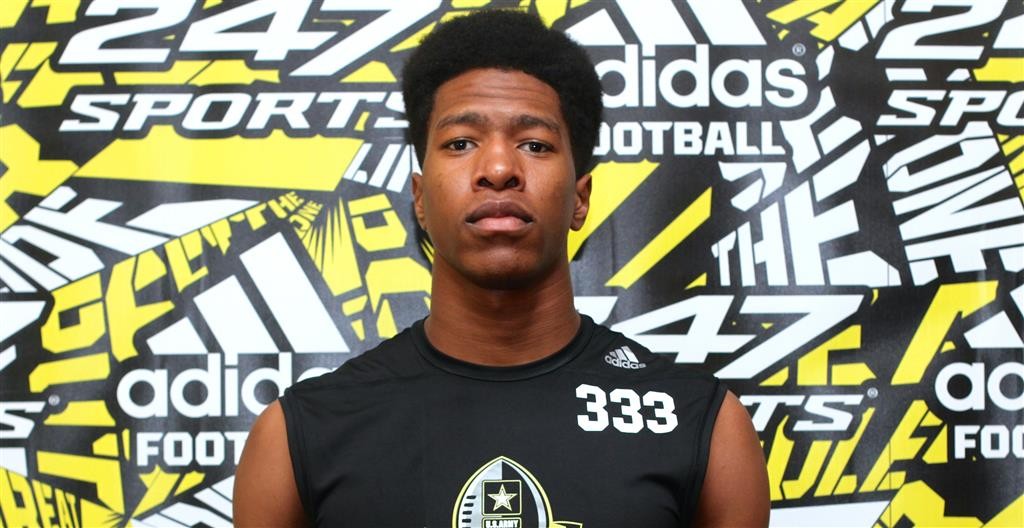 Open Post | Weekend, Mar. 13th – Mar. 15th (UPDATE Sun., 8:39 am)
Posted on: March 13, 2015
Image of Patrick McKaufman via 247 Sports
– Chandler Garrett: While the 2016 Mustang QB prospect seemingly stayed under the radar for the better part of the last year, everyone knew his skill set even if he wasn't necessarily getting the interest from schools most feel he deserved. However, that has changed in the last month as Missouri, Arizona State, Texas Tech, Oklahoma, Wyoming, Air Force, West Virginia & Arkansas State have all been in contact with him.
The 6'4″ quarterback was in Norman last weekend for OU's Jr. Day and told TFB the highlight of his trip was getting to put on Bob Stoops' 2000 national championship ring. "Being up in Coach Stoops' office, shaking his hand, and trying on his national championship ring was pretty cool. His case is just stacked with ring after ring, and watch after watch. Then you look up on his walls and see all the coach of the year plaques and trophies. It's pretty insane."
Garrett also connected with OU offensive coordinator Lincoln Riley and found him to be rather down to earth. "He's only 31 so he relates to us better than most coaches. He just has that vibe about him, but he also isn't real cocky. He's just Coach Riley. Just a really cool guy."
Garrett has plans to get back for the Red/White game and possible a couple of spring practices as well, assuming his schedule works for the latter. – (Brandon)
– Nick Starkel: Argyl, Texas is a hot bed for high school football, so it comes as no surprise they would be led by a talented 6'3′ 185-pound quarterback prospect. Starkel holds an Oklahoma State offer to go along with Old Dominion and Indiana State. And while that may not be all that impressive to you, the thing to keep in mind is that Starkel only played seven games last year before injuring his non-throwing shoulder which required season-ending surgery. Schools have been progressively picking up their interest and that, in part, led to Starkel making the trip up to Norman last weekend with his father.
During the visit, he had a chance to speak with Lincoln Riley as the two continue to get to know one another. "We talked quite bit. He (Riley) really seems like a nice guy." Starkel said he enjoyed the Jr. Day experience, especially having a chance to meet with Bob Stoops. "He (Stoops) seems like a pretty relaxed guy. Seems like he knows what he's doing, because he's set the bar really high for the program and built on their tradition. I liked the experience. OU is a very prestigious school on the football side and really, really good academics to go along with that." – (Brandon)
– Patrick McKaufman: If you haven't heard of him, well then you're missing out. He's the guy in Oklahoma that almost no one is talking about….yet. That is, except for the OU coaching staff. I happened to stumble upon him being a Jr. Day visitor last weekend purely by accident.
While I was speaking with Starkel about his visit, McKaufman's name came up because both are being tutored by one-time OU assistant, Joe Dickinson. Shortly after learning he was in Norman, I managed to find some of McKaufman's film and came away thoroughly impressed. I was also fortunate enough to catch up with the Oklahoma City prospect to discuss his recent visit. "I loved it," McKaufman said. "I felt like I got a chance to really connect to coach Simmons and coach Riley. They said they want to get to one of my spring practices and watch me throw live. They aren't big on offering kids they haven't seen throw in person."
McKaufman has a previous relationship with Simmons because the new OU wide receivers coach had been recruiting him for Washington State. Another advantage the Sooners, should they choose to extend an offer, is McKaufman's close friendship with another 2016 OU target in Calvin Bundage. "Me and Calvin are waiting on one of the home schools to offer so we can play together in college. Kansas, UTSA, LSU, TCU, Louisville and O-State have all started to show interest."
In my opinion, McKaufman is a kid who is on the verge of blowing up as he continues to get more exposure to schools. He's just much too talented to not be garnering a lot of attention. And even if it's not as a QB, he's a guy that could easily play WR at the next level. – (Brandon)
– Joe Dickinson: The former two-time OU staff member has developed quite a reputation as a developer of talent and works with a number of prospects, predominantly quarterbacks, throughout the country as a lead instructor at DeBartolo Sports Academy. In fact, he is quite familiar with all three of the quarterbacks above so we reached out to him to get a quick take on each. Here is what he had to say:
*Garrett – In my opinion, he was the best QB in Oklahoma last year on Friday night big games. He's tough, fearless, a great leader & teammate.
*Starkel – Best pure passer of the group. But competition he plays is not as up to par as others. Big arm with great mechanics and motion.
*McKaufman – Patrick has ton of untapped talent. He has great height. Consistency is going to be the key with him.
– UPDATE (Sat., 3:22 pm): Per Rivals' Adam Gorney, Sooners 2016 LB offer Krys Barnes has committed to UCLA.
– UPDATE (Sun., 8:39 am): Also yesterday, Sooners 2016 CB offer Chauncey Gardner committed to Florida (again).