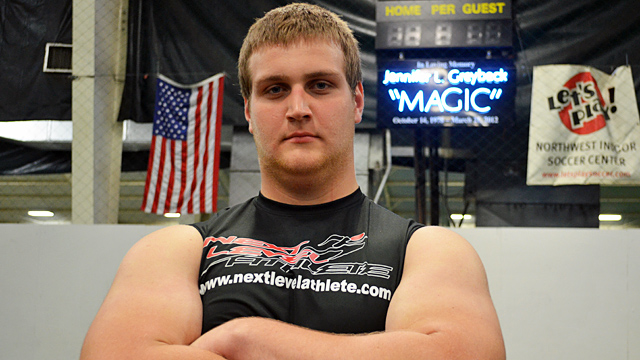 Some Thoughts on Tyler Moore
Posted on: June 17, 2014
Image via tamu.scout.com
A guy that Coach Bedenbaugh has been in contact with for quite some time is Tyler Moore out of North Shore HS in Galena Park, TX. I look at quite a bit of film and regardless of what some may have you believe, I don't always like all of what I see. But there are times when I turn on tape of an offensive lineman, and I can't believe what I'm seeing. I'll back up the plays two or three times, and when my poker face goes away, I know a guy can play. When I like something or someone, I can't keep it a secret.
At the core of being an offensive lineman, the purpose of being up front is to move people out of the way. When you watch a lot of film, you'll see athletic guys, you'll see pretty boys, you'll see those guys who you try to justify and be nice about it when you write about them, but once in a while…a guy like Tyler comes along. This kid is an absolute monster. If you took the Incredible Hulk and made him an offensive guard, you'd call him Tyler Moore. He goes 6'4″ 335 and he's a tank. He is benching close to 400 lbs and squatting in the mid-fives, and the thing that makes me shake my head is that he's just getting ready to be a senior in high school.
I can see why Coach B has been recruiting Tyler for a while. While he doesn't necessarily have the "big time offers" to speak of yet — Illinois and Minnesota are really the only big name schools to offer thus far — but I think it could be just a matter of time before that changes. I get excited when I watch guys like Tyler, because I see a guy you want in your huddle when you're getting ready to go handle a 3rd or 4th and short.
While his lateral movement may not be the best out there, the vertical movement he gets on guys across from him cannot be denied. Goal line, short yardage, dig a guy and root 'em out even when they're submarining you, Tyler's the guy you want to run behind in those QB sneak situations. In the previous decade, I can't count how many times we got stuffed on short yardage and had to punt or turned it over on downs. Now with Coach Bedenbaugh at the helm, we have a lot more of those straight ahead blockers that don't make excuses. Those no-nonsense, don't out-think 'em schemes that I love so much. Block down, pull around, double team, and just mash people. I abhor those schemes that rely on getting a guy going laterally to widen lanes.
Take his ass off his feet, and he can't make a tackle. Sorry I'm rambling now, but I absolutely love the way Tyler Moore plays the game of football. If you could bottle that nasty he has and take it to Pop Warner coaches, the game of football would probably be outlawed in 10 years.
To be more specific about Tyler's game, it all starts with a good base. Gotta have good feet and powerful hips. Tyler is a guy who is filled out and not fat at all. When you see 6'4″ 335, you expect a little softness to 'em since three and a half bills is a lot of lead in the sled, but Tyler's just a monster. Then you look at his upper body and he's built like a Kelly Gregg who was 6'1″ on stilts, yet was just a boulder. It's rare to see a guy with a long frame so stocky and powerfully built.
Tyler's not going to enamor you with his his 3-cone or side-to-side stuff, but is the guy quick enough to make blocks? The answer to me is a resounding yes, because once he gets his hands on you it's over. He locks on, doesn't let go, and the end of a lot of plays for the opposition take place quite a few yards down-field. He's athletic enough to get out on screens, but he's the guy that when you get in there foot-to-foot, if it's 3rd and 1, run your back up in there, and you just got at least four yards. The reason I want the OU to go get this guy is that you can't stop him from creating movement up front. Leave that pretty boy stuff at the door. This kid is legit.
Recruiting Notes: As I mentioned above, Bedenbaugh has been in regular contact with Tyler since his sophomore year in high school. An Oklahoma offer has not yet been extended, but Tyler recently worked out at the OU satellite camp in Texas and hopefully did enough to impress the coaches. Moore is also being courted by Coach Wickline at UT. And we get the impression those two schools would be among his favorites if they offered.