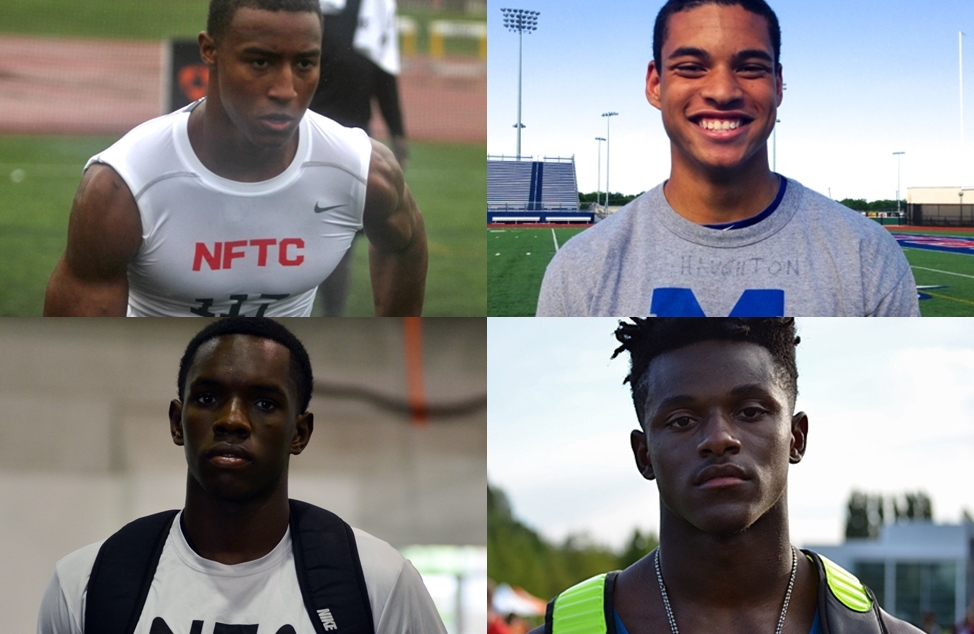 Evaluating Oklahoma's Safety Prospects
Posted on: September 17, 2014
Images of McKinley Whitfield and Justin Reid via 247sports.com, images of Will Sunderland and Kahlil Haughton via Scout.com
This past summer we asked former Sooner safety, Tony Jefferson to take our Blind Tape Test and compare safeties Will Sunderland, Justin Reid & McKinley Whitfield. If you missed it, you can see it HERE. With Will Sunderland committing to Oklahoma this past weekend, we asked former director of pro scouting for the Denver Broncos, Chris Trulove, to look at film on the three primary Oklahoma safety prospects (and of course another one of our favorite OK Preps prospects). Chris looked at film on all four (Sunderland, Reid, Haughton & Whitfield), here are his thoughts:
Will Sunderland (VIDEO)

Safety with good length and range. Can play center field and cover a lot of ground. Very good range and timing from the deep middle to the SL on deep fades and is not afraid to lay a lick on the receiver. Times the deep ball well. Is not a trained killer vs. the run, but does not over commit and get out of position. He maintains good field leverage on the ball carrier. Capable last line of defense defender but is often a low dive tackler. Leaves his feet more than desired when tackling. Consistent low tackler, often at the ankles, and is not one to stop a ball carrier in his tracks. Will give up some YAC at the next level and is not going to be an intimidating force in the middle of the field.
Shows good discipline on special teams and has the speed and range to contribute early there. This is a true free safety candidate that needs time to add some bulk and will have to become a true ball hawking QB of a defense to have a great presence at the major college level. He will need time to earn his spot with smarts and consistency.
McKinley Whitfield (VIDEO)

Football player!! Rangy safety with a real knack for hitting. Long, aggressive, and athletic. Good but not elite speed. Versus the pass, he has very good acceleration from the spot to the ball, has good speed and range, and is a nasty hitter at the point of arrival. Has a real presence blowing up crossing routes over the middle. Plays with violence. Shows good ball skills whether over his shoulder, or at him and his spot. Wide receiver action reinforces his possession of ball skills. Can turn and run down field in man coverage, turn and find the ball, and make the high point catch.
Has played a lot of QB suggesting he has the smarts for safety. Good range to the edge vs. the run and has good last step, sudden to burst through tackles. Wraps ball carriers with intensity and does not give up much YAC. Takes good angles and delivers a blow. Can be a bit late to diagnose and react, but with snaps as a full-time collegiate safety his reactions will improve. The game looks fun and easy for him whether at safety, QB, WR, or punt returner. With focus this guy will play a lot of football. Highly graded player that would have an even higher grade if he had truly elite speed.
Justin Reid (VIDEO)

Highly instinctive safety with a real knack for the position. Is very quick out of a standstill and has great burst to the action. Very good overall athlete with good size, quickness, speed, ball skills, and even kickoff ability. Versus the pass, he has a very good burst from his pedal and has the agility and foot quickness to cover some WR's and most backs or TE's in man coverage. He has a very good sense of timing for the incoming pass and breaks on the ball well. He has feel for when to play the ball and when to play the receiver. He does run the alley well is not afraid to punish receivers over the middle. He can get to the SL vs the deep ball and can high point it.
Versus the run, he is a quick reactor to the play and to the leverage spot. He is not a huge man at this time but he'll break down, faces up, and wraps up very well with strength and effort. Very sure wrap tackler. This is a very well-rounded safety that will be ready to play the position at a major college quickly. Very reliable and ready football player with strong and free safety capabilities.
Kahlil Haughton (VIDEO)

Long, lean player that has a lot of physical room to fill out. Free safety candidate with a very nice backpedal and explosiveness out of it. Is a quick-twitch player with range. Has very good speed and can close ground in a hurry. Is last step sudden to the ball whether it's in flight or in the ball carrier's hands. He tends to coast at times and get behind plays, but can really turn on the speed when it is time to close. Versus the pass, can play the deep middle due to his speed, range, and arm length to the incoming ball. He does take some gambles undercutting throws and will have to limit that at the next level. He has good timing and ball skills, though, and can come down with the high point ball. He can play over the slot due to his nice pedal and his fluid hip turns. Has man coverage skills and nice zone length. Could even play corner in a pinch. He does like to lay the wood after receivers come down with the ball.
Versus the run, he is not at all afraid despite his current lean frame. Not a huge downhill flyer and he needs to improve his run diagnose quickness. He does cover a lot of ground once the light comes on, and he is a nice face up tackler. He lacks the strength right now to be a top-notch wrap up guy, but he faces up very well and tackles with more power than his current frame would suggest. Not going to miss many tackles. Overall, he plays with nice abandon and very good physical skills. He will need to bulk up over his early days in college, but he has a lot of upside. Very nice future free safety candidate at the Big 5 conference level.
Ranking
1. Justin Reid
2. McKinley Whitfield
3. Kahlil Haughton
4. Will Sunderland