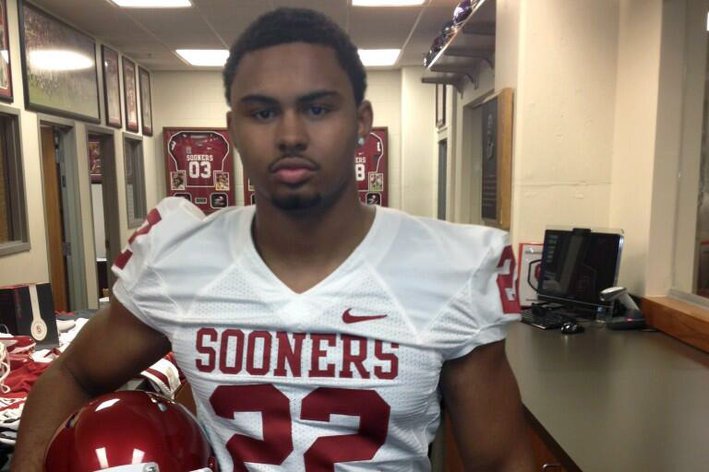 Open Post | Wednesday, June 11th
Posted on: June 11, 2014
Image of Ricky DeBerry via elevenwarriors.com
Sorry guys, getting a late start this morning. Had a lot of work to do yesterday.
– For those of you who missed it yesterday, star 2015 LB Ricky DeBerry (Richmond, VA) tweeted out the following:
Got to get my mom to Oklahoma!! #BoomerSooner

— Ricky DeBerry (@TheFranchize__) June 10, 2014
I (Super K) have to admit, I didn't realize Oklahoma was still in the running for him. So I called DeBerry's father, and I can now tell you that OU is very much a player in this. First of all, Ricky's father confirmed that his son will be at the OU/Tennessee game for an official visit. I believe that has been out there for a while, so I'm simply including as to those plans not having changed. Assuming nothing changes between now and then, that would mark his second visit to Norman, as evidenced in the picture above he's already visited previously on an unofficial with his father. And I also confirmed that both Ricky's dad and mom will come on the official visit with him in September.
I can also tell you there are multiple coaches involved in DeBerry's recruitment. As a matter of fact, it sounds like Coach Montgomery had a long talk with DeBerry just this week. Bob Stoops has also been communicating with DeBerry and the family. Apparently, Ricky's father and mother were on the phone with HC Stoops recently. And, of course, Coach Kish has been in regular communication with Ricky as well. Those are the only three OU coaches Ricky's father and I spoke about, but there might still be more. Bottom line is the OU coaches are definitely making DeBerry a priority.
Ricky's father grew up watching Oklahoma and, in fact, one of the highlights of his trip when they came on an unofficial was meeting Charles Thompson. He and their family definitely have a great sense of respect for the special tradition at OU. I also thought it was interesting that apparently Ricky and his father loved the new dorms. In fact, Ricky's father said the dorms had a particularly great impact on them because he liked the fact that each player has their own room and bathroom. DeBerry is a very good student and his mother and father like the fact that he'll have the privacy to be able to study, sleep, etc. without distractions when need be.
One of the things I thought was most interesting about my conversation with DeBerry's father was something I think OU is going to see happen more and more. Which is that DeBerry wants to play "Eric Striker's position." What Striker does as a pass rusher is something a lot of people are taking note of, and it's gotten to the point where I don't hear people use the word "Jack backer" or "Jack LB" nearly as often. Instead, I hear "Eric Striker's position" which may one day turn into "Striker LB" 🙂
It's clear that DeBerry loves the scheme and the style of defense Oklahoma plays, namely a more "attacking style."
Distance obviously doesn't favor OU, but that isn't stopping the coaches from working hard to make sure DeBerry (and his family) know he is wanted in Norman. And that he'd have an excellent opportunity to be successful at OU, both on and off the field.
– Also, wanted to note that a reader recently commented on a rumor out there that Neville Gallimore was done and will be committing to some school soon. I checked with Neville's coach on that and he said the rumor is false.
– I'll have more notes later but just wanted to get this up for now since I got a late start…