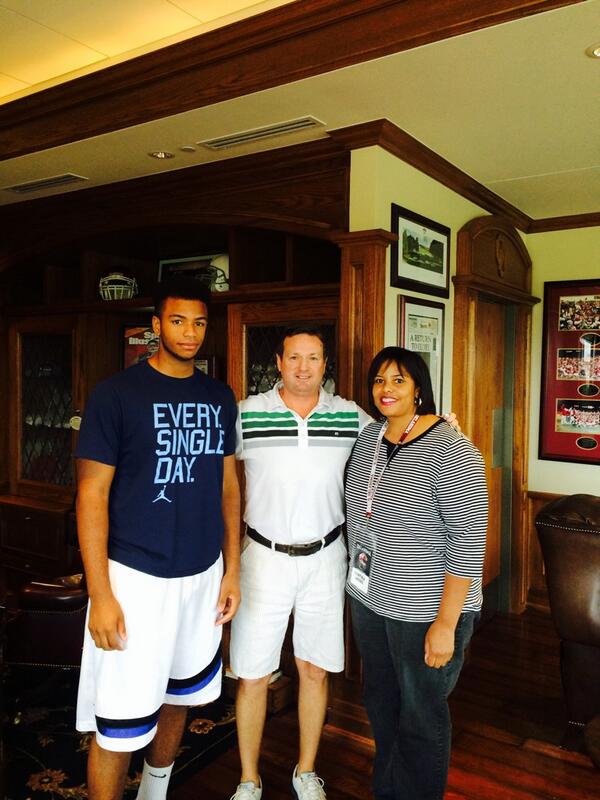 Open Post | Monday, June 2nd
Posted on: June 2, 2014
Image via @JoshMoore81
Hope everyone had a great weekend!
– The big news from this weekend was PJ Mbanasor making a return visit to Oklahoma. This time PJ visited with his parents. The question is how did this visit go? I spoke to PJ at length yesterday and the visit clearly went well; it only added to the interest that Mbanasor already had in Oklahoma. PJ got a chance to have breakfast Saturday will all the coaches, including Bob Stoops. Oklahoma really laid out the red carpet and made the visit a "PJ Mbanasor day".
A big thing for PJ was getting his parents feedback on OU. His parents had visited TCU with him and had approved of his initial commitment there. PJ told me his parents really enjoyed the trip to Norman. One of the biggest things for his parents are, of course, the academic side of things and his father felt that all their questions were thoroughly answered. His parents came away from the visit feeling very good about Oklahoma, and while they seem to be the type of parents that would support PJ regardless, I know having them see OU and approve of it as an option is big for PJ.
The other question is whether or not a possible commitment is coming soon? Well, the impression I got from PJ is that he's really trying to make a decision about what kind of timeline he'd like to stick with. He told me repeatedly that he felt very good about the opportunity in front of him at Oklahoma, and he felt very comfortable there in his heart. He also said the OU staff has upped their communication with him lately. However, he also has some other schools that he communicates with regularly are recruiting him very hard including Ohio State, LSU, etc. It is important to note he has yet to see any of the other six schools in his recently released Top 7, and that is something he'd still like to do. But the plans for any future trips are still in the process of being figured out.
– Wanted to congratulate Kingfisher OL Kaden Clay Jackson. He attended the NFTC camp in Ohio this past weekend and took his reps as a DL. He earned Top 5 honors there as a DL! Just a few weeks ago, JY was telling me he felt OU should consider Kaden as a center. He said he felt he'd be the most athletic center OU has had in a while. Winning Top 5 honors at a big camp like that playing as a DL supports that notion, at least to some degree. But Kaden's film shows all the athleticism one could desire for a center.
– OU offer Neville Gallimore picked up a Florida State offer this past weekend. A couple weeks ago he also picked up an offer from Ohio State. He made an unofficial visit to Columbus just before he attended the Ohio NFTC camp. Gallimore weighed in at over 300 lbs at the NFTC! His recruitment has clearly taken off, but I still believe OU has a good chance of getting an unofficial visit from him this summer. Gallimore's coach will actually be in the Oklahoma area later this summer, so Gallimore may be able to take the trip with him at that time.
– This past weekend TE Josh Moore tweeted out that he was in Norman for a 3rd unofficial visit to Oklahoma. I'll try to catch up with Josh later on and report back on how things went.