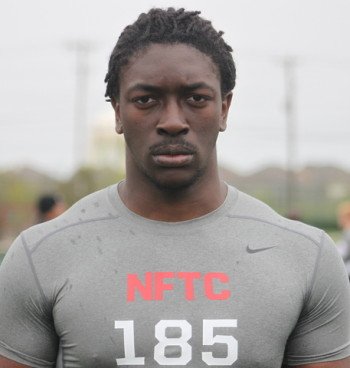 Open Post | Weekend, July 25th – 27th (UPDATE Sat., 11:03 am)
Posted on: July 25, 2014
Image of Madison Akamnonu via 247 Sports
Happy Friday y'all!
– Patrick Allen: 2015 offensive tackle Pat Allen (Reisterstown, MD) told us recently he's hearing from Oklahoma a lot and that the Sooners have a "great chance" of landing his services. Along with OU, a couple other schools standing out for Allen are Ohio State and Georgia. Allen told us he thinks Coach Bedenbaugh is "cool" and the two have developed a great relationship. Allen also told us this week that he will take an official visit to Oklahoma. The date has not yet been set, but OU getting one of his officials — and already sitting near the top of his list — is certainly noteworthy.
In talking to Allen, it feels like he could be that guy that, once OU lands a couple more OL, Bedenbaugh can really focus on and maybe pull a bit of an upset.
Madison Akamnonu: Daniel Paulling of the Lubock Avalanche-Journal and 247sports.com recently reported that Akamnonu is down to three schools – OU, Texas Tech, and Missouri. We checked in with Madison earlier this week, and he confirmed that he will be making a second visit to OU this month. He also said he will make a trip to Missouri and "after my Mizzou trip, then I'll make my decision."
OU has to feel good about where they stand here. Madison told us not to long ago that while he likes Tech, he was rubbed the wrong way by them at one point because he felt they attempted to pressure him into a commitment. And while Madison has told us he wants to go away for school (which is why TCU hasn't been a big player in his recruitment despite Bowie HS normally being a TCU stronghold), one would have to think that Missouri might be a little too far.
The Sooners also have the advantage of familiarity in that he will have made two visits to OU for Missouri's one. Also, Madison's father is an OU alum. And of course Oklahoma has the best OL pedigree out of the other schools he's considering. Again, have to feel pretty good about where things stand for OU on this one.
Cody Ford: Ford is heading over to the LSU camp this morning. We've got a new writer/evaluator (former St. Aug player) we're working with down in NOLA that will head down to the camp for us to catch up with Cody and monitor whether an LSU offer is extended. He'll also get an up close look at Ford. Though Ford is committed to TCU, OU is in pretty good shape here. However as we've said a couple times on the site already, if an LSU offer comes then the game changes. We'll let you know once we know.
Neville Gallimore: OU has essentially filled their DL needs for the year grabbing an NG in this class and two DEs. But that isn't going to stop OU from continuing to recruit an incredible athlete like Neville. Despite his continued physical development (he's now up to 310 lbs), OU is still recruiting Gallimore as a DE. Regardless of Neville's size, he has the requisite athleticism they are looking for. And as one source told us, "even Jordan Phillips is athletic enough to line up as a DE in this front."
In talking to hiss coach, this is a big selling point for Neville. While schools like Ohio State are recruiting him as a 3-tech, or possibly even as a 1-tech in their even front, Neville prefers playing a little further away from the ball. Where he can show case his freakish athleticism for a guy his size out in space. And that is exactly what OU would allow him to do.
An official visit is currently still in the works. The date isn't yet set, but they are considering the Tennessee game so long as it works from a scheduling standpoint – Neville's team has an out of town game that Friday in Michigan.
Ohio State is probably OU's stiffest competition here. In fact, some folks are penciling him in there already. But clearly Gallimore didn't get the memo. While he does seem to like Ohio State, after all he has already visited there and spent a lot of time with some Buckeyes commits at The Opening, he actually turned down the opportunity to take a second unofficial visit to Columbus this summer because he didn't want the public to assume he was set on Ohio State. He's still open and OU is definitely one of his favorites because of his relationship with Jerry Montgomery.
Man alive, a class of Kenneth Mann, Marquise Overton, Tyrell Jacobs and Neville Gallimore would be incredible!
Dominique Hearne & Funnel Cake Paradise: This is a random, but fun little note. I (K) was chatting with a friend who coaches down in Dallas about OU 2015 OL commit Dominique Hearne. Turns out Hearne's family owns a gourmet funnel cake shop in Dallas that my friend frequents quite often. He said it's delicious! Funny thing is he said that Hearne doesn't look he has an ounce of fat on him,"he's built more like a DE or an OT." So either Hearne is working hard or isn't being enticed by mama's funnel cakes.
We're not getting any add revenue for this (just to be perfectly clear), but we figured we'd plug a kid's family business. So if you're in Dallas and want to get a funnel cake topped with all kinds of goodness, you might stop by the Hearne's store. Here is the website: http://funnelcakeparadise.com/
Anthony McKee: Caught up with 2015 LB Anthony McKee (Columbus, OH) this week. He confirmed that he intends to take an official visit to OU. He hasn't picked a game yet, but like so many of the other prospects he seems interested in making it to the Tennessee game.
Arthur McGinnis: McGinnis is another 2015 LB who has told us that he still intends on taking an official visit to OU (he initially said he wanted to take a visit in an interview with NOLA.com). But he still hasn't set a date for the official. He said, "I'm still deciding on the game. It's a lot of good ones (games)." Guess McGinnis didn't get the memo from some of the fans who feel Oklahoma only has one good home game!
DeAndre McNeal: Yesterday OU offered 2015 ATH DeAndre McNeal (Mesquite, TX). McNeal is teammates with OU LB offer (and one of the smoothest and fluid LBs we've seen in a while), Malik Jefferson. McNeal plays a number of positions for his team, so we asked him where OU sees him. He said he's being recruited as a "WR/H-Back." OU has obviously had a lot of success with these hybrid offensive players in the past (and current with everyone very excited about Dimitri Flowers). They allow you to be multiple without bringing players on and off the field, thereby preventing the opposing defense from substituting. McNeal said that he will "probably" take a visit to OU before the summer is out.
Ykili Ross: With CB Isaiah Langley recently committing to USC, to go along with Taeon Mason and what seems like an inevitable commitment from Iman Marshall, we were thinking that perhaps USC might not have a spot for Ross. Which could possibly open the door a little wider for OU. But we checked with a source, and he said that USC absolutely wants Ross regardless of their current numbers. They are apparently very high on him and for good reason. Ross is taking an official to OU for the Tennessee game, so we'll just have to wait and see how things play out with this one.
– UPDATE (10:00 am): According to their respective Twitter accounts, Devin Williams and Mike Williams (no relation, both 2016 prospects out of Texas) will be two of the several prospects in Norman this weekend to take part in a NUC Elite camp being held at OU. Neither currently hold offers from the Sooners, though it will be interesting to see if that changes (especially with the latter,  M.Williams).
– UPDATE (3:50 pm): We are aware of the rumors that are currently making their way around the interwebs regarding an incident involving an OU football player. If and/or when we or someone else has something of substance, we will be sure to update you as soon as possible. But for now we're not going to specifically address this situation out of respect for those involved. It's a slippery slope when you start making assumptions based on speculation/rumors, and that's just not something we're going to be a part of here.
– UPDATE (3:56 pm): Here is what we have from a source on the Joe Mixon situation:
1. Joe Mixon was at Pickleman's last night. Our source was there as well.
2. Source tells us that a woman who appeared to be drunk came into Pickleman's and starting "taking sh*t" to Joe for no apparent reason.
3. Source said Joe actually responded quite calmly to her.
4. Source said that while he (the source) was there, he never saw anyone hit anyone. Source also said that Joe never even raised his voice.
5. Source also told us that the woman involved left before he (the source) and Mixon left.
6. Another source tells us that Joe deleted his twitter account for reasons completely unrelated to this.
If something else happened, we are not able to confirm it at this time. The above notes are all we have been able to confirm.
– UPDATE (5:24 pm): Here's what we've got from a second source completely independent of the first. However, this source was not present but is close to people who were:
1. Source said that a girl was "mouthing off" to Joe and then "kind of pushed him".
2. Source said Joe "just laughed and tried to walk off".
3. Source said that the girl continued to verbally attack Joe.
4. Source said that it's his understanding that Joe "never touched her but there was a small argument…mostly her yelling".
Again, we are just passing along what we are hearing. We can't get any confirmation so far from anyone that Joe physically attacked anyone. That isn't to say that he did or didn't. But we have yet to receive a credible report of Joe striking the girl. We'll keep working on this.
– UPDATE (6:43 pm): 2015 TE & OU offer Josh Moore (Olathe, KS) has committed to Ohio State.
– UPDATE (7:07 pm): We just spoke with someone at the Cleveland County Sheriff Department who confirmed that as of 7:03 pm an arrest warrant for Joe Mixon has not been issued.
– UPDATE (7:24 pm): We just spoke with someone at the Norman Police department and they would not confirm or deny whether a warrant had been issued for Joe Mixon's arrest. The woman did say, "all I can confirm is that there was an aggravated assault". When we asked if it involved Joe Mixon she said, "I cannot confirm that".
– UPDATE (7:36 am): Swear we're not trying to troll you all with an 'UPDATE' tag while providing no actual update. Just wanted to quickly post that I (rounds) made the interweb rounds this morning and there appears to have been no significant developments over night. Well, other than mostly wild speculation from all these sudden "legal experts" and/or people who conveniently now have "anonymous sources" inside Norman PD. When/if we learn anything of relevance or someone else reports it, we'll be sure to update you here as soon as possible.
– UPDATE (11:03 am): 2014 Orlando Brown would seem to have received some good news regarding his ability to qualify academically. Assuming this means what it seems to imply, OU just got some very good news regarding their 2014 recruiting class.
✈️ to Norman. So long GA it's been real.

— Orlando Brown (Zeus) (@ZEUS__78) July 26, 2014