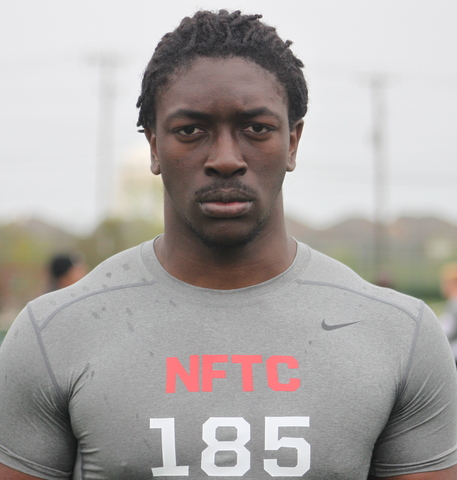 Open Post | Thursday, June 19th (UPDATE 8:15 pm)
Posted on: June 19, 2014
Image of Madison Akamnonu via 247 Sports
– A little over a week ago we offered a pretty extensive update on star LB Ricky DeBerry out of VA. For those who missed it you can see it here.
Last night he tweeted out the following:
I wonder if someone from va ever committed to Oklahoma

— Ricky DeBerry (@TheFranchize__) June 19, 2014
– As we all know, the game is won and lost in the trenches. And with the additions of Jerry Montgomery and Bill Bedenbaugh, OU has already had some great development up front on both sides of the ball. After this season however, Oklahoma is going to be losing a number of offensive linemen. So recruiting for that position group this year is critical, as it is in most years.
I know some folks may be concerned at the moment but the more we talk to recruits, the more I'm convinced that Bedenbaugh has OU is in a great spot right now. I believe not only is OU going to pull in some great recruits, but I think they are also going to have to say no to some kids that, in another year, would be an offer and take player.
As we've mentioned before, it's our belief that OU wants around 5-6 offensive linemen in this 2015 class. Currently, Oklahoma has two commits. Operating under the assumption OU would like to add a  JUCO OL (Jamal Danley is visiting at the end of this month), that would make three. OU is also sitting in a good spot Lawton's Jalin Barnett, which would obviously make four. Thus leaving potentially only 1-2 more available spots open, and there a number of very talented OL that Bedenbaugh continues to stay in touch with that could play at OU. Including guys like Tyler Moore, Tyler Higby and others.
– Another 2015 OL that many OU fans are, and should be, interested in is athletic OT Madison Akamnonu out of Bowie HS (Arlington, TX). Bowie has been a bit of TCU stronghold as of late – TCU's current DB coach is a former Arlington Bowie coach and Bowie currently has two players already committed to the Frogs. But we caught up with Madison yesterday, and it would seem as though Oklahoma is in great shape at the moment. Madison has a tie to Oklahoma through his father, who graduated from OU, and has also already made it up to Norman for a visit. At the time he didn't have an offer, but sad he enjoyed his visit.
Among the other schools he said are the primary contenders in his recruitment are Texas, Texas Tech, and Missouri. He has yet to visit Missouri, but said he'd like to make a trip up there this summer with his family (mid-July). He isn't certain about a commitment date yet, but a spoke glowingly of OU, Coach Bedenbaugh, and how the latter's no pressure recruiting method has been huge for him. In fact, he mentioned that one of the schools he is seriously considering took a big step back when they attempted to pressure him into a commitment.
We had a chance to spend quite a while speaking to Madison and in getting to know him, it's clear he has a great head on his shoulders. Really has a great maturity about him, and OU would clearly be getting a very athletic OT. We'll have more on Madison in a write-up later, but just wanted to let y'all know that Madison is another talented OLineman that OU seems to be sitting in a very good spot with.
– Another interesting note on an offensive lineman comes from OT Garrett Thomas out of Many, Louisiana. Earlier this week we mentioned that Thomas told us he wanted to make it back to OU for another visit "as soon as possible." After speaking with him again recently, he mentioned that a decision could come almost immediately after the visit. Which could mean that he's just looking to reaffirm an already held strong, positive impression about OU. We're not making any predictions, but it's just another example of an offensive linemen OU seems to be in a good spot for and why you can trust in Coach B.
– UPDATE (12:42 pm): Today's announcement from 2015 five star WR DaMarkus Lodge committing to Texas A&M comes as very little surprise if you've paid any attention to his recruitment. Only mentioning because he did hold an offer from OU.
– UPDATE (3:45 pm): Oklahoma continues to mine the state of Louisiana for talent and today offered 2015 DL Tyrell Jacobs (Metairie, LA).
– UPDATE (4:02 pm): I'm sure K can add more tomorrow or in the coming days, but just wanted to let you all know that Dahu Green has reportedly committed to Louisville. Don't believe it comes as a huge surprise, but being an OK Preps kid and someone TFB has talked about a lot figured it would be of interest.
– UPDATE (4:22 pm): As we noted above Oklahoma has offered Rummel HS DL, Tyrell Jacobs. Jacobs is a kid we've been watching and really like. More thoughts on him later but we're excited about this offer and we can tell you he is as well. He was waiting on this one. He texted us about the offer just a little bit ago and we just got off the phone with him and he's pumped and ready to take a visit to Norman this summer.
– UPDATE (8:15 pm): Good news Sooner fans! Stud DL, Tyrell Jacobs has already set up a visit date with Oklahoma. He and his parents will be making their way up to Norman on July 23rd!