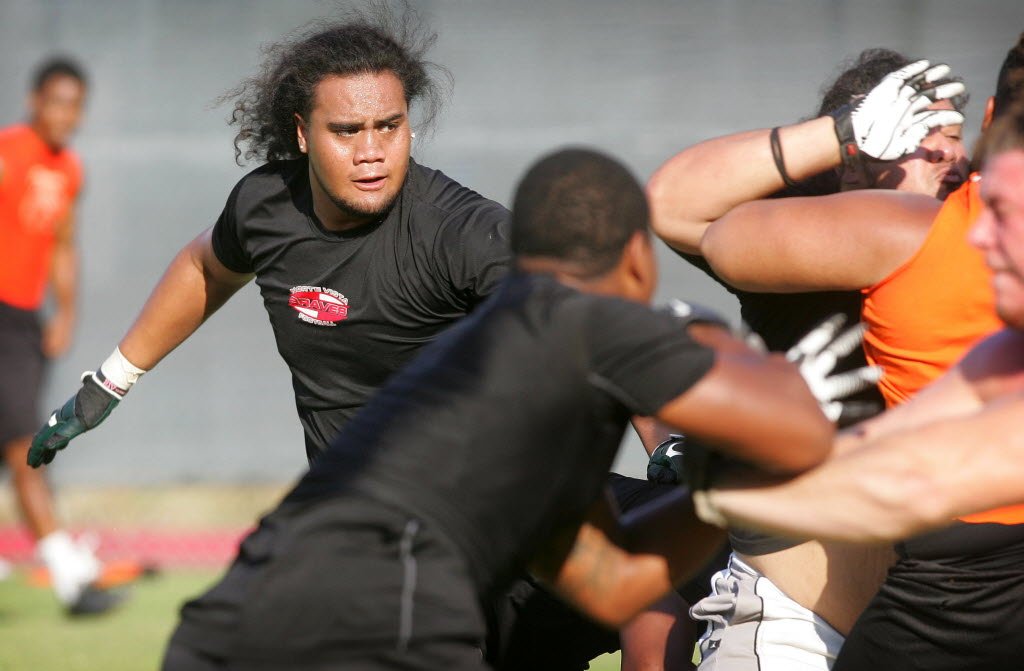 Some Quick Thoughts On Lio Lafaele
Posted on: May 12, 2014
Image via blog.pe.com
#5th Offer Oklahoma University #B00MERS #S00NER #Big12 #OU

— Jocelee Lafaele (@JoceleeLafaele) May 12, 2014
The King, Barry Switzer, used to say that you only need to watch one or two plays of a guy who's a great player to know he can play. Lio (VIDEO) is that guy to me, supremely athletic and nastiness to spare. Right now he is committed to Texas Tech. But hopefully with Coach Montgomery's Polynesian connection, he can get Lio on campus and then who knows what could happen.
I love the aggressiveness he shows on his first two plays. Right off the bat, you notice he has to know some sort of hand fighting based off of how he sets up in pass pro on the first clip. The d-end tries to get his hands in on him, he knocks the hands down, locks onto the guy and buries him…in pass pro! On play number two, he sets up a guy perfectly for a cut block, knifes him down, gets up and knocks the guy down two more times. Motor anyone?
Hopefully we'll be able to dig up more on this guy, but I'm a buyer right away. He's very athletic, great with his hands, bends at the knees well, and he's grade A nasty. We all know how high that ranks on my list. Even though he's only 6'4″, as athletic and good as his he is with his hands, he can overcome an inch or two in height.  I reallllllly like this guys game.  We need him BAD.