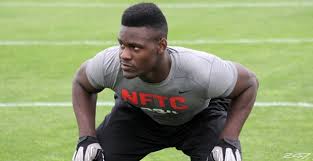 2015 Offer List | Linebacker | Part One
Posted on: April 25, 2014
Image of Anthony Wheeler via 247 Sports
With linebacker (at least ILB) being such a need in this 2015 class, and with the…shall we say…mixed opinions on OU linebacker coach Tim Kish, we wanted to take a closer look at where things currently stand with some of the Sooners top targets.
Justin Hilliard – St. Xavier – Cincinati, Ohio
Oklahoma does not have a strong track record of signing recruits out of Ohio. In fact, I believe the last time the Sooners even offered a linebacker out of Ohio was Trey Depriest (Class of 2011), who eventually signed with Alabama. But they are once again dipping into the Buckeye state with Hilliard and it's pretty easy to see why. He's a kid who possesses elite skills for an inside linebacker. He has a warrior mentality and loves to deliver big hits. And he's able to do so with such ease because of hip flexibility.
He will be a sideline-to-sideline type of player at the next level and has been coached very well, which should translate to him being a plug in and play guy early in his college career. One of the aspects of his game that excites me the most is his ability to rush the passer in a variety of ways. He has such incredible strength, that his bull rush is quite effective even against larger tackles at the high school level. But at the same time, he is even shifty enough to beat the running back with a quick side-step and swipe.
His coverage ability at this point would probably be his least refined area, but it really looks to me like it could simply be a product of his h.s. coaches rather use him to rush the passer than an inability to cover in space. Which makes sense with his elite tools, plus he has good timing on batting down passes. No should come as no surprise he holds offers from coast-to-coast, but OU did make the cut for his Top 10. That said, I still expect it to remain an uphill climb to actually land him.
Anthony Wheeler – Skyline – Dallas, Texas
Wheeler is more of your throwback inside linebacker. He physically imposes his will on running backs and loves to play with his authority. He reads and reacts very quickly. At times he can show some sloppy footwork, but anyone would fall in love with his style of play.
When you first watch him on film, you think you're seeing more of an inside the box type of MLB. A guy who might be somewhat limited from making those sideline-to-sideline plays, but he seems to have enough straight line speed to trump that initial analysis. You don't see a lot of coverage on his film, which does raise a few questions about his hips. And that's something I was already skeptical about.
Overall, you get a hard nosed linebacker that could really be a tone setter on the defensive end. He plays the game with moxie and can absolutely deliver a blow. He reads and reacts so well, that it can easily overcompensate for whatever quickness deficiencies he may have. Oklahoma has seen some recent success at Dallas Skyline, as recent graduate Corey Nelson and current Sooner Frank Shannon hail from the same program.
Cameron Townsend – Ridge Point – Missouri City, Texas
Townsend is exactly what Coach Mike is looking for in a replacement for Eric Striker. Townsend has a good initial burst and while it may not quite be as explosive as Striker's, it is still very good. Where he really stands out though is in the hips. He almost seems to have a slight pigeon toe'd style to how he runs, which allows him to have his hips on a swivel. He looks to be longer than Striker as well, actually his wing span almost looks similar to that of Elvis Dumervil. A guy that may be shorter from a pure height perspective, but plays with such good leverage (in part, because of said length) that offensive tackles can't reach him. You may or may not have heard how coaches are referring to that now as  "9-tech-jam-7."
I first heard the term from a Texas A&M staff member, and essentially this player is now playing just outside of the TE. With the idea for him to at the line to where his head is crossing the TE's body, but allowing his body to remain outside of the TE. This allows the player to play both the C and D-gap. The ultimate goal being to jam the TE strong enough the C-gap evaporates, so that now the Jack backer can play just the D-gap and will be a force player.
Townsend's long arms help him establish great leverage, which the technique described needs in a player, plus with his elusive hips, he seems to be a guy that can easily execute counter and double moves with the right coaching. He also seems to be athletic enough to play coverage seamlessly. Loose hips gives promise to a coach that this player will have the ability to play some man, and for sure zone.