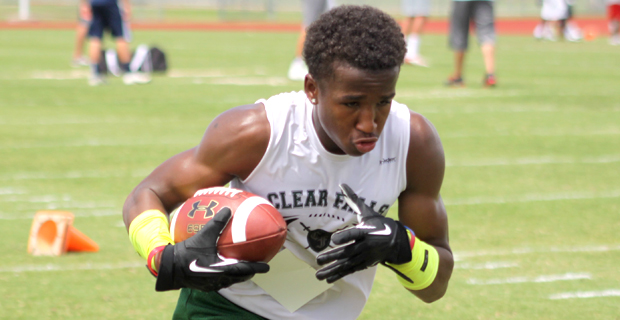 Open Post | Monday, June 16th (UPDATE 4:28)
Posted on: June 16, 2014
Image of John Humphrey via Yahoo Sports
– As mentioned this past weekend, we had a chance to catch up with 2015 WR and Baylor commit John Humphrey. Prior to his commitment, Humphrey had visited Oklahoma for one of their jr. days. He and his family had a great time, but subsequent to that they made a trip to Waco, and soon thereafter Humphrey committed to the Bears. I asked Humphrey if he was open again, and he answered in the affirmative. In fact, he said — again, as noted this past weekend — "I'm really feeling OU right now. They are making a push to be my number one school."
He told me that his relationship with Coach Norvell continues to get stronger. He also said that Bob Stoops has been communicating with him and his family, and the coaches have been emphasizing just how much they want him. Humphrey wasn't in the least bit shy about his interest in the Sooners, and it sounds like the OU staff is simply out recruiting Baylor right now.
– A reader asked if we could get an update on a few of the Cali guys (Ykili Ross, Isaiah Langley and Dechaun Holiday). I did get in touch with Holiday and he wasn't too open about where things stand, but in the past he's certainly let me know that UCLA has his attention. He did tell me over the weekend that Oklahoma has continued to recruit him, so he does have regular contact with OU. I asked him if he was planning on taking an official visit to Norman and he said, "I will have to see how everything plays out." Like I said, couldn't get anything too definitive. We'll work on getting updates on the other two players mentioned.
But it will come as no surprise to all of you that the biggest competition for all three of these elite CBs is going to be USC and/or UCLA. I've asked around and USC is planning on taking 2-3 CBs. They've already got one committed and probably lead for Iman Marshall as well. I don't know how many CBs UCLA will take this year, but they did take three big time CBs last year. So one would have to assume they are looking to take one or at most two in this year's class. So again, it sounds like OU is going to stay in the fight for all these guys and hope they can add a second star CB to their list.
– Had a brief exchange with 2016 DL Isaiah Chambers from Houston, and he said that he's very interested in making it up to Oklahoma for an unofficial visit this summer if possible. Chambers and Ed Oliver are friends and it sounds like Coach Montgomery is putting in work with those two.
– Another player who told me he really wants to make it up to Norman for an unofficial this summer is 2015 OT and OU offer, Garrett Thomas. Thomas said he's trying to take a return trip to Oklahoma "as soon as possible."
– UPDATE (4:28 pm): Little while ago from one-time Sooners commit Du'Vonta Lampkin with a Top 5, all of whom will apparently get official visits.