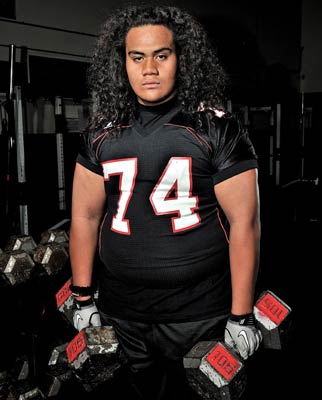 Jocelee 'Lio' Lafaele Notes
Posted on: May 19, 2014
Image via MaxPreps
I was able to catch up with Jocelee — he goes by Lio, which sounds just like Leo — this past Friday and wanted to share some of the things we talked about. I gotta say right off the bat, Lio and I hit it off.  Lio's a really good guy who has a good head on his shoulders and understands what he has to do to be successful in life. We were talking about how he plays with a really nasty chip on his shoulder. He credits that to his parents and how tough they were on him growing up. I can identify with that like I'm sure a lot of you can as well.
Anyway, we were talking about how he got to City College in Riverside (California).  He originally hails from Utah. He moved with his family to Corona, CA and graduated from Centennial. He originally signed with Utah in the class of 2012. When he came up short on his grades, he was devastated. Lio told me that he was really just trying to figure it out for a year or so, and decide what he wanted to do. Being a Utah native, it meant a lot to him that he was going to get to play for them, but then it didn't work out.
Fast forward a few months, and Lio said something inside of him just snapped. He knew he had to do something, and he had some ability and great size at 6'4″ 315 lbs. He decided to enroll in Riverside City College and get back to the drawing board with football. He said that he grew up a lot in his time away from football, and I could really hear that edginess and hunger in his voice that translates to his game. I told him how in my business life the edge that he plays with is something I look for a lot in my people. That killer instinct is something not a lot a people can claim to have, or show it either.
Lio is a December grad who is working hard in the classroom to get everything done that he needs to. He told me that he committed right away to Texas Tech without ever seeing their campus. He said that he wanted to make sure he had a spot because, as he put it, "you gotta eat and I gotta take care of my family." Lio has a very solid mental base, and there's no question in my mind that he's going to do what it takes to be successful. I could have talked to Lio all afternoon, but I tend to get a little long winded and didn't want to wear him out.
He did say that he really does like Oklahoma and is very excited about the offer that Coach B extended to him. He's hopeful to get out and make a visit sometime. I for one hope that we can flip him away from Tech. He would be a day one starter for us, who could step into that void that Tyrus Thompson is going to leave on the left side after he graduates. It would also give us the ability to play Derek Farniok on the right side, and we would be set at tackle for another two years.
Lio is without a doubt my favorite recruit we are going after this year. He's a great young man who plays with a lot of pride and passion. I'll stay in touch with him as things go down and he's comfortable with letting me know, I'll get it out to you guys.