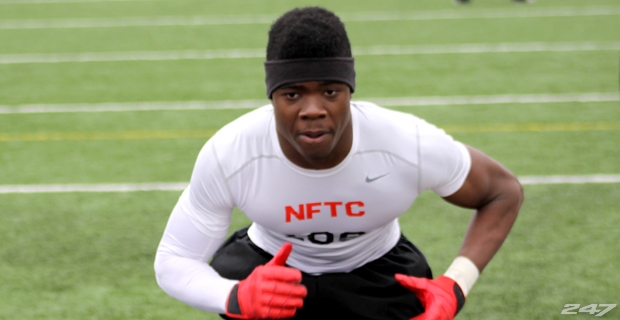 Open Post | Wednesday, May 7th (Updated 1:10 pm)
Posted on: May 7, 2014
Image via 247 Sports
– For a while Oklahoma had neglected recruiting much of the deep south, including New Orleans. A lot of people felt it was a waste of time since the SEC programs were sure to swallow all those players up. But last year Oklahoma was able to sign a couple New Orleans natives in Courtney Garnett and Dwayne Orso (Orso went to school at Homewood HS in AL but is originally from New Orleans).
The OU coaches seem to have decided to not only continue to recruit SEC territory, but increase their efforts in the region. Yesterday Coach Montgomery was in New Orleans visiting a number of recruits, and it sounds like coach Bobby Jack Wright will be down there next week.
– Oklahoma also stopped by yesterday to see one of the top OLB prospects on their board, Marshall 'Bo' Wallace. Who is a very realistic option for the Sooners and would be a great pick up.
– They were also by to see star 2016 DLineman, Glen Logan (Destrehan, LA). Logan is another example of Oklahoma not only increasing their efforts in SEC territory, but also trying to get out in front with early offers.
– Yet another player they saw was 2015 ATH Donte' Jackson (Jefferson, LA). Apparently, Oklahoma likes Jackson as a cornerback and he definitely impressed live in person. It sounds like Jackson may receive an offer in the very near future.
– As we mentioned yesterday, Coach Wright stopped by to see PJ Mbanasor and it sounds like the visit went really. I talked to PJ about it and he said "I love that man" in reference to Wright. He said Wright will be back to see him again next week.
– UPDATE (9:11 am): Donte' Jackson has just told me that he has indeed received an offer from Oklahoma!
– UPDATE (1:10 pm): Sooners have offered 2016 LB Lokeni Toailoa out of Rialto, California – VIDEO