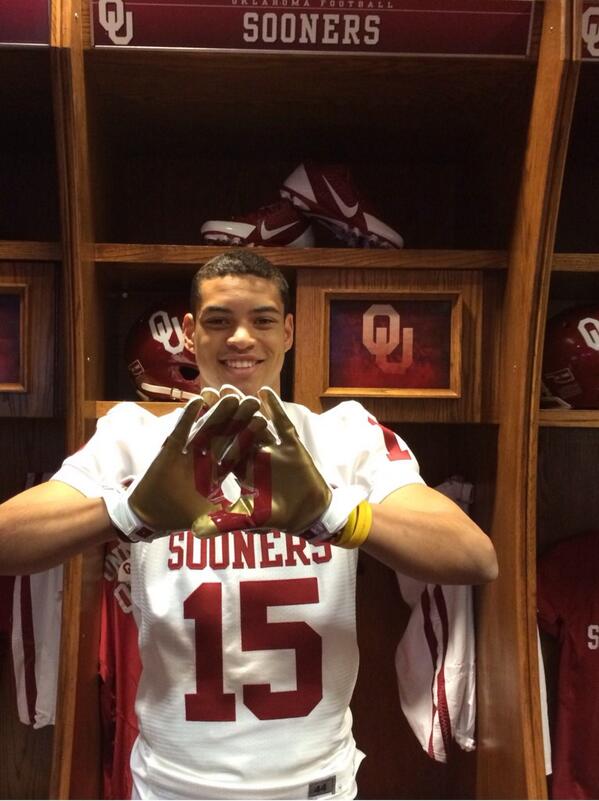 Open Post | Weekend, June 6th – 8th (Updated SAT. 5:57 pm)
Posted on: June 6, 2014
Image of Kahlil Haughton via scout.com
– Yesterday JUCO OT Jamal Danley tweeted out that he would be visiting Oklahoma at the end of the month. Danley is one of the top JUCO OTs in the country. I checked in with Danley and he confirmed that he and his father would indeed be traveling to Norman. Danley told me that he will have all his credits complete after this first summer session and should have no problem being a spring semester enrollee at whatever university he chooses. I also asked him if he would be making his decision right after his visit to Oklahoma, and he said that he probably would. Obviously, picking up a talented JUCO OT could be huge for OU since they will be losing both starters following this season. It would also be an incredible opportunity for Danley. Between OU and Miss. State — heck, between OU and anyone in the country — OU does a better job developing OTs and getting them drafted.
– I spoke to Kahlil Haughton earlier this week, and he said that he will be in Norman this weekend for a third visit to Oklahoma. Haughton will be attending camp, but won't be working out. He said he wants to see the coaches interact with players. I asked Haughton if he was nearing a decision and if he felt this trip would be a defining moment. He said it could be but that he wasn't certain yet. Kahlil is a person who not only says he's very interested in OU, but backs it up with repeated trips to Norman. If OU managed to pull one of the top CBs out of Texas (Mbanasor) and one of, if not, the top safety in Texas it would be huge. Right now things are looking positive.
– Jace Sternberger is a player we've mentioned a couple times. We first reported on him back when he was invited to Oklahoma's spring game. More recently our talk focused on his athleticism. Sternberger is almost right at 6'4″ and nearly 220 lbs with plenty of room to add weight. Right now I'd says he's more of a flex TE. He has run a sub 22 second 200m and also recently ran a forty in the 4.6 range. Sternberger is a very interesting prospect that the OU staff is clearly intrigued by and for good reason. His measurables are just fantastic, and he's got great hands! I spoke to Jace yesterday, and it sounds like the Oklahoma coaches have been in regular contact with him. He's one of many that will be at Oklahoma's camp this weekend. He also told me that he picked up his first offer yesterday from Sam Houston State.
– Sternberger isn't the only Kingfisher prospect I caught up with this week. I also spoke to OL, Kaden Clay Jackson. For a while now, JY has told me he felt Kaden would make a great center and would be one of the most athletic centers OU has had. I asked Kaden how things were between he and OU, and he said they are in contact and that they are indeed recruiting him as a center. Kaden picked up a couple more offers yesterday, and he'll be attending a few camps this summer.
– Recently we noted that OU RB target and Texas Tech commit, Corey Dauphine, was very interested in OU and was even planning on making trip to Norman soon. I caught up with Dauphine yesterday and it sounds like things have changed for now. I asked Dauphine if he still plans on visiting OU, and this time he said no. When I asked him about recruiting he said, "I'm done." So I asked him what caused the change, and he said he was simply comfortable with his commitment to Tech and that he wanted to "play football in the state of Texas." Not sure if things will change, but according to Dauphine that is where things stand right now. Either way Coach Gundy has always been one of the best recruiters in the country, so I'm sure OU will get a couple studs soon enough.
– I caught up with 2015 Arizona LB Cassius Peat this week as well. Last time we spoke, he said he would be visiting Oklahoma this summer and I just wanted to make sure that nothing had changed. When I spoke to him this week he said that he still fully intends to visit OU later this summer, but he has not set the date just yet.
– One our favorite 2015 prospects, McKinley Whitfield, will be attending camp at Oklahoma later today. He won't be in Norman for long though as he's heading out on vacation later this weekend, but we've heard that Mike Stoops likes the long and ultra athletic safety/LB. However, he is still trying to figure out where they'd like to put Whitfield on their board.
– Back in early March (March 3rd to be exact – here) we introduced y'all to Neville Gallimore. At that time, Neville had just a handful of offers from schools like Maryland and TCU. A month and a half later (April 22nd) Oklahoma offered. Recently, Neville has picked up more big time offers from schools like Ohio State and Florida State. When OU offered Neville, the plan was for him to come down on an unofficial visit to Norman this summer. Neville's coach, Geoff McArthur, will be in Oklahoma for a private camp later this summer, so the hope was that he could bring Neville down with him.
I spoke to Geoff yesterday to see if those plans had come together yet and they haven't just yet. Obviously, it's costly getting down to Norman from Canada. Geoff and I spoke at length about how Neville feels about all the new offers he's received and it's clear that there is still a lot of interest in the Sooners. It also sounds like Neville's recruitment is going to be more about his relationship with coaches and the team than it is about the 'big name' of a particular program. Sure, the big names certainly catch his eye, but what Neville and Coach McArthur seem to really want is a place where Neville can be around a "great teacher."
Neville is raw but he is an absolute freak athlete with unreal potential. Coach Montgomery has made a great impression on Neville and, perhaps just as importantly, he's also made a great impression on McArthur. The latter of whom said of all the coaches recruiting Neville, he has the most regular communication with Montgomery. That said, Ohio State is clearly right in the mix as well though. Neville recently took an unofficial to Columbus while he was in Ohio for the NFTC event and had a great time. So getting Neville on campus this summer would be huge for Oklahoma.
– UPDATE (6:40 pm): Spoke to McKinley Whitfield after the camp. He came arrived in Norman earlier today and was given a lot of special attention by coach Mike Stoops. He was given a tour of the facilities, dorms, academic areas, equipment rooms, etc. During the workout sessions coaches focused on McKinley having him work with coach Kish at LB and also with the DBs. He felt good about his day outside of a few reps at the end when they had him playing some off man. Overall though it sounds like he did well and the coaches showed him a lot of love. An offer hasn't been made yet but Oklahoma has made it clear that they will recruit him so an offer could come at any time. McKinley spent a lot of time with coach Mike Stoops today. Here is a picture taken earlier: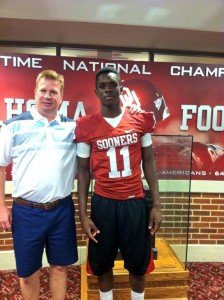 – UPDATE (10:04 pm): OK HS Sports Express (@oksportsexpress) tweeted out that 2016 Westmoore WR DeShawn Lookout committed this evening to play both baseball and football at Oklahoma. I just spoke to DeShawn and he confirmed the report. He said that he will be on a baseball scholarship and that will be his primary sport. However, he called coach Heupel earlier (coach Heupel has been recruiting Lookout) and asked him if he could also play football and coach Heupel said yes.
– UPDATE (SAT 4:22 pm): Hearing very good things on the Rodney Anderson front. Not sure if a commitment is going to happen this weekend but it definitely will not surprise if it does. Stay tuned…
– UPDATE (SAT 5:57 pm): Got a note from OK OT Riley Daniel. He said that the OU camp went great. He "had a blast". Also said, "Finally got my hands working and had some devastating punches". Glad to hear that OU coaches were able to really give him some good instruction. Look forward to catching up with him to hear what the coaches are telling him.