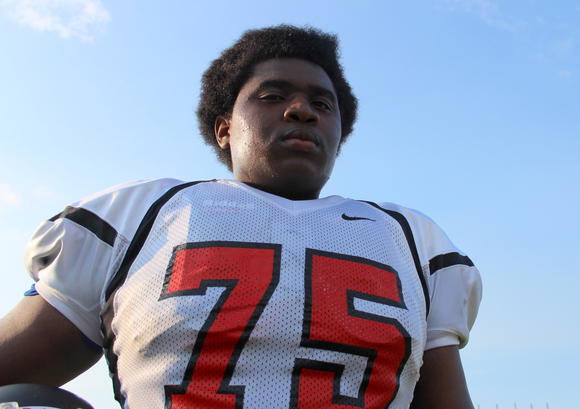 Thoughts on OU's Most Recent 2015 OL Offer
Posted on: April 28, 2014
Image via Orlando Sentinel (Chris Hays/Orlando Sentinel)
Jalen Merrick | Offensive Lineman | Class of 2015 | New Smyrna Beach, FL | VIDEO
PAIN…
…that's what Clubber Lang said in his prediction of the upcoming fight he had with the Italian Stallion in Rocky III. Without knowing anything at all yet about Jalen, he exudes that same kind of attitude in his play. From what I've seen of his Hudl highlights, this guy is someone I definitely want with me walking down a dark alley at night.
When I evaluate offensive line play, I'm not too enamored with "pretty." Pretty is for the skill position guys; your QBs, RBs, and WRs. Gritty is for the offensive linemen. Tough, nasty, and an overall bad attitude towards the opposition are at the top of my priorities when I watch o-line play.  Being a former offensive tackle myself, I want to see someone who's willing to get in there and root someone out of the trench in short yardage. Quoting Jerry Montgomery, "Effort, toughness, and technique are three things that don't require any talent." I've even borrowed that quote and taken it into the business world. It's something I tell my young supervisors and managers who I lead. And the more I say it, the more I like it. Whether it's interviewing someone to come run one of my departments or evaluating young football players on here, I want to see someone who exudes desire. I want someone who oozes with attitude. My business and the sport I love are way more about attitude than they are aptitude. Give me four things, and I can make sure someone will be successful.
1.  Give me grit.
2.  Give me toughness.
3.  Give me someone who cares about their people or teammates more than they do themselves.
4.  Give me someone who is stubborn about their results and are willing to fight for them.
In a nutshell, when I watch Jalen's game I see the kind of player he can become. Like a lot of young men his age, I see a guy who is still growing into his body. You can't deny that he has great size at 6'5″ 310 pounds. And yet he's light on his feet and has a very strong dislike for his opponents. As an offensive tackle, I used to live for compliments from my backs and receivers. One time a teammate of mine told me that one of our running backs hated running to the other side of the line, and that he always wanted to run to mine. Whenever I knew he was getting the ball, I dug down and tried to widen that lane a little bit more for him. Jalen strikes me as that kind of player.
He exudes that kind of attitude, that 'these are my boys and I will destroy you before you lay a hand on them' type of mentality. That's the kind of guy I want on my offensive line.
From a nuts and bolts perspective, Jalen is a lot like an OU 2014 signee, Natrell Curtis. He's thick, athletic, quick, and like I wrote about Natrell in a previous post, Jalen can be as good as he wants to be. Once he gets into a nutrition program and develops some of that natural strength that he has, lord have mercy, he could be special. What stands out to me is how raw Jalen still is, but as a junior in high school he's already benching 310 pounds. That's a 15 or 16-year old kid throwing around three plates. When he is technically sound, he takes people's heads off.
The second play of his film made me drop an eff bomb as I watched it. It's on my short list of 'cheer me up' tape to watch when I need something funny to see. That said, he does need some work and focus on staying low. He tends to pop up and then try to run over people. The run over people I'm fine with, but we gotta get my man to play flat backed, and bring his hips into the equation. He's playing too vertical. When you wonder about why it's important for an offensive lineman not to play too high, give this a try sometime:
Take your left hand and press it flat against your right hand, like you see martial artists do. Doesn't hurt a bit, does it? Now hold your right or left hand, doesn't really matter, flat taking one of your fingers from the other hand and press into the palm of the other. You can make that hurt, right?. Now picture doing the same thing as an offensive lineman. Will standing straight up, or becoming a battering ram be more effective?
Jalen has all the tools to be a very good college player and more, depending on how he takes to the coaching he'll receive at the next level. In the coming days, I'm going to try to reach out to him, and see what his thoughts are on the OU offer. He's exactly the kind of player that Coach Bedenbaugh loves to bring in and develop.  You can see he's not afraid to work and has a lot to work with.  I, for one, hope that we can get him in the fold.