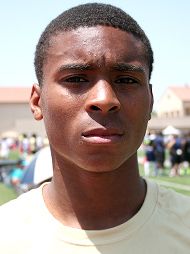 Isaiah Langley Note
Posted on: March 31, 2014
In the past week or so, I posted a breakdown of some of our CB targets and where things stand with them and Oklahoma. At that time, the most recent information I had about star CB Isaiah Langley (Pleasanton, CA) was that he was a heavy USC lean.
As such, my general sense was since OU is only take two (maybe three at the most) CBs that we needed to make PJ Mbanasor the highest priority (and I still believe that). And then press on a few different spots in order to either pick up someone else out of Texas, or take one of the top CBs out of California that USC doesn't get.
However, I had a conversation last week with someone and it sounds like Oklahoma is in with Langley in a BIG way. Apparently Coach Wright and Langley's father had a very long conversation last week and it made a huge impression. And it isn't as if there weren't already things working in Oklahoma's favor anyway.
First of all, as I understand it, Langley grew up somewhat of an OU fan. But perhaps more importantly, he's a big fan of Joe Mixon and that relationship could be a big draw. And now that the father is excited about Oklahoma, it's starting to feel like our chances are getting better. Especially considering there are still a number of unknowns around USC.
The word is Langley and his father want to try and get out to see Norman. That's always the draw back of recruiting kids that are further away with it being harder to get them on campus for unofficial visits. But I was told that Isaiah's father said they want to come out as soon as possible.
With that being said, we seem to be in pretty good shape for Mbanasor, Langley, and Jaylon Lane. And, to some degree, with Dechaun Holiday, Ykili Ross and Kris Boyd as well. And then of course there is still Darreyl Patterson. I'm telling y'all if OU plays it's cards right, don't be surprised to see them sign a very elite CB class.
I spoke to Lane and Mbanasor over the weekend as well, and I'll have some notes up from them later this week.