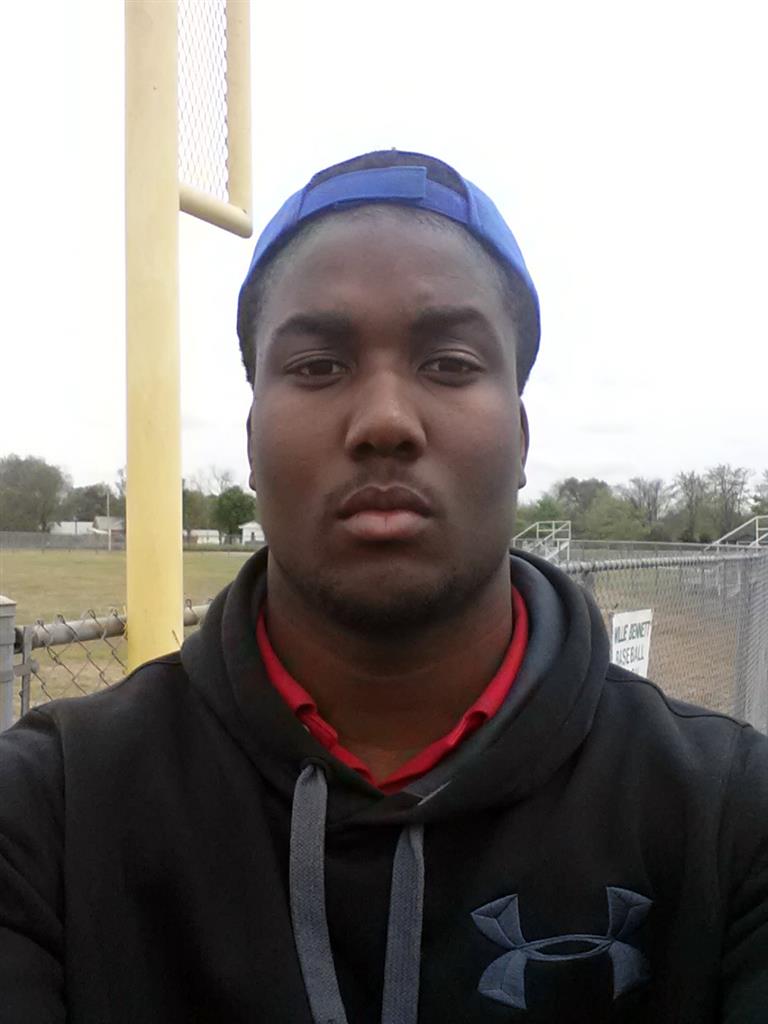 Open Post | Thursday, April 24th (UPDATE 4:35 pm)
Posted on: April 24, 2014
Image via 247sports.com
– Only one day after Oklahoma offered DE Neville Gallimore, the Sooners have made another 2015 DE offer. Last night, OU offered Yazoo City, MS DE prospect Gabriel Campbell. While most of OU's DE offers have gone to guys who are built more like prototypical 3-techs, Gabriel is a longer DE at 6'5″ and built a lot more like 2014 prospect Trey Carter.
Campbell's recruiting has been "interesting." He's incredibly talented and really is the kind of player who should have a ton of offers from all over the country, but in fact only holds a handful of offers. But it is a pretty interesting collection of schools that includes the two in-state schools (Ole Miss & Miss. St.) as well as Alabama and now Oklahoma.
The reason for an offer list, that includes Bama, that does not reflect his talents? Yazoo City is a Mississippi State stronghold. Fletcher Cox, a Yazoo City alum and current Philadelphia Eagle, is a Miss. St. product and for the most part any player from Yazoo City that can play at the high major level somehow ends up in Starkville.
Is it a forgone conclusion then that Campbell will do the same? Not in my opinion. I think there is certainly a good chance he could, but Gabriel actually grew up a fan of both Oklahoma and Alabama. I've spoken to him at length about it, and the Sooner offer was one that he really wanted. He told me point blank that if Oklahoma offers, they would get one of his five official visits. And I'm not the only one he told about his interest in Oklahoma growing up. He actually first said it to a writer from Rivals a few weeks back. Some kids are savvy enough to drop lines like that in order to trigger an offer, but I've spoken to Gabriel a number of times and what I can tell you is 1) Gabriel just isn't that type of kid – he's a straight shooter and 2) SEC kids don't typically try to trigger an OU offer. They try to trigger offers from Auburn, Georgia, FSU, etc. The fact is Campbell's interest in OU is real. In fact, here is he's tweet from last night after the offer came in:
#BoomerSooner baby!! got the offer from them that I been waitin on and I couldn't be happier gotta thank God for blessin me with the talent

— Gabriel Campbell (@Gabecatcampbell) April 24, 2014
– Some of you asked if the Neville Gallimore offer was a result of the Du'Vonta Lampkin decommittment and the answer to that is, absolutely. The Campbell offer was also a result of Lampkin's decision as well, by the way. But, again, that isn't to say Coach Montgomery fails to hold Campbell or Gallimore in high esteem. It was simply as case of Lampkin already being committed by the time Oklahoma came across both and with only one more spot to fill at DE, they couldn't put out anymore offers.
– A coaching friend of mine in Dallas dropped an interesting nugget on me yesterday. He is friends with a lot of the high school head coaches in Dallas, and told me he was talking to some folks in the area who said the word around Skyline is that LB Anthony Wheeler will likely end up at OU.
– Star Katy 2015 RB, Rodney Anderson, has decommitted from Texas A&M. Why is this significant? Because Oklahoma was recruiting Anderson before he committed to TAMU, and he was in Norman on an unofficial visit earlier this month.
– Also, I'm hearing that Anderson isn't the only prospect reconsidering their commitment to TAMU. I've heard Jordan Davis, Daylon Mack, and perhaps others are also rethinking their decision. I don't know if a decommitment is imminent from either of those players, but it's my understanding they are certainly considering it. I'm not sure why Davis would be, but with Mack I believe it's the same reason you've heard me say here previously. I've heard other recruits complain about TAMU, because they're very concerned about the defensive development.
– We've had folks ask us about big time WR DaMarkus Lodge, and while I haven't spoken to Lodge just yet I can tell you what I do know as of today. He is a very well trained WR. He's privately trained by someone who does not send kids to OU. So we haven't really tried to reach out, because for a while I've felt it just wasn't going to happen.
– Yesterday, Oklahoma offered in-state TE/DE Austin Cantrell. It's my understanding that the offer was made as TE, but I'd have to confirm that. Cantrell is a really good player. We actually had a reader point him out to us a couple months back. Unfortunately, we never got around to really doing a write-up on him. He's currently committed to Arkansas, so we'll have to check and see whether the OU offer changes things for him.
– Some of you might have seen a tweet Kahlil McKenzie put out about his Arizona trip and how he enjoyed the trip so much that Arizona jumped a number of schools. Well I can tell you that while Arizona is now high on his list, they did not jump Oklahoma or Tennessee.
– UPDATE (11:10 am): Sooners have offered 2015 offensive tackle Connor Williams (Coppell, TX)
– UPDATE (4:35 pm): Kahlil McKenzie just tweeted his Top 10 will be "coming soon." Also said it could shock some people, fwiw.