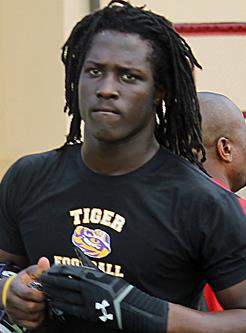 Must See LB
Posted on: October 16, 2014
Image of Dwaine Thomas via 247 Sports
Earlier this week, two OU 2015 linebacker offers/targets came off the board. Marshall 'Bo' Wallace committed to Notre Dame, while Cassius Peat committed to UCLA. OU was actually Wallace's first offer, so it was a little surprising that the Sooners didn't even receive an official visit (which we'd been led to believe would happen for some time). Meanwhile, Peat visited Norman for Tennessee game and in talking to him after that visit, he clearly had a great time. But in the end he obviously decided to take his talents to Westwood instead.
As dire as some might believe things to be, there are still a few linebackers on Oklahoma's board. Among them are: Khaylan Thomas, Anthony McKee & Ricky DeBerry. Obviously, running a 3-4 defensive scheme now, Oklahoma needs to bring in multiple talented linebackers year in and year out.
Here are a couple guys you're going to want to keep your eye on:
Michael Scott: As we mentioned a couple weeks, Tim Kish has been in regular contact with (UPDATE: now former SMU LB commit) Michael Scott out of Irving, TX. Scott attended the OU/Texas game and told our buddy Alex King that he has been hearing from OU, Texas, and Texas A&M. He's been a bit under the radar, but as we were putting this post together he decommitted from SMU so expect him to start drawing more and more attention.
Dwaine Thomas: This is a MUST SEE LB in my opinion. A friend of mine passed Dwaine's film along to me yesterday and I was just blown away. Dwaine is currently committed to Louisiana-Lafayette. He hasn't received any interest from Oklahoma yet, but as far as I'm concerned he is an absolute monster. This has to be one of the most sudden linebackers I've seen on film all year. Thomas looks every bit, if not better, than just about every linebacker prospect OU has offered (Malik Jefferson remains my favorite) thus far.
In fact, you know who comes to mind when I see a player like Dwaine? Charles Walker. They obviously play different positions, but Walker was one of those players who was under the radar of just about every recruiting service out there, but of what little film was available just about every OU fan knew he was going to be a stud. It was just too obvious. And while Walker hasn't become a superstar…yet…we all saw some early flashes this year before his injury.
Do yourself a favor and take a look at some of Dwaine's film: