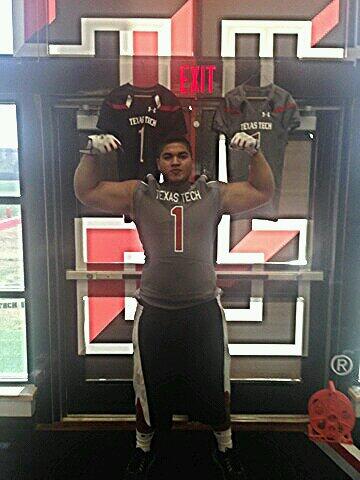 Breiden Fehoko Announces His Commitment
Posted on: April 14, 2014
Image via @Bfehoko1
After the disappointing news from this past weekend that 2015 defensive lineman and OU offer/target Breiden Fehoko would not be making it to Norman for the Red/White game, the Hawaiian big man provided some news Monday afternoon that Oklahoma fans aren't likely to be that excited about.
OFFICIALLY COMMITTED TO TEXAS TECH! Ŧ pic.twitter.com/vhkp0StHho

— !PrimetimeFehoko! Ŧ (@Bfehoko1) April 14, 2014
At least on some level, Fehoko's commitment to Texas Tech shouldn't necessarily come as a surprise given his family ties to the program. Fehoko has two older brothers, one currently on the team and another who has since graduated (who I believe is now a grad assistant with Tech, though I could not find him listed on their official website), that played in Lubbock.
While exciting for the young man and his family, OU fans are surely disappointed to hear the news as Fehoko and Jerry Montgomery had built a strong relationship. Which, in large part, was one of the driving factors behind Fehoko's intention to use one of his five official visits to come to the mainland and see what the Sooners had to offer.
Evidently, it would appear (at least for now) the family ties were just too strong to overcome.