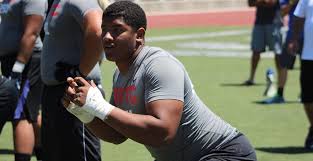 2014 Signee, Kenyon Frison, On His Way To Norman
Posted on: June 23, 2014
Image via 247 Sports
This alone may or may not have warranted a stand alone post, but I just wanted to make sure nobody missed it. As TFB has been saying for some time, Sooners 2014 signee Kenyon Frison is good to go and tweeted out the following Monday morning reaffirming things.
Utah ✈️ Oklahoma

— Goldie (@lancerpride75) June 23, 2014
Again, not a surprise to any of those who are regular readers of the site. But good news nonetheless, so figured it was worth quickly throwing something up about it.