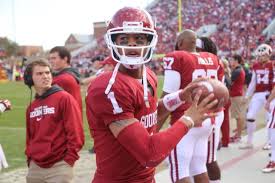 A Quick Update On Kendal Thompson
Posted on: February 19, 2014
Image via Sooner Sports
As most of you are already aware, Oklahoma quarterback and Sooner legacy Kendal Thompson will be transferring later this spring after he graduates in May. Thompson will have two years of eligibility remaining and is in the process of evaluating his options as to which schools fit him best and, we're all assuming, which school gives him the best chance to play.
Jason Kersey of The Oklahoman was the first to report Thompson's plan to visit Utah, which took place this past weekend. Which, if you're open to interpreting a college kid's Twitter account (tweet #1 & tweet #2), went well.
Needless to say a couple tweets are far from anything even remotely approaching official. Thompson doesn't necessarily have to rush his decision since he'll have to stay at OU through this spring semester. That said, one would imagine it's a decision he'd like to have made sooner rather than later just to know it's done.
Which leads nicely into Wednesday's news of a list of four schools Thompson is reportedly considering via Norman Transcript reporter Michael Kinney.
Former#Sooners QB Kendal Thompson is considering Utah, USC, Louisville and Vanderbilt to play for next season.

— Michael Kinney (@EyeAmTruth) February 19, 2014
It's an interesting list. Admittedly, I'm not familiar enough with each school's respective quarterback situation to speak credibly about how Thompson would fit potentially fit into their plans.
Of the schools listed, Utah is the only one to date to receive a visit from Thompson. That could change in the relatively near future, but as of the time of this post there was no news on any other upcoming visits planned.