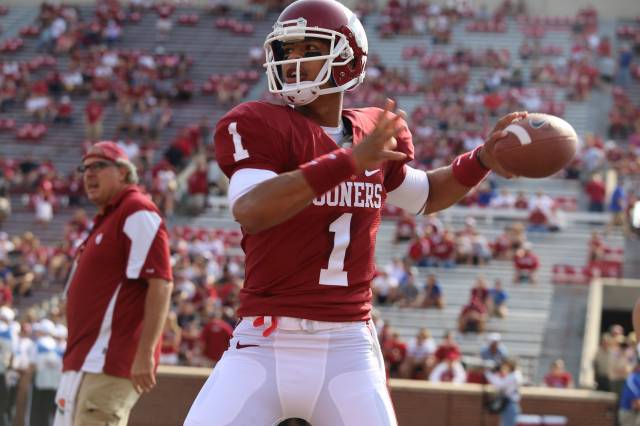 Sooners QB Kendal Thompson Elects To Transfer
Posted on: January 22, 2014
Image via Sooner Sports
Tuesday evening Oklahoma quarterback Kendal Thompson announced via his Twitter account that he will be transferring after this spring semester. The third year sophomore is on pace to graduate in May, which is an impressive enough accomplishment in its own right, which will allow him to transfer and be immediately eligible (with two years of eligibility) to play at the school of his eventual choosing.
The decision is certainly an understandable one as Thompson has rarely seen the field during his three years on campus and with Trevor Knight's recent performance in the Sugar Bowl, it's unlikely Knight will be relinquishing the reins on the starting quarterback job anytime soon.
And Thompson is a competitive young man who is confident in his abilities to play quarterback at the D-I level, so he will now seek an opportunity to do exactly that.
From the Oklahoma side of things, Thopmson's decision to transfer could leave them in a bit of a precarious spot in terms of experience at the quarterback position. Especially if the talk, albeit speculative at best to date, of Blake Bell possibly switching positions comes to fruition. Though that may no longer be on the table as one has to believe Bob Stoops and Josh Heupel would strongly prefer someone with Bell's experience backing up a guy in Knight who through the early part of his OU career has proved to be somewhat injury prone.
However, if Bell does wind up somewhere else besides quarterback and with Thompson transferring that would leave the Sooners with a redshirt sophomore (Knight), a redshirt freshman (Cody Thomas), and a true freshman (Justice Hansen) at quarterback. And that's obviously not taking into account Texas Tech transfer Baker Mayfield, which was intentional considering he won't be eligible to play until the 2015 season.