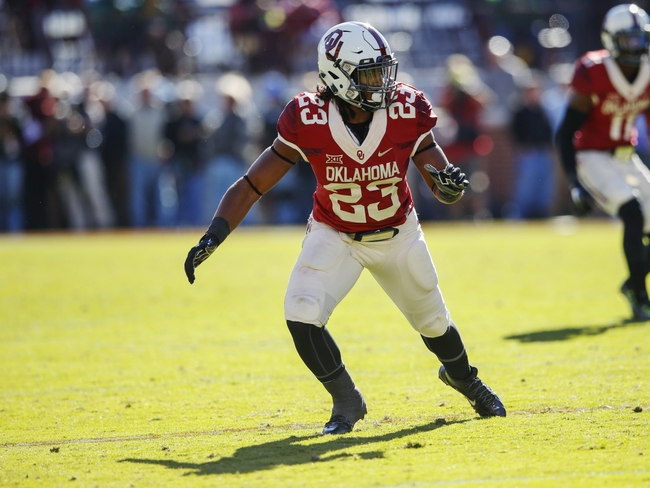 OU vs. Iowa State – What I'll Be Watching
Posted on: November 5, 2015
Image via USA Today

Could I have got away with just copy/pasting last week's edition of this post? Feels like a lot of the same applies, right?
Yeah, I know what Iowa State just did to Texas but do any of you actually feel like — barring multiple ridiculous turnovers on OU's part — they're going to come into Norman and give OU a game?
Maybe I'll wind up looking like an idiot (par for the course in the minds of many, I'm sure), but I just don't see it. Nevertheless, for a second straight week we'll power through this thing for the people.
* Shaking Off The Rust: Going to go a bit Captain Obvious on you here, but I do think it's important that Devante Bond get on the field this week to work off some of the rust before the Sooners square off against Baylor next week. That is, of course, assuming Bond can actually go this week, because I feel like maybe we've been led to believe he was "really close" before only for him to be held out come Saturday….
Devante Bond should be back Saturday. He was "really close" for K-State.

— Oklahoma Football (@OU_Football) October 19, 2015
So a little over three weeks ago Bond was so close to playing against Kansas State that we've yet to see him even suit up in OU's last two games. My point being if you haven't already learned to take any kind of update/timeline provided from OU coaches regarding injury with a MAJOR grain of salt then it's probably too late for you.
But let us get this thing back on track. As to Bond and any potential rust. I don't suspect many of you need reminded Bond was arguably OU's best defensive player prior to his injury. And you're probably going to need a guy like that considering the three-game gauntlet the Sooners are staring down following Saturday's distraction game against Iowa State.
And honestly this game against the Cyclones is ideal to get Bond back out there, again assuming he's ready and can go, because they're very likely to slow things down and primarily try to move the ball on the ground with their talented freshman RB, Mike Warren. Granted, that's not what Baylor, or TCU, and certainly not Ok State will likely do in the coming weeks, but that's not really the point I'm attempting to make.
That point is when we've seen Bond be most effective so far this season it has been, for the most part, against offenses similar to what I expect Iowa State to try and do Saturday night. So work Bond back in against that, then turn him (and Eric Striker) loose to get after the quarterback against that other pass-happy trio.
* Speaking Of Mike Warren: I'm not going to sit here and lie in saying I have watched a ton of Iowa State football this year. I can say, however, I did watch nearly all of their game last week against Texas and prior to that, had heard plenty of positive things as to the impressive season Warren is having thus far.
My general take on Warren is this (with the caveat I could be dead wrong). When I watched last week, the guy I was reminded of was former OU running back Chris Brown. I think they're fairly similar in build, neither strikes me as a true home run threat per se, but if they get a crease and no one has an angle they can take it to the house. They're more of a 'grinder' in the sense you rarely see them lose yards on a run. Brown always had that knack of getting positive yards and falling forward at the end of his runs. That's what I see when I watch Warren.
My point being Iowa State would be ecstatic to keep the ball on the ground, grind out first downs, and force OU's high-powered offense to watch helplessly from the sidelines. And Warren, in my mind, is exactly the type of back who can get you that.
Now clearly the OU defense will have a considerable say in whether or not that happens — and, as I've already alluded to, I don't think it does — but if you're to see a point in this game where the Cyclones appear to be in control of things, I'd be pretty surprised if it didn't revolve in large part around Warren grinding out first downs on the ground.
* LB Rotation: Much like the scenario involving Bond, we've been led to believe there is a good chance Jordan Evans will also return to action this week. In fact, Mike Stoops said on Tuesday the plan is to rotate both Evans and Frank Shannon — who has filled in quite nicely after Evans went down a couple weeks ago with a knee injury — on Saturday night.
I don't really expect this to be much of an issue, more so just curious as to the who/how they choose to go with and how they manage this throughout the game.
* Size On The Outside: If you take a glance at Iowa State's depth chart for this week, you might notice the listed heights of their three starting wide receivers. If you're not in the clicking mood, allow me to do the work for you – 6'6″, 6'2″ & 6'5″ is what you'd be looking at.
In comparison, the three OU defensive backs most likely to match up with those WRs are: 6'0″ Jordan Thomas, 6'0″ Will Johnson & 5'10" (which seems pretty generous, but whatever) Dakota Austin.
Now are these insurmountable odds (or heights as it were)? Probably not. But it's an advantage you'd have to believe Iowa State will attempt to exploit. And with an improved passing game after inserting Joel Lanning, it appears one the Clones are more capable of doing so than they may have been previously with Sam B. Richardson under center.
—
What will you be watching for Saturday night?