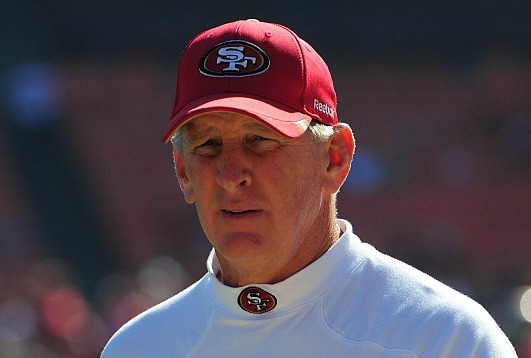 Making The Case For Jim Leavitt
Posted on: January 22, 2015
Image via azcentral.com
A couple weeks back I put out the following tweet:
Doing research on coach Jim Leavitt. Just talked to a former player at USF. More I learn about him the more I'm intrigued.

— TheFootballBrainiacs (@TheFbBrainiacs) January 7, 2015
Jim Leavitt is a guy most of you are familiar. After talk of coaching changes at OU became a reality, I started reading more about him back in December. I also began talking to people who know Leavitt, including coaches in the Tampa area and a former defensive back who played for Leavitt at the University of South Florida.
Everything I've known or come to learn about Leavitt has convinced me OU should very seriously consider adding him to this coaching staff.
A History of Success
Everywhere coach Leavitt has been, he's been successful. He was the co-defensive coordinator with Bob Stoops at Kansas State, where they managed to take a pitiful defense and turn it into, statistically, one of the nation's best. He then went on to the University of South Florida and built the program from it's infancy as an FCS program to a Big East conference FBS program. The success he had at South Florida, including at one point being ranked number two nationally, has not been anywhere close to repeated since his departure.
Leavitt was offered the Alabama job multiple times before Nick Saban eventually landed in Tuscaloosa. He was offered head coaching positions at multiple major FBS programs and turned them all down to stay at South Florida.
Due to an alleged incident with a player, Leavitt was ultimately dismissed as the head coach at USF. I know for many they will say that this incident alone should preclude him from consideration by OU. And I can't say they are necessarily wrong. What I will say is this, I don't personally know what happened.
In talking to a former player, he personally contested what Leavitt was accused of doing. That doesn't make me any less or sure about what happened. I'm simply taking the position that, I don't know what went down and whatever did or didn't happen doesn't discount how loved Leavitt has been by his players everywhere he's been. I also take into account the fact it's been five years now, and he's since held a major coaching position in the NFL under an excellent coach in Jim Harbaugh.
After his success at Kansas State and then at South Florida, as mentioned above, coach Leavitt was hired by Harbaugh as the linebackers coach for the San Francisco 49ers. I'll admit, I'm not an avid NFL watcher but I know enough to know that San Francisco had some pretty darn good linebackers.
To sum this up, the man has been successful everywhere he has been and I see no reason why that would cease to continue at Oklahoma. He's proven himself time and time again in various positions and at multiple levels of competition. I have little doubt he'd bring the old OU defensive tradition back to Norman in a hurry. The man just doesn't fail and that is perhaps the best argument anyone can make in his favor.
A Player's Coach
As I mentioned, I spoke to one of Leavitt's former players who played defensive back at USF. I wanted to get a first hand account of what Leavitt was like as a head coach. As I share some of what the player told me, I want you to again bear in mind that Leavitt was obviously the HC. So the fact he had such a strong relationship with so many of his players says a lot about how engaged he was as a coach (imagine how much more individual attention he could give as a DC or position coach).
Before I share one of his former player's thoughts, I want to share a quote from NaVorro Bowman, who played for Leavitt at San Francisco. He was asked how he liked coach Leavitt:
I love Jim Leavitt. He reminds me of my high school coach in a way. He never lets you have a day off. Even if you aren't feeling good, he finds a way to make you smile…What he didn't know what that I was a fan of him, too. He was at USF, and he brought that team up from nothing. I was up at Penn State for my visit when they played USF, and I always wondered who that coach (of theirs) was. You'd see him on the sideline and he's so enthusiastic during the game, and that's the type of coach you want to play for.
I pulled the quote from this article. It's a great read!
A lot of coaches are animated, but they aren't necessarily loved. The more you learn about Leavitt, the more you feel how loved he is by his players. When I talked to one of his former defensive backs at USF, his words sounded similar to Bowman's.
"We loved him, and we knew he loved us. If we needed him at 1 am in the morning, we knew he'd be there for us. He was the kind of guy that you'd go to battle for because you knew he'd battle for you,"
His former player continued, "he was the first coach I had that would get out there and run gassers with us…he was a good teacher and he showed us (in order) to teach us."
The former player hit on two things I believe are most important in a coach. A coach should be a great teacher and should be someone you want to play for.
I even asked the former player about his recruiting experience with Leavitt and what kind of recruiter he was and, again, I got more of the same praise, "he's a guy you want to play for…when you meet him…when you meet him you'd just feel like you want to go to war for this guy, and he'd make you feel like he'd go to war for you…and he would."
Everyone I spoke to in Tampa, high school coaches and trainers, sung Leavitt's praises. "Everyone loved him down here…the fans, the coaches, the players…he was loved down here," one long time high school coach in Tampa told me.
Defensive Style
Coach Leavitt come's from a 4-3 background, but having coached in San Francisco under Harbaugh, he's also well versed in the 3-4. I suspect OU would like to be multiple in their fronts when possible, but regardless what they choose to do this coming season, in my opinion, Leavitt can teach it.
His former player I spoke with gave me a few notes about the defensive style he played in under Leavitt at South Florida, "We were aggressive, we flew around, and we had a lot of fun." In talking about his position group (defensive back) he said, "we did one-on-one's every practice…it was a battle everyday…we played guys head up…we were always competing and that's the attitude he built…we were always battling and he used the word 'battle' a hundred times a day in practice." I asked him about their coverages, and he said they were about 50-50 man/zone and primarily played out of a two high safety shell.
As a head coach it's clear that coach Leavitt took pride in his defense. South Florida consistently had a Top 25 defense in the country. While he was at South Florida (for the sake of time I just pulled South Florida's total defensive rankings for his final few years): 2005 ranked 17th, 2006 ranked 25th, 2007 ranked 28th, 2008 ranked 10th & 2009 ranked 24th.
The Connection
As I noted above, coach Leavitt was the co-defensive coordinator with Stoops at Kansas State. But Leavitt has another interesting connection to the Sooners. OU legend Lee Roy Selmon (God rest his soul) was the athletic director at the University of South Florida when coach Leavitt was there, until 2004 when Selmon resigned.
Where Is He Now?
As most of you know, Jim Harbaugh left the 49ers this year to take the head coaching job at Michigan. So Jim Leavitt is currently available. I asked some folks in the Tampa area, and I'm told that Leavitt still very much wants to coach but it sounds like he's looking for the right opportunity. I was told he was offered a position at Washington State (not sure if it was as a DC or position coach) but turned it down.
Wrapping Up
Having an energetic guru like Leavitt, who has done nothing but succeed all his life, is something I feel like this OU defense could benefit greatly from. Over the past month, I've become more and more convinced that Leavitt is the man that could come in and instantly help to get the defense moving in the right direction. Oklahoma has talent. They also have a great young coach and recruiter in Jerry Montgomery, who is building depth at the most difficult position to develop, the defensive line.
If OU were to pair Leavitt with one or two additional young, great teachers and recruiters, they'd have a great mix of youth and experience with a defensive staff chock-full of coaches that players would love to play for.
After 2014 this is clearly a defense that needs to get better, but why settle for "better" when someone like Leavitt could potentially come in and make this defense the best?