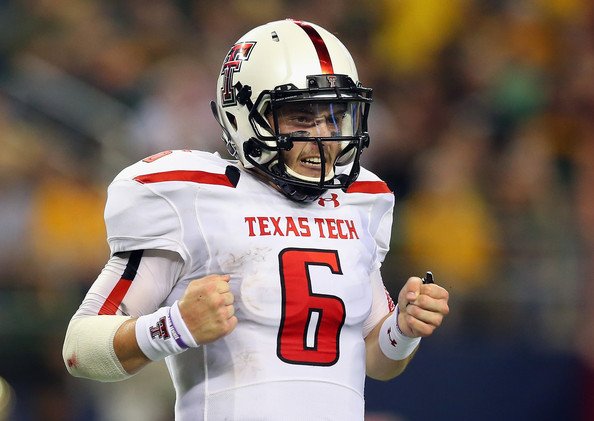 Former Texas Tech Quarterback, Baker Mayfield, Transfer Appeal Denied
Posted on: January 10, 2014
Image via zimbio.com
Multiple reports Friday afternoon confirmed that former Texas Tech quarterback Baker Mayfield's transfer appeal has been denied by Tech thus leaving in place the original restrictions regarding his ability to transfer. Despite being a walk-on and paying his own way, Mayfield was/is still subject to the transfer rules.
Mayfield had spoken with several news outlets during the week discussing both his decision to leave Tech as well as the reasoning behind his intention to enroll at Oklahoma. Mayfield told Jake Trotter of ESPN the following:
Out of high school, I applied to three schools right off the bat: Oklahoma, TCU and I think Tech was the third. But I didn't really want to go to Tech until late in the spring of my senior year. Oklahoma and TCU were my first two options coming out of high school. That's where (OU) I wanted to go. I grew up an Oklahoma fan. I used to go to all the games watching a bunch of people who are in the NFL now.
Mayfield went on to tell Trotter that if his appeal was denied, as it now has been, that he would "probably look at other schools." However, as of Friday that does not appear to be the case.
Carey Murdock of SoonerScoop.com (yes, that Carey Murdock) tweeted that Mayfield was still intending to enroll at OU. Guerin Emig of the Tulsa World tweeted the following as well:
Baker Mayfield in Norman today to register for class, per his father, James. Was "crushed" by appeal denial, but will press on. #Sooners

— Guerin Emig (@GuerinEmig) January 10, 2014
Now obviously things could change at any point and Mayfield may reconsider once the emotions and disappointment have a chance to subside. That said, if Mayfield does enroll at OU and does intend to try and be a part of this OU football program, the denial of his appeal means he would not be eligible to play (though he could practice with the team) until the 2015 season — as a junior — and would lose a year (2014) of eligibility.
Will be interesting to see how this whole thing plays out and what, if anything, ever comes of it in terms of whether or not Mayfield has a future at Oklahoma and/or with the football program. Judging by that interview with Jake Trotter referenced above Mayfield certainly isn't lacking for confidence in his abilities, but given the performance Trevor Knight is coming off of in the Sugar Bowl and the number of other quarterbacks already ahead of him the former Tech QB certainly has his work cut out for him.