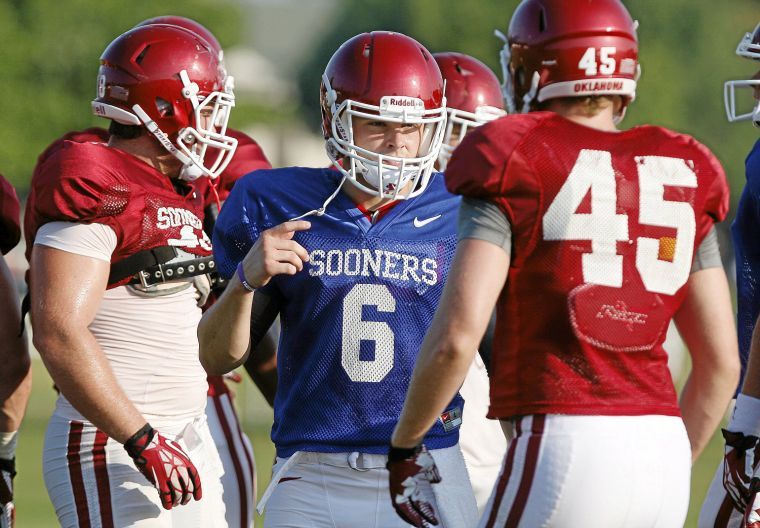 Baker Mayfield Injury Update
Posted on: July 1, 2015
Image via Tulsa World
In this past Monday's Open Post, we first told you about OU quarterback Baker Mayfield being unable to participate in the player led 7-on-7 offseason workouts due to an apparent shoulder injury. Earlier this afternoon, I was able to confirm that Mayfield again did not participate in the team's 7-on-7 workout today.
We can also report, after having confirmed through two independent sources, that Mayfield's absence from recent workouts is in fact related to a rotator cuff injury with his throwing shoulder. At this time, however, we are still seeking confirmation from a second source regarding the severity of the injury.
In the mean time, I did reach out to a friend of mine who trains NFL quarterbacks, and was himself a quarterback, just to get some general information about rotator cuff injuries. Firstly, he adamantly stated that missing a week of practice means something is wrong. In other words, it is not normal for a quarterback to need to sit a week to rest their shoulder, especially in the summer when the number of repetitions are not similar to those they would be taking in say fall camp, for example.
However, my friend did offer this bit of encouraging news in that it is possible to play through a rotator cuff injury. He shared with me that he played an entire season with a torn rotator cuff, "with a lot of ibuprofen." So according to him a rotator cuff injury is painful but, depending of course on the severity of the injury, it doesn't necessarily limit the mobility of the arm.
We will of course continue to keep you updated as soon as more information becomes available.