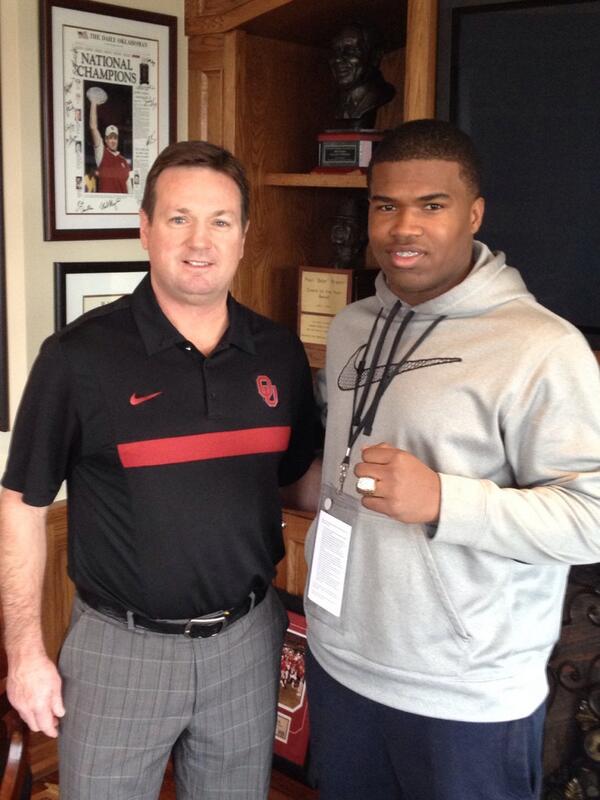 2015 Linebacker Justin Hilliard Puts Out A Top 10
Posted on: March 31, 2014
Image via @JHilliard47
Arguably Oklahoma's top linebacker target in the 2015 class, Justin Hilliard (Cincinnati, OH), released his Top 10 schools Monday morning via his Twitter account.
TOP 10 (No Order) ND Alabama Iowa Kentucky Michigan Oklahoma Florida State Southern California Ohio State Florida

— Justin Hilliard (@JHilliard47) March 31, 2014
The Sooners inclusion should not come as much of a surprise for those who follow recruiting. For those who might not be as familiar, Hilliard — who is considered by many to be the top 2015 linebacker in the country — has already visited Norman (as evidenced in the picture accompanying this post) on an unofficial for one of OU's Junior Days back in early February. Ever since, the Sooners have been in good standing with the talented Ohio product. Though as the list would indicate, there will be no shortage of competition for his services.
He has a brother that will be enrolling at Iowa, so there are some family ties there. As an Ohio kid, one would have to think Urban Meyer and the Buckeyes are a very strong contender. And, of course, Nick Saban.
Hilliard has already visited six of the ten schools he listed, and has said he plans to hit the rest if he and his father can make it happen. After which he will narrow his list down to a possible five schools and make arrangements for his official visits.
The pressure is on Oklahoma linebackers coach Tim Kish as he continues to pursue one of the most talented players in the country at his respective position.