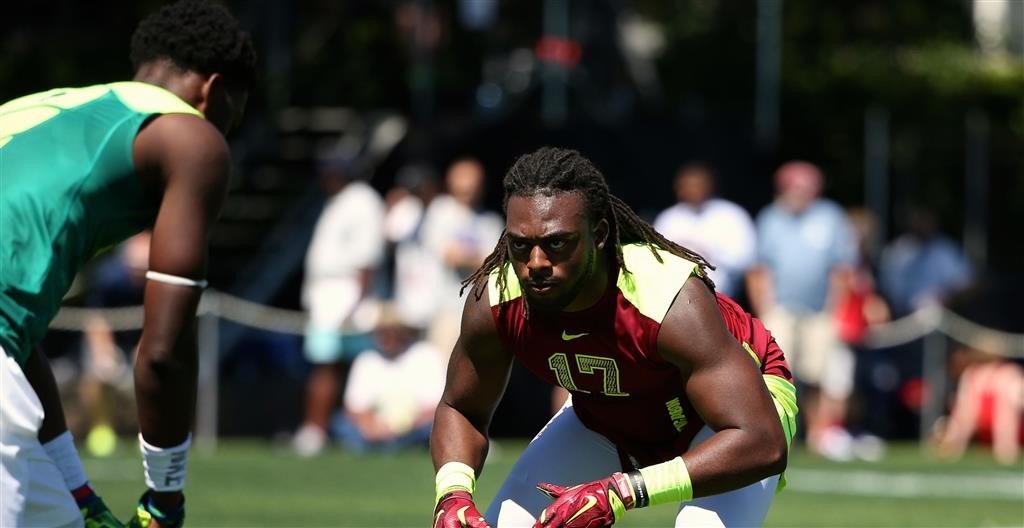 Open Post | Tuesday, Feb. 3rd (UPDATE 1:16 pm)
Posted on: February 3, 2015
Image of Arthur McGinnis via 247 Sports
Arthur McGinnis: You all know by now, Oklahoma picked up a much-needed commitment late last night from Louisiana native, Arthur McGinnis! Congrats to the Sooners and to coach Kish!
On the eve of National Signing Day, we are going to do a quick summary of OU's remaining targets. But first a note from JY:
Tomorrow is obviously NSD, and once again Oklahoma looks like they are going to close strong.  In the past three days OU has secured the commitments of A.D. Miller, Dahu Green, and late last night Arthur McGinnis, who was sorely needed at the linebacker position.  And they still have a couple of more guys on the radar in Prentice McKinney and Josh Wariboko. For a lot of reasons, Wariboko has been a coveted recruit for OU fans.  Number one, he can play. And number two, he's up the road in Oklahoma City.
Josh has been a guy that Coach Bedenbaugh has been after since day one, and when you put on the tape not many plays are needed to see why. He has the prototypical size for a guard at the major college and NFL level. He goes 6'3″ 1/2 to  6'4″ and about 315. In my opinion, he is a physical clone of Adam Shead. I instantly thought of the now former OU guard when I was watching Wariboko's tape. If you remember, before Adam got hurt, he was on his way to becoming a truly special player. I see that same kind of potential in Josh's game.
He has a first step that you notice immediately, and his quickness is something that will make him devastating as a pulling guard in the power run game. He's tenacious in the truest sense of the word, and has that aggressiveness that I really look for in an offensive lineman. You really have to look to find plays on tape where he didn't put someone on the ground.
When I watch film on a guy, I try to find some good things for that player to build on. I tend to be an optimistic person by nature, and I also understand that kids at this stage of their football careers can mature and grow up both physically and mentally. The wild card for a lot of players is that you don't know how hard they're willing to work. I say that because when I watch Wariboko's tape, I really don't have to justify him at all.  The saying goes if Grandmama can see he can play, he must be good. Well lemme tell ya…grandmama approves this message!
We have some depth inside, but it wouldn't shock me if Josh was able to push for playing time after a redshirt year. God forbid we have a lot of injuries up front next year, he is a guy who could step in and play some if needed. The thing that translates in his game to the next level is his quickness and power.  He's very thick in the lower body and knows how to finish people off. Once he is able to add some size and power in the weight room, he could be truly devastating for Coach Bedenbaugh.  I'm a big time buyer on Wariboko, and really hope he chooses the Sooners.  With Dahu Green jumping on board yesterday, hopefully Josh follows his friend to Norman.  We need him.  He's the kind of player you need at every position.
Josh Wariboko: So where do things stand with Josh Wariboko right now? As we've said of late, our confidence has been growing as NSD approaches. What adds to that confidence is the commitment last night, as JY mentioned, of Dahu Green. Wariboko and Green are pretty tight, and we believe the former played a role in Dahu's decision to stay close to home. We usually like to avoid predictions, but we are calling this one for OU.
Prentice McKinney: As you also know by now, McKinney was last week's 'secret' visitor. If OU were to grab Prentice late, it would make this one of the best DB classes — at least on paper — OU has landed in quite a while. The simple fact of the matter being McKinney is one of the best safeties in the state of Texas. The tandem of McKinney and Kahlil Haughton could go a long ways toward remedying some of the issues OU has experienced at the safety position.
McKinney is also close to PJ Mbanasor, and we know for a fact he has been recruiting McKinney to join him in Norman.
And since we're in the predicting mood, we are going to call this one for Oklahoma as well.
Three Possible Flips: So this was something we mentioned last week, and we just wanted to quickly clear the air so no one is left still wondering what/who we were referring to. Most of you have probably figured out by now that Dahu Green and Prentice McKinney were two of the three guys we were talking about. Obviously OU landed Green last night, and we're predicting them to do the same with McKinney tomorrow. The third guy is a name you've read mentioned here many times, and we'll address his situation below.
Du'Vonta Lampkin: Lampkin has been back-and-forth…then back-and-forth…and back-and-forth again with respect to his relationship with OU. The Sooners were his first offer and, at one time, he was obviously committed to OU. He then flipped to Texas and while he never decommitted, there was lingering talk out there that a possible NSD flip back to OU was at least on the table.
Lampkin took a recent visit to Austin and while by all appearances — he has been adamant on Twitter that he is all Texas, all the time — he has re-committed himself to Texas, we have been told there was still some wavering on his part despite the overwhelming sentiment in favor of UT put out publicly. Following that weekend visit, even knowing what we'd been told, if you made us pick we would have gone with Texas.
However, Jerry Montgomery has continued to recruit Lampkin throughout which has always led to whatever confidence we may have had about a possible flip in OU's favor. We can't reveal the reasons why, but at one point we'd have told you we were pretty close to 100% sure he'd flip. But frankly, as of last night, we're not sure what to think. At this point unless it's somewhere other than OU or Texas, wherever he winds up signing tomorrow won't come as much of a surprise given how back-and-forth this whole process has been.
We mention him, however, because it's a name you're going to want to remember to keep an eye on tomorrow. Maybe he winds up in Austin and all of this was for not, but we just wanted you to be aware there's at least a chance Monty might have one more trick up his sleeve.
– UPDATE (10:42 am): Probably should have included 2015 OT Pat Allen with those above as he is believed to be the only other name out there (mind you with recruiting there could always be a surprise or two, but we haven't really heard anything like that…yet) with OU. Allen recently eliminated Tennessee, so it's down to Oklahoma and Georgia. But most believe Allen will wind up back with the Dawgs. Still though, another name you might want to keep an eye on tomorrow just in case.
– UPDATE (1:09 pm): Interesting…
#Sooners QB Cody Thomas will not play baseball this year to focus on competing for "the starting quarterback job during spring practice."

— Jason Kersey (@jasonkersey) February 3, 2015
– UPDATE (1:16 pm): OU has offered 2016 stud DT Michael Williams (Fort Worth, TX).