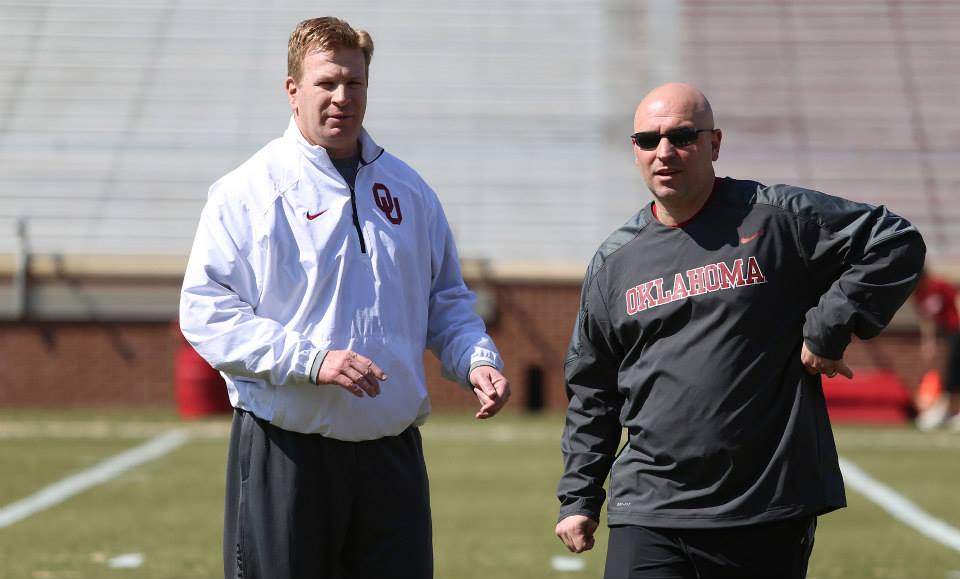 Spring Practice Notes/Open Post – Wednesday, March 12th (Updated 5:17 pm)
Posted on: March 12, 2014
Image from Soonersports.com
– We have a number of notes so from yesterday's practice, so we'll pass along the defensive notes first and the offensive notes should be up tomorrow. Also, we are combining the spring notes with the "Open Post." If you'd rather see these posts separated, please feel free to send us a message or leave a comment below and we will certainly consider it.
– First, we'll talk about the CBs. It sounds like Zack Sanchez has continued to develop his game. The players did a full pad mini-scrimmage and played some 7-on-7 in which and Zack had two pick 6's.
– As we mentioned yesterday, Stanvon Taylor was running with the 1's on the other side. In terms of reps (other than Sanchez), he received the most, then Cortez Johnson, then Dakota Austin.
– Stanvon looked great in press man-coverage. They played a lot of man and pattern match Cover-3 in practice yesterday. Austin also looked fantastic in man-coverage. Dakota's primary issue was he had some mental breakdowns when they changed the coverage call, but in man coverage he was excellent. Cortez looked comfortable and they clearly trust him with more responsibilities right now. They had him corner blitzing a lot and he was effective.
– Coach Mike was watching the corners like a hawk.  He was very fixated on that position and it seems like the 2nd corner spot, opposite Sanchez, is still open.
– Hatari Byrd was the starting strong safety and Ahmad Thomas was his back up. As of right now, Byrd looks like he would probably hold that spot. Both Thomas and Byrd looked better than expected manning up the slot. Both are big, physical guys. As a matter of fact, there was a collision of epic proportions yesterday. Keith Ford was running the ball on a stretch play and Byrd did NOT shy away from contact! He came down hill and the pads popped. The two collided into each and it was a super hero like explosion. The fact that Byrd was able to strike Ford like that really said something about his physicality.
– Quentin Hayes was of course holding the FS spot, and walk-on Thaddeus LaGrone was playing behind him. Thaddeus looks like he has all the athleticism to play safety, but he's just not triggering at this point. He's over-thinking it. Once he gets comfortable and starts to trigger right away he'll be fine, but right now you can tell he's still learning the position. Q.Hayes looked good.
– As we've also already mentioned, Striker is currently playing Julian Wilson's nickel back spot, and he looks good out in space. They aren't really letting him play man just yet. So it'll be interesting to see how he does if they try that. Right now he's playing mostly Cover-3 to his side and, as expected, he looks good in zone coverage. The great thing about an elite pass rusher like him playing that spot is that the pre-snap read for a quarterback is incredibly difficult. And OU's QBs seemed to be having trouble with it yesterday.
– Also, as we've mentioned, Geneo Grissom is playing some at the Jack backer position (Striker's former spot). We aren't sure if the change is permanent, but it's clear that Oklahoma is taking it under serious consideration because Geneo played in that spot exclusively yesterday. Additionally, he is working more with Coach Kish and the LBs now, instead of with Coach Jerry and the DL. He's obviously going to give up some pass rush ability that Eric brings to the table at that spot, but he (Grissom) can set the edge better. He's great against stretch run plays. And he does have the hips to pass rush from a wide position. On more obvious passing downs though, Geneo would sub out and Striker would take that Jack backer spot.
– Devante Bond is a freak athlete. He had a sack actually. He turned the corner and it was all she wrote. However, he is still learning the position so right now he's playing a bit out of control. He's still needs to work on how to not leave vertical or horizontal gaps. Also, he's still in the process of learning hand placement against the run. The explosiveness is there and he can be a good pass rusher, but he just needs to craft it. It definitely seems like the coaches plan on playing him because they were talking to him after almost every single play.
– The NG position was being manned by Jordan Wade and as our friend, Ace, predicted, the backup NG was redshirt freshman Mathew Romar. Both looked "solid" and were getting pretty good push. They weren't getting driven out at all. They were mixing up some of the techniques, but we won't divulge any of that stuff.
– There were some great new blitzes as well, but that's also something we won't divulge the details on.
– At the 4i spots, it was Charles Tapper and Chuka Ndulue. And behind them it was Matt Dimon and Charles Walker, respectively. Tapper is just a monster. He looks like he'll be first team all-conference. Dimon looks good. He's about the same size, but he looks quicker now. Chuka looks good against the run, but is still somewhat limited in his pass rush ability.
– Walker has so much quickness on his initial step. He didn't have a great day in terms of his technique, but you can just see how unlimited his potential can be. He has everything you want in an elite DL, he just has to continue to hone his technique.
– Mike Onuoha was coming in for Geneo a little as the Jack backer as well. He looks good, but still playing too high.
– Frank Shannon and Dom Alexander looked good as inside LBs. It's tough to tell against the run this early into practices, but their fits looked better. Where they really seem to have made a jump is in pass coverage. Jordan Evans has so much potential. Really like what that kid can become.
– The defense in general looked like they were having a GREAT time. Chuka, Tapper and Zack were the most vocal. They were very animated and we heard that there was some trash talk between them and Baker Mayfield (which was all in good FUN). They told Baker, "this isn't Lubbock anymore…you can't throw that ball in Norman!" Again, it was all in the spirit of fun and competition. The guys have really embraced Mayfield and he seems to love the team as well.
– Also, would say that for a first practice the defense looked really good. Much better than they did this time last year. It's really cool seeing them have fun out there and it's going to be a great selling point for recruits that come watch the defense practice during the spring.
– UPDATE (10:33 am): Got word that OU CB offer PJ Mbanasor has officially decommitted from TCU. Mbanasor is a big time talent with all the tools to be a great corner and all the intangibles you look for.
After watching some of the video of one-on-ones during the Rivals camp, I was amazed at how a CB that big could mirror routes that closely without giving almost any space. He's able to flip back-and-forth so easily and while it's next to impossible in a scenario like that to stay on top of a route if you mirror that tightly, his length and awareness allow him to stay close enough to prevent any catches on him. Here is some of the video of him from the recent Rivals camp. Most big CBs will give a lot more cushion. I was in awe watching this given just how legitimately big Mbanasor is:
)
– UPDATE (5:17 pm): As Leroy mentioned below, Du'Vonta Lampkin has been offered by LSU.